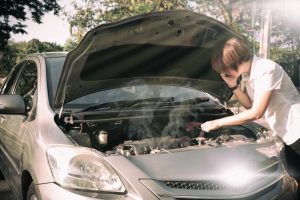 A mechanical defect often goes unnoticed until it's too late. It can lead to catastrophic car accidents and debilitating injuries. Call Harris, Keenan & Goldfarb immediately at 800-PAIN-LAW if you believe a mechanical defect contributed to your injuries in a car crash. Our expert attorneys will combine their knowledge and experience with both car accident and product liability cases to get results in your car accident caused by a mechanical defect case.
Manufacturers are responsible for supplying parts in good working condition. Defects can cause these parts to malfunction and drivers to lose control of their cars. However, drivers must also ensure the parts in their vehicles are in decent shape. That means they must perform routine maintenance and promptly repair defects.
At Harris, Keenan & Goldfarb, we know how to investigate accidents involving mechanical defects. We can determine who is liable and obtain evidence to help you pursue compensation. Call us at 800-PAIN-LAW, dial #PAIN, or contact us online for a free consultation with one of our dedicated New York attorneys.
Common Types of Mechanical Defects
Cars must function correctly for drivers to arrive safely at work, school, and other locations. If the brakes don't work, stopping to avoid striking another vehicle or telephone pole isn't possible. A steering system might malfunction, causing the driver to lose control and crash.
The most common mechanical defects that can lead to car accidents include:
Faulty brakes
Worn-out tires and treads
Failing steering system
Suspension defects
Malfunctioning taillights or headlights
Engine failure
Ignition and fuel system problems
Defective transmission
Who Is Liable for a Mechanical Defect?
Determining who is liable for a mechanical defect is challenging. Multiple parties could be responsible for a part or system not working as intended.
You must take immediate action to establish liability so you can file a claim or lawsuit against them. When you hire an experienced lawyer from Harris Keenan & Goldfarb, we thoroughly investigate the circumstances of the collision to determine whether to hold another driver, the manufacturer of the part, or another party accountable for harming you.
It's easy to assume that a driver who hits you is at fault. However, a malfunctioning braking system in someone else's vehicle might be responsible for your injuries instead of the other driver. They might not have known about the problem because it is a brand-new car with a defective part from the manufacturer. In that case, the manufacturer could be liable.
The parties often responsible for car accidents involving mechanical defects include:
Shipping companies – A shipping company transports products from warehouses to retailers. Employees must handle vehicle parts with care and store them properly for transport. They could be liable if they cause damage at any time during the shipping process.
Manufacturers – Errors manufacturers make during the manufacturing process can lead to injuries. A manufacturer might be liable for a car wreck for assembling a part incorrectly, using an outdated design, or hiding the potential dangers from consumers.
Repair and maintenance workers – Maintenance and repair workers must inspect vehicles and address problems they find. Noticing damage but not fixing it or forgetting to check a specific part during routine maintenance can cause it to malfunction.
Another driver – Another driver is likely liable for an accident if they don't get a recalled part replaced or notice damage but don't bring it to the shop for repairs.
Retailers – The production and assembling of car parts don't involve retailers. However, retailers must only sell reliable products. A retailer might be liable for knowingly selling a component or system in poor working condition.
Possible Compensation After an Accident Caused by a Mechanical Defect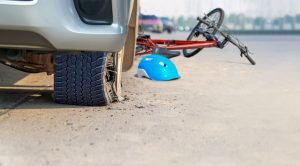 State law requires people registering their motor vehicles to purchase personal injury protection (PIP) insurance with a minimum limit of $50,000. PIP benefits include:
Necessary and reasonable accident-related medical and rehabilitation expenses
Daily reimbursement of other reasonable and necessary expenses, such as household assistance up to $25 daily for no more than one year after the crash date
80% of lost wages from work up to $2,000 monthly for up to three years after the accident
You can't file a claim with the at-fault driver's liability insurance company unless you meet these requirements:
File a PIP claim
Exhaust all PIP limits
Have an injury that qualifies as serious under the law
A serious injury is a personal injury resulting in:
Dismemberment
Significant disfigurement
Permanent loss of use of a body function, system, member, or organ
A significant limitation of using a body function or system
A fracture
Permanent consequential limitation of use of a body member or organ
Loss of a fetus
A medically determined injury or impairment that is not permanent and prevents performing substantially all usual daily activities for at least ninety days during the 180 days immediately following the occurrence of the injury or impairment
Death
You can file a claim with the at-fault driver's auto insurance company if you have a serious injury and exhaust your PIP limits. Liability coverage is mandatory in New York. It covers the injured party from an accident the policyholder causes.
If someone other than the driver caused the collision, you can file a claim or personal injury lawsuit against them.
The money you recover might compensate you for your:
Hospital stays, emergency room visits, prescriptions, and other medical expenses
Pain and suffering
Loss of earning
Loss of future earnings
Emotional distress
Scarring or permanent loss of limb
Loss of enjoyment of life
Property damage
Time Limit for Filing a Lawsuit After a Car Accident
Lawsuits are subject to a statute of limitations. Regardless of who you hold liable for the mechanical defect, there is a timeframe you must follow to seek a financial award for your injury. The New York statute of limitations for car accidents allows a three-year timeframe to file a lawsuit. That means you must initiate your lawsuit within three years of the crash date.
Fight for the Compensation You Deserve
The New York car accident lawyers of Harris Keenan & Goldfarb will protect your rights and aggressively pursue the compensation you deserve. We have recovered over $500 million in compensation for our past clients, and we have a reputation for winning. The person or company responsible for the mechanical defect should face the consequences of their actions.
If a mechanical defect caused a car accident in which you were injured, call or write to us for a FREE consultation at 800-PAIN-LAW today.
Book an Appointment
"*" indicates required fields