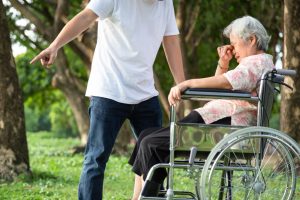 You entrusted your elderly loved one to the care of a nursing facility, trusting management and staff to treat them with the respect and dignity they deserve. Now, you've discovered that the nursing home fostered an abusive environment that caused serious emotional and psychological damage to your loved one. This abuse is immoral, and your family deserves justice for what they've suffered. At 
Harris, Keenan & Goldfarb
, we want to help you demand it. Our New York
nursing home abuse lawyers
are known for their aggressive litigation on behalf of our clients, which has helped our firm recover more than $500 million in verdicts and settlements to date. Let us put this experience, tenacity, and commitment to results to work on your behalf. Call us today or
reach out online
for a consultation.
Examples of Emotional Abuse in Nursing Homes
The term
emotional abuse
describes a pattern of harmful behavior that tears down a person's self-esteem and overall psychological health. It often involves repetitive, damaging actions like constant criticism, humiliation, threats, isolation, or manipulation.
Some common examples of nursing home emotional abuse include:
Belittling and humiliating: This could be nursing home staff making fun of a resident, ridiculing them, or laughing at their difficulties.
Ignoring or isolating: This could involve staff neglecting a resident's needs or excluding them from activities, causing them to feel alone and forgotten.
Intimidating and threatening: Staff might threaten to withhold care or treats, or they could use harsh, frightening words to control and scare a resident.
Manipulating: This could be staff lying to a resident, tricking them, or using their emotions against them to gain control.
Scapegoating or blaming: Other residents or nursing home staff might make someone feel guilty for things that aren't their fault, burdening them with undeserved blame.
Gaslighting: Nursing home staff or other residents might dismiss a resident's feelings, opinions, or experiences. This process is often called gaslighting, and it can make the target question their own memory, perception, and sanity.
Yelling or verbal aggression: Loud, aggressive behavior can be a frightening form of emotional abuse, making a resident feel unsafe and tense.
Your loved ones deserve to feel respected, valued, and safe in their nursing home. If you witness any of these forms of emotional abuse, contact an attorney immediately.
Warning Signs of Emotional Abuse
Because the scars it leaves are psychological rather than physical, emotional abuse can be difficult to detect from the outside. If your loved one exhibits any of the following warning signals of emotional abuse, consider taking further action:
Unexplained Changes in Behavior
Low Self-Esteem
Difficulty Sleeping
Unusual Weight Loss or Gain
Reluctance to Interact with Certain Staff
Confusion or Disorientation
Signs of Isolation
Who's Liable for Emotional Abuse in Nursing Homes?
Emotional abuse is a systemic issue, one for which many different people could share responsibility. Depending on the particular situation, any or several of the following parties could be to blame for the harm your loved one suffered:
Abusive Staff Members: Individuals who directly perpetrate emotional abuse, whether they are nurses, caregivers, or other staff, are responsible for their actions and the harm they cause.
Supervisory Staff: Supervisors or managers who ignored signs of emotional abuse, failed to act, or created an environment that allowed the abuse to happen can also be to blame for a resident's injuries.
The Nursing Home: The facility itself is responsible for its employees' actions and might be directly liable if it failed to properly hire, train, or supervise its staff, or if it failed to provide a safe and supportive environment for residents.
Staffing Agencies: If a nursing home hired abusive staff members from an agency, that company could be liable for injuries caused by its workers. A lawyer can help you hold a staffing agency accountable for not adequately vetting their employees or providing the necessary training.
Medical Professionals: If the medical staff at a nursing home dismissed or overlooked a resident's mental or emotional distress, they could share liability for the resident's injuries.
The Nursing Home's Parent Company: The company that owns the nursing home could ultimately be liable for residents' abuse, especially if it prioritized profits over the well-being of its residents.
An experienced attorney can investigate the situation in detail and determine who of these parties could be liable – that is, legally responsible – for the abuse your loved one suffered.
Compensation for Emotional Abuse at a Nursing Home
Every nursing home abuse case is different, and the compensation an abused resident or their family might recover depends on a number of unique factors. An experienced nursing home abuse lawyer can review your case and determine which of the following losses you can demand compensation for:
Pain and suffering
Emotional distress
Medical bills
Diminished quality of life
Punitive damages against a negligent nursing home, its parent company, or other liable parties (in some cases)
What to Do if You or a Family Member Is Suffering Emotional Abuse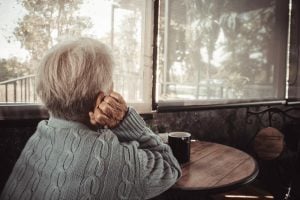 If you or your loved one has been the target of emotional abuse, contact an attorney right away. You can also report instances of abuse to the New York State Department of Health
online
or by calling 1-888-201-4563. You can also submit a complaint to the state
Long Term Care Ombudsman Program
.
Deadline to File an Emotional Abuse Lawsuit
The typical deadline to file a personal injury lawsuit in
New York
is three years from the injury date. However, there are practical reasons to act even quicker, as memories may fade, and an abusive staffer or liable nursing home might attempt to cover their tracks. Talk to an attorney immediately to avoid these issues.
How Our Nursing Home Emotional Abuse Lawyers Can Help
The aftermath of 
nursing home abuse
 can be overwhelming, but you don't have to face it alone. Here's how our New York nursing home abuse attorneys can assist you:
We can explain the underlying legal concepts and help you understand the laws that apply to your case.
Our experienced attorneys can investigate the nursing home, gather evidence to support your claim, and identify all liable parties.
We can timely file your claim and negotiate with the nursing home and their insurance company for a fair settlement.
We will not hesitate to take your case to trial and represent you in court if it's the best way to demand the compensation and justice you deserve.
Abusive staffers and negligent nursing homes should face the consequences of their actions, and Harris, Keenan & Goldfarb wants to hold them accountable. Call us today or fill out our
online form
for a free case review with a nursing home abuse lawyer.
Book an Appointment
"*" indicates required fields