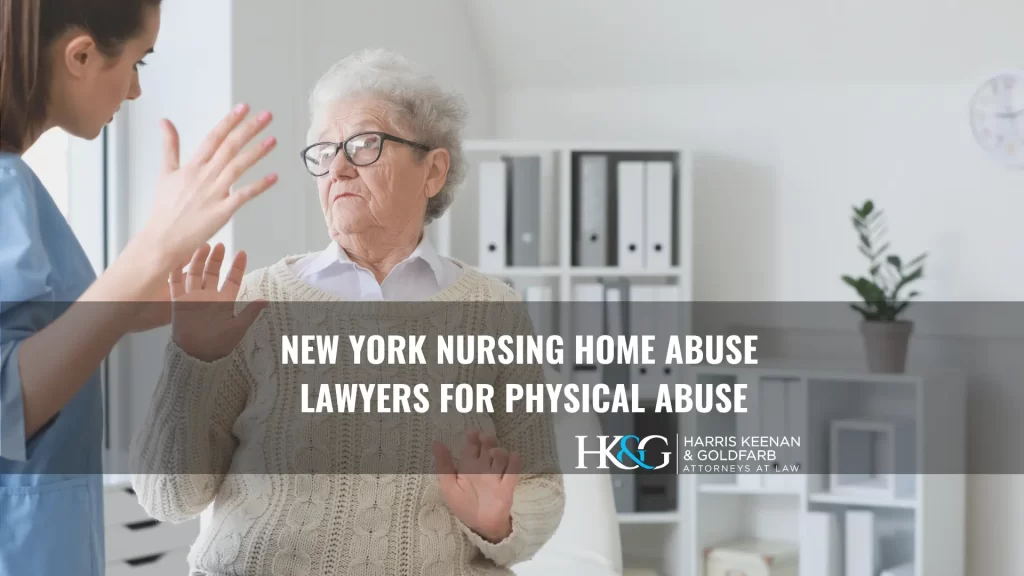 Moving a loved one into a nursing home is a decision no one takes lightly. Placing a family member in someone else's care is scary, but sometimes it's necessary to ensure their well-being. Although you assume they'll be safe in a facility surrounded by experienced nurses and other professionals, nursing home residents can become victims of abuse.
At Harris Keenan & Goldfarb, we understand the devastation of discovering someone you trusted physically abused your family member. We can help you hold them liable for their misconduct. Call us at 800-724-6529 for a confidential consultation with our nursing home abuse lawyers.
What Constitutes Physical Abuse?
Physical abuse occurs when a person intentionally inflicts bodily harm on someone else. It is one of the most common types of abuse nursing home residents can experience.
The abuser can be a nurse, administrative personnel, or another staff member. Sometimes, another resident physically abuses someone living in the nursing home.
Physical abuse comes in multiple forms, including:
Slapping
Kicking
Restraining
Hitting
Bruising
Scratching
Pushing
Punching
Cuts, bruises, broken bones, and other injuries might indicate abuse. However, some warning signs that someone is the victim of abuse aren't easily noticeable. The older adult might exhibit emotional or psychological symptoms from what they've been through.
The most common signs of physical abuse include:
Broken bones
Hesitating or resisting explaining what happened
Unexplained burns, wounds, or bruises
Dislocated joints
Withdrawing from family, friends, and favorite activities
History of medical care for the same or similar injuries
Tooth or hair loss
Fear of specific individuals
Depression and anxiety
Who You Can Hold Liable for Physical Abuse in a Nursing Home?
You can be your loved one's greatest advocate. They might be unable to protect themselves or pursue legal action alone. If they sustain injuries from physical abuse, you can hold the nursing home or a particular person liable.
The parties commonly at fault for nursing home abuse include:
Contracted care providers and vendors
Registered nurses and nursing assistants
The facility owner or parent company
Doctors and physicians' assistants
Groundskeepers, custodians, and maintenance workers
Why Nursing Homes Are Responsible for Abuse
Although one person might physically abuse a resident, the facility owner or another executive could be liable for their employee's actions. Management must hire reliable and experienced staff to oversee the care of older adults.
You can pursue compensation from the nursing home if your loved one's injury involves circumstances such as:
Inadequate training provided to caregivers
Failing to conduct background checks on job applicants
Negligent retention of staff with a history of violent or abusive behavior
Allowing unnecessary physical restraints
Failing to supervise nurses and other medical personnel
Ignoring the signs of physical abuse by an employee
Knowingly hiring unqualified or inexperienced caregivers during a staffing shortage
Possible Compensation in a Physical Abuse Case
You can help file a claim or lawsuit against the nursing facility or employee for the injuries your loved one sustained during the abuse. Compensation is available to cover their losses, such as:
Pain and suffering
Hospitalization, physical therapy, imaging tests, and other medical expenses
Emotional distress
Damage to personal property during the incidents
Loss of enjoyment of life
Statute of Limitations for Nursing Home Abuse
You must comply with state law to sue someone for physically abusing your family member. The statute of limitations allows a three-year timeframe to file a lawsuit. That means you have three years from the date of the abuse to initiate the lawsuit against the liable party.
Steps to Take If You Suspect Physical Abuse
You must not hesitate to build a case against your loved one's abuser once you suspect or discover physical abuse. Prioritizing their safety and preventing additional injuries is essential. You should immediately move them elsewhere, whether it's a hospital, your home, or another nursing facility.
If they require ongoing treatment, arrange transportation or drive them to their appointments. They should continue treating their injuries until they heal, or their doctors release them from care. You can use the medical records to establish a link between their injury and residency in the nursing home.
Maintain every document related to the abuse during the ongoing case. That can include your loved one's prescriptions, hospital records, physical therapy notes, billing statements, and physician letters. Those records are vital to prove the injury and expenses.
The overwhelming devastation of learning about the abuse your family member endured can cloud your judgment. Your first instinct might be to confront the employer or nursing homeowner about what happened. However, it would be best if you did not warn them of a potential claim or lawsuit. That will give them the time they need to prepare a defense.
Hire Harris Keenan & Goldfarb for legal assistance and guidance. We will investigate and gather evidence to build a case against the abuser or negligent facility. You won't be alone in the fight for justice.
How to Report Abuse in New York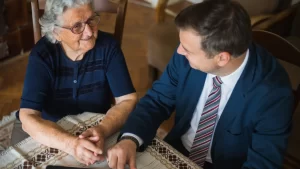 A civil case isn't your only option for holding your loved one's abuser accountable. You can contact the proper authorities to report what happened and start an investigation into the incident.
The New York State Department of Health, Nursing Homes and ICF/IID Surveillance investigates complaints and allegations of mistreatment, neglect, and abuse in nursing homes. Submit your complaint online, mail the Nursing Home Complaint form to the agency, or call the hotline.
Adult Protective Services is another agency that investigates allegations of nursing home abuse. You can contact a local department to report what happened.
Seek Justice with Help from Harris Keenan & Goldfarb
Physical abuse can cause severe injuries. Older adults are vulnerable to abuse because many can't protect themselves or have cognitive impairments that prevent them from remembering the incident.
You might feel helpless to get your loved one the help they need. However, Harris Keenan & Goldfarb has the experience and resources necessary to hold the nursing home responsible.
If your family member sustained injuries from physical abuse at a New York nursing home, take the first step to recover the compensation they deserve by calling us at 800-724-6529 for a consultation.
Book an Appointment
"*" indicates required fields