At Harris Keenan & Goldfarb, we have represented clients injured in 18-wheeler accidents for over 25 years. Our attorneys take a team approach to every case we handle to make sure our clients get the personalized attention they deserve. Call us at 800-PAIN-LAW or fill out our contact form for a FREE consultation to learn more about how we can help.
An 18-wheeler accident is scary and often causes severe injuries. The massive size and weight of an 18-wheeler can create violent forces during crashes with other vehicles. The occupants of small cars often sustain debilitating injuries from the sudden impact, crushed metal, and flying debris.
If someone else is at fault, you deserve justice for your losses. We can represent you and pursue maximum compensation on your behalf.
Common Causes of 18-Wheeler Accidents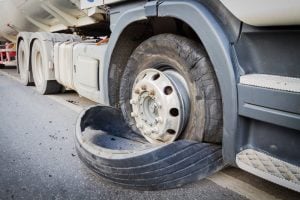 There's a reason why federal laws impose specific standards on workers in the trucking industry. Operating an 18-wheeler is complicated. It requires training, experience, and skill. Truck drivers must understand the workings of this type of truck and how to maneuver it in dangerous conditions.
Negligence is a common cause of 18-wheeler accidents. The term refers to one party's failure to exercise reasonable care to avoid injuring someone. A trucker might speed or drive under the influence, endangering everyone around them.
Common negligent behaviors include:
Speeding
An 18-wheeler requires a greater stopping distance than other vehicles. Truck drivers need a specific amount of space to react to a perceived danger and apply the brakes. Speeding increases the distance necessary to bring the truck to a complete stop. A truck driver who exceeds the speed limit will likely crash into a stopped car or road hazard since they don't have enough time to brake or maneuver out of the way.
Driving under the influence
Although state law considers a person with a blood alcohol concentration (BAC) of 0.08% as driving under the influence, federal law holds truckers to a higher standard. Truck drivers with a BAC of at least 0.04% are legally under the influence of alcohol.
Poor maintenance
Routine maintenance is necessary for a commercial truck to run correctly. Ignoring damage or failing to inspect the vehicle can cause malfunctioning parts or systems and lead to an accident.
Fatigued driving
Driving while tired is more dangerous than people realize. It's similar to driving after drinking alcohol in that it reduces reaction time and impairs judgment. Truck drivers are prone to fatigued driving due to their long shifts because spending hours on the road can compromise their driving abilities.
Distracted driving
One of the first things that come to mind while picturing distracted driving might be a driver who texts at the wheel. It's one of the most common forms of distracted driving. A split second of inattention is enough time for a crash to occur.
Determining Liability After an 18-Wheeler Collision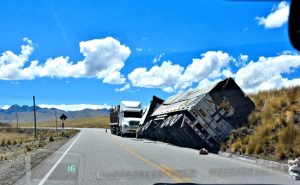 The truck driver and their trucking company employer aren't the only parties responsible for others' safety. Multiple parties can be at fault for an accident, and determining who you can hold liable is challenging. It depends on the circumstances and what the evidence shows.
The most common parties liable in 18-wheeler crashes include:
Truck driver
Truck or part manufacturer
Repair or maintenance worker
Motor carrier
Cargo loading company
Cab or trailer owner
Compensation You Can Pursue in a Truck Accident Claim
In New York, every person registering a motor vehicle must purchase personal injury protection (PIP) insurance with a minimum limit of $50,000.
PIP coverage includes:
80% of lost wages up to $2,000 monthly for three years after the crash date
Necessary and reasonable accident-related medical and rehab costs
Reimbursement of other reasonable and necessary expenses up to $25 a day for no more than a year after the accident
In states with mandatory PIP coverage, like New York, you must file a claim with your insurance company first. You can only turn to the at-fault driver's insurance once you exhaust your policy limit and meet the serious injury threshold.
A serious injury means a personal injury resulting in:
Permanent loss of use of a body organ, system, member, or function
Significant disfigurement
A fracture
Medically determined non-permanent impairment or injury that prevents the substantial performance of daily activities for at least ninety days
Dismemberment
Permanent consequential limitation of use of a body organ or member
Loss of a fetus
A significant limitation of the use of a body function or system
When you file a liability claim or lawsuit against the negligent truck driver or trucking company, the money you seek might compensate for your:
Scarring or permanent loss of limb
Hospitalization, physical therapy, prescriptions, and other medical expenses
Loss of enjoyment of life
Emotional distress
Pain and suffering
Loss of earnings
Future lost earnings
Property damage
Our personal injury lawyers know how to collect evidence to build the most robust case possible so that you get maximum compensation for your injuries and damages. 
Deadline to File an 18-Wheeler Accident Lawsuit
If you cannot settle your case with an insurance claim, you might sue the negligent person or company responsible for your injury. However, you must do so within the required timeframe, referred to in the law as a statute of limitations. The statute of limitations in New York allows a three-year time period to file a lawsuit. You must file suit against the liable party within three years of the crash date to seek compensation. Otherwise, the court will likely dismiss your case.
Let a Dedicated New York 18-Wheeler Accident Lawyer Help with Your Case
A truck accident can disrupt your life and leave you with severe injuries to treat. You might need extensive rehabilitation to repair the physical harm. Medical bills are often expensive and can lead to significant debt if you can't afford to pay. Our NYC truck accident lawyers are here to help those in that unfortunate situation.
Our mission is to achieve the best possible result for our clients. You can count on the Harris Keenan & Goldfarb legal team to fight for you.
Call 800-PAIN-LAW, dial #PAIN, or fill in our online contact form for a consultation if you got hurt in an 18-wheeler accident caused by someone else.