Delivery Truck/Van Accident Attorneys
Every day, countless delivery trucks and vans crisscross New York City delivering items to warehouses, stores, and homes. And every day, dozens of these vehicles get into accidents, according to the New York Police Department. If you were hurt in one of these crashes, you could pursue money for the harm you suffered – and the attorneys with Harris Keenan & Goldfarb want to pursue it on your behalf.
Our mission is to help injured New Yorkers like you get the money they need to move on with their lives, and we've been successful in that mission to the tune of $500 million in settlements and verdicts. Learn how we can help when you contact us for a case review with a delivery truck accident lawyer in New York.
Common Causes of Delivery Truck Accidents
Accidents involving delivery trucks and vans can happen for any number of reasons. Some of the most common include:
Driver fatigue
Distracted driving
Poor vehicle maintenance
Speeding
Reckless driving
Overloading
The common denominator for these causes is negligence on the part of the driver or the company they're making deliveries for.
Common Injuries Caused by Delivery Truck and Van Accidents
Any traffic accident can cause serious injuries, but those involving large vehicles are especially devastating – especially when those vehicles are hauling heavy products. And in New York, those risks are compounded by the fact that many road users are pedestrians, meaning they have nothing to protect them from the force of 10,000+ pounds of commercial vehicle. Some of the most common injuries associated with delivery truck accidents in New York include the following:
Broken bones/fractures
Soft-tissue injuries
Internal injuries
The cost of treatment for these injuries can be debilitating, especially if they require surgeries and hospital stays or keep the injured person from working. No one should have to pay the price of a collision that was not their fault.
Liability in Delivery Truck Accidents
In most traffic accidents, the driver at fault for the crash should be liable for compensating the people they injured. Determining fault can be difficult even in these relatively straightforward circumstances. Doing so becomes even more challenging in the case of delivery truck accidents, where liability can extend to parties beyond just those at the scene.
Here are some factors that might come into play when determining liability for a delivery truck accident:
Employer liability – Employers are legally responsible for the actions of their employees while they're on the job. Additionally, employers are responsible for ensuring their delivery drivers have proper training, licensing, and supervision. They are also responsible for maintaining their vehicles in safe operating condition.
Manufacturer liability – If a defective part or component in the truck contributed to the accident, the manufacturer might be liable.
Negligence on the part of the driver – If the driver's actions, such as reckless driving or distracted driving, caused the accident, they may be held liable. In most cases, they would only be personally liable if they work as an independent contractor. Otherwise, their employer would be responsible for their actions.
Comparative negligence/joint and several liability – In some cases, several parties may each be partially at fault for an accident. In these cases, comparative negligence laws may apply, which means that the compensation awarded to the victim will be lower based on their percentage of fault. Furthermore, New York's joint and several liability statute allows victims to hold a single at-fault party liable for the full amount of compensation owed to them by all at-fault parties.
Compensation for a Delivery Truck Accident
If you were hurt in a delivery truck accident in New York, you could seek financial compensation for your:
Medical bills
Lost wages/income
Property damage
Pain and suffering
Diminished quality of life
An experienced New York delivery van lawyer can review your case and determine the full value of your claim.
Preventing Delivery Truck or Van Accidents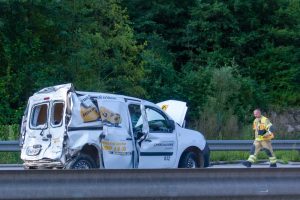 Stores and delivery companies can do their part in keeping their fellow New Yorkers safe by:
Properly maintaining delivery vehicles, including regular inspections and repairs
Ensuring drivers are properly trained and licensed
Encouraging drivers to take breaks when needed to avoid fatigue and drowsy driving
Providing drivers with GPS systems that can help reduce distraction while driving
Encouraging safe driving habits, such as avoiding speeding and reckless driving behaviors
Ensuring that delivery vehicles are not overloaded and are properly balanced
Conducting regular safety training sessions for drivers to help reinforce safe driving practices
Implementing policies that encourage drivers to report any safety concerns or issues with their vehicles promptly.
Steps to Take After a Delivery Truck Accident
If you've been hurt in a delivery truck or van accident, it is essential to take these steps to protect your well-being and your legal rights:
Contact the police – Responding officers will create a report that your attorney can use as evidence in a personal injury claim. The report will include information such as the date, time, and location of the accident, as well as the names and contact information of any witnesses.
Gather evidence – You can augment the evidence in the police report by gathering some of your own. Take photos of the scene, including any damage to the vehicles and any injuries you suffered. Collect contact information from witnesses and write down any details you can remember about the accident before you forget any details.
Seek medical attention – If you don't leave in an ambulance from the scene, visit an emergency department or your primary care physician as soon as possible. Some injuries may not be immediately apparent but could prove life-threatening if you do not address them. Delaying medical treatment can not only put your health at risk but also make it more difficult to prove that the accident caused your injuries.
Contact a personal injury lawyer – An experienced delivery truck accident lawyer can explain your legal rights and options and your options for recovery. If you decide to pursue your case, they can investigate the crash to determine liability, negotiate with insurance companies, and represent you in court if necessary.
Contact a New York Delivery Truck Attorney Today
Hurt in a delivery van accident in New York? Need help recovering the money you need for your medical bills, lost income, and more? Then contact Harris Keenan & Goldfarb for a consultation. Our New York delivery van accident lawyers are ready to get to work on your case today.
Book an Appointment
"*" indicates required fields