Whether you suffered injuries as an Uber passenger, an occupant of another vehicle, or an Uber driver, you may be entitled to seek compensation for your losses. The experienced Uber accident lawyers at
Harris Keenan & Goldfarb
in NYC will help you with every stage of the claims process. Call us at
800-724-6529
or 
contact us online
 for a free consultation.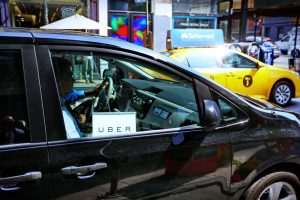 Over the past several years, ridesharing apps such as Uber have transformed how New Yorkers make their way around the city. Uber offers a relatively affordable means of getting to your destination if you don't have your own car or if you would simply like to enjoy an evening out without having to get behind the wheel.
Yet, as with all motorists, Uber drivers have accidents sometimes. Collisions with a rideshare car can lead to grave injuries. In such cases, the injured individual may face a stack of medical bills, forced time off work, and significant pain and suffering.
That's where we come in.
Who Is Liable for My Injuries in an Uber Accident?
Rideshare accidents can have devastating consequences for those who suffer injuries. Whether you have suffered whiplash, fractured bones, internal organ injuries, or traumatic brain injuries, your life may never be the same again. The injuries may cause immense physical pain and suffering, but the financial consequences of the accident can also cause a great deal of psychological stress. Filing an Uber accident claim can help you hold the at-fault party accountable. 
Determining who is at fault in an Uber accident will allow you to decide what steps to take when you file your insurance claim. However, if the Uber driver caused the accident, the process might become more complicated. In such cases, you might not know whether Uber or the driver themselves should be held liable for your losses.
What Does Uber's Insurance Cover?
Uber supplies its drivers with liability insurance, but each driver must also carry their own personal insurance. If the driver uses their personal car as an Uber X vehicle, the driver's own insurance company will not pay claims incurred while the driver was on the clock. If the driver was working as an Uber driver at the time of the accident, you must file a claim with the company's insurance.
Uber's insurance policy comes into play when the Uber driver has either accepted a request for a ride or is carrying a passenger. Uber must provide coverage of up to $1.25 million for property damage, personal injury, or death. This coverage applies to anyone involved in an accident with an Uber, including:
An Uber passenger

Drivers or occupants of other vehicles

Pedestrians
Under New York's no-fault insurance law, you may need to file with your own car insurance company first. However, your personal insurance policy will cover only a portion of your costs. The $1.25 million Uber insurance coverage will make up the difference, provided you meet New York's serious injury threshold.
What if the Driver Is Logged into Uber but Hasn't Accepted a Ride?
As soon as a driver has logged into the app, a limited Uber insurance policy kicks in. Even if the driver has not yet accepted a ride, the policy will offer coverage for:
$75,000 per person for bodily injury

$150,000 per accident for bodily injuries

$25,000 per accident for property damage
This policy covers damages in excess of what other available policies cover.
What if the Driver Is Logged Out of the App?
If the accident occurs when the driver is not logged on, the process is the same as all other car accidents. Each party will seek compensation from their own insurance policy first. In the case of more grave injuries, the injured party can then pursue compensation from the at-fault party's insurance.
The same principles apply if a third party caused the crash. If another driver, cyclist, or pedestrian was at fault for the collision, you could file a claim with their insurance company.
Leading Causes of NYC Uber Accidents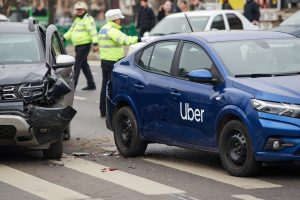 Some of the leading causes of Uber accidents in New York include:
Distracted driving (such as an Uber driver searching for a passenger rather than paying attention to the road)

Tailgating

Aggressive driving

Failure to obey traffic laws

Fatigued driving

Exceeding the speed limit

Lack of familiarity with traffic patterns in NYC

Vehicle malfunction

Road defects
If you were in an accident and you believe another driver's carelessness has led to your injuries, contact Harris Keenan & Goldfarb. Our attorneys will investigate the incident to determine who was at fault.
Common Injuries in NYC Uber Accidents
Injured individuals often require expensive and time-consuming medical treatment. Our New York City personal injury lawyers can help you with claims for injuries such as:
Concussions

Eye injuries

Whiplash

Soft tissue injuries

Fractures

Amputations

Organ damage
Some of these injuries are so serious that they lead to lifelong disabilities. Even more "minor" injuries can lead to expensive medical bills and extended time off work. If another party is at fault for your losses, the legal team at Harris Keenan & Goldfarb can help you understand what steps you need to take to get the justice you deserve.
Your Time Is Limited to File a Claim
If you need to file a personal injury lawsuit to recover compensation, you only have three years from the date of the accident. After that time has passed, you will forfeit your right to sue. Beyond that point, you will have lost your best negotiating tool, as the insurance company will know that there is no way for you to recover the money you deserve in court.
Contact Us Today
Since 1996, the attorneys at Harris Keenan & Goldfarb have worked to protect the interests of injured New Yorkers. We are committed to helping you recover the compensation you need as well. Our legal team will investigate the accident, negotiate with the insurance company on your behalf, and take your case to court if necessary. 
Our New York car accident lawyers work on a contingency fee basis, so you will not owe us any fees until we recover compensation on your behalf – a responsibility we take very seriously, with over $500 million in compensation recovered for our clients.
Call us today at 800-724-6529 or 
contact us online
for a free consultation to learn more about your legal options.