New York Medication Errors Attorneys
Did you or a loved one suffer an injury or illness due to a medication error by a healthcare professional? If so, you might face painful symptoms, mounting medical bills, and other injury-related expenses you cannot afford. At Harris Keenan & Goldfarb, we understand the devastating impact that medication errors can have on individuals and their families. You deserve justice and compensation if you or a family member has suffered harm due to a medication error. Our experienced team of medical malpractice attorneys is here to guide you through the legal process. We will provide compassionate support and aggressive representation every step of the way. Contact our office today to get started with a consultation.
What is a Medication Error?
Medication errors occur when healthcare providers fail to administer medications correctly. That results in harmful consequences for patients. These errors can happen at any stage, from prescribing to dispensing and administration. Common examples include incorrect dosages, administering the wrong medication, drug interactions, and failure to consider allergies. Communication breakdowns among healthcare professionals can also result in errors. Regardless of the reason, contact an attorney about your legal options if you suffered an injury due to a medication error.
What is the Impact of Medication Errors?
The consequences of medication errors can be severe. They may lead to prolonged suffering, permanent injuries, or even loss of life. Patients may experience adverse reactions, organ damage, psychological trauma, or delayed recovery. In some cases, medication errors can exacerbate existing medical conditions. They can result in the need for additional treatments, surgeries, or rehabilitation. All that places an enormous emotional and financial burden on the victims and their families. Additionally, people suffering from medication errors might be unable to work while healing from their injuries, meaning they lose income, increasing their financial strain. Furthermore, those who suffer permanent disabilities due to medication errors might be unable to return to work or be gainfully employed.
How Can an Attorney Help?
Navigating the legal complexities of a medication error case requires in-depth knowledge of applicable federal and state laws and resources to investigate every legal avenue. Pursuing a medical malpractice claim involves gathering evidence, proving liability, and negotiating with insurance companies and healthcare providers. An attorney can help you seek the compensation and justice you deserve. When you hire Harris Keenan & Goldfarb for your medication error case, you can count on our skilled attorneys to help you in the following ways:
Listen to your story, answer your questions, and explain your legal options
Investigate the circumstances leading to your injury to determine who can be held responsible
Gather crucial evidence, including medical records, test results, hospital records, and witness statements
Identify all potential sources of compensation, including insurance coverage
Handle all the legal paperwork and ensure that everything is filed promptly and correctly
Calculate the total value of your losses, including past, current, and future medical costs related to your injury
Hire medical experts who can testify to the severity of your injury and the extent of your losses
Negotiate with insurance companies and other parties on your behalf
Take your case to trial if that proves to be the best way to pursue the compensation you deserve
How Do Lawyers Handle Medication Errors Cases?
At Harris Keenan & Goldfarb, we approach medication error cases with empathy, dedication, and legal acumen. Our team will thoroughly investigate your case. We work closely with medical experts to establish the link between the medication error and the harm you or your loved one suffered. We will fight tirelessly to hold the responsible parties accountable. Our attorneys will seek compensation for medical expenses, lost wages, pain and suffering, and other damages you may have incurred.
Our lawyers will gather various pieces of evidence to build a robust case, including the following:
Medical records and documentation – Medical records are vital in medication error cases. These records include prescriptions, medication administration records, physician's notes, nursing notes, and any other relevant documentation related to the treatment. They provide a comprehensive picture of the patient's medical history, the prescribed medication, dosage instructions, and any changes made during treatment.
Expert testimony – Medical malpractice cases often rely on expert testimony to establish the standard of care and demonstrate how the medication error deviated from that standard. Medical experts, such as pharmacists, physicians, or nurses, can provide professional opinions on whether the medication error occurred and the resulting harm it caused.
Witness statements – Witness statements from patients, family members, healthcare providers, or others present during the medication error can provide valuable firsthand accounts. These statements can help corroborate your version of events, establish negligence, and demonstrate the impact of the error on your health and well-being.
Expert analysis and reports – In some cases, it may be necessary to engage independent experts to analyze the medication error's circumstances. These experts can evaluate medical records, review applicable standards of care, and provide detailed reports on their findings.
Documentation of injuries and damages – To establish the impact of the medication error, an attorney will document the injuries and damages you or your loved one have suffered. This can include medical records, photographs of physical injuries, bills and receipts for medical treatments, therapy sessions, or other expenses related to the error.
How Long Do I Have to File a Medication Error Case?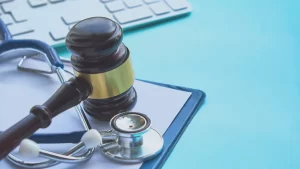 It is crucial to take action promptly if you suspect a medication error has occurred. Statutes of limitations apply to medical malpractice cases, limiting your time to file a claim. Additionally, evidence can degrade over time, witnesses may become harder to locate, and memories may fade. By contacting Harris Keenan & Goldfarb as soon as possible, you can protect your rights and give us the best chance of building a solid case on your behalf.
Contact a Personal Injury Attorney Today
If you or a loved one has been a victim of a medication error, we are here to help. Contact Harris Keenan & Goldfarb today to schedule a free consultation with one of our experienced medical malpractice attorneys. At Harris Keenan & Goldfarb, we believe that every individual deserves quality medical care and that those responsible for medication errors must be held accountable. Our compassionate legal team is dedicated to helping you seek justice and obtaining fair compensation for the harm you or your loved one has suffered. Don't delay – reach out to us today and take the first step towards reclaiming your rights and rebuilding your life.