New York Toxic Exposure Lawyers
Have you been exposed to toxic materials, chemicals, or vapors? If so, you might be entitled to seek financial recovery from the parties responsible for that exposure. They could be liable to compensate you for your medical expenses, lost income, or lost quality of life caused by illness. Toxic tort cases are often some of the most complex legal claims. Get the legal help you need to guide you through the process from a New York personal injury lawyer from Harris Keenan & Goldfarb.
For over two decades, our attorneys have vigorously fought for the rights of clients who the negligent actions of others have injured.
We have the experience necessary to help you stand up to those responsible for the harm you have suffered. We can demand accountability and justice on your behalf.
Don't wait to begin pursuing financial compensation after you've been harmed by exposure to toxic chemicals or materials through no fault of your own. Reach out to Harris Keenan & Goldfarb for an initial consultation. Call us at 800-724-6529 to discuss how our firm's New York personal injury lawyers will advocate for your interests.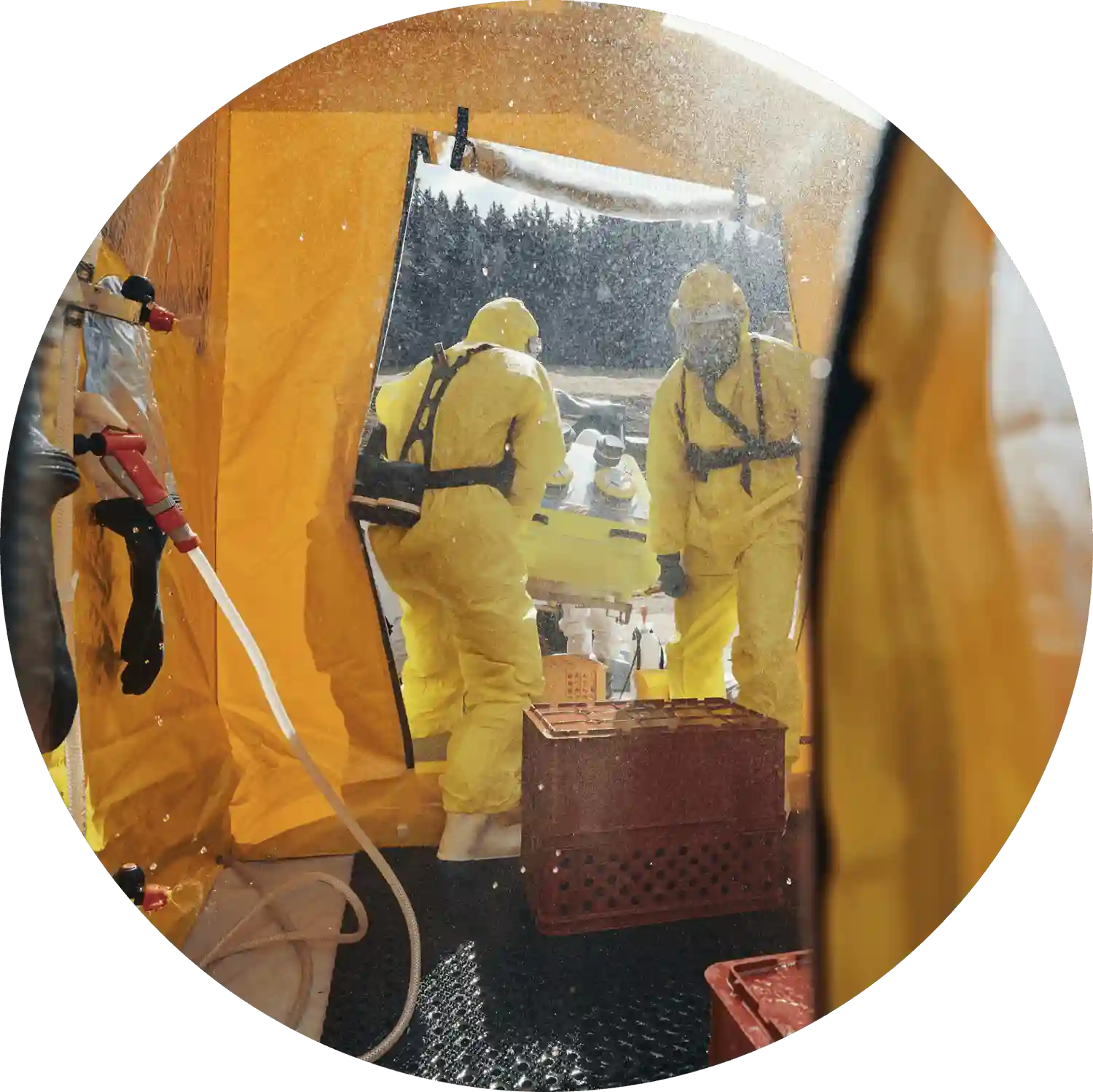 Why Choose Harris Keenan & Goldfarb for Your Toxic Tort Claim?
When you have been harmed by toxic exposure, you need knowledgeable, seasoned legal representation to ensure that you have the best chance at a full financial recovery.
Choose Harris Keenan & Goldfarb to represent your interests because of:
Substances That Cause Toxic Tort Claims
At Harris Keenan & Goldfarb, we represent clients who have been harmed by exposure to hazardous materials and substances, such as:
Common Injuries in Toxic Tort Cases
Toxic exposure can cause a wide range of health issues. Injuries that are commonly involved in toxic tort claims include:
What Compensation Might You Be Entitled To?
In a toxic tort case, you may be entitled to financial recovery through one or more legal options. If exposed to toxic or dangerous materials or substances at work, you might have the right to file a workers' compensation claim with your employer. Through workers' compensation benefits, you could obtain money for medical treatment, partial wage replacement if you lose income due to your illness, or disability payments if you are permanently disabled.
In addition, you may also have the right to file a personal injury or product liability claim for toxic exposure. A tort claim can entitle you to compensation for the following:
Contact Us If You've Been Harmed by Exposure to Hazardous Materials or Substances
When you have suffered physical injuries or have been diagnosed with medical conditions that were caused by exposure to toxic materials or substances, you deserve to pursue financial compensation. Call Harris Keenan & Goldfarb today at 800-724-6529 for a no-obligation case evaluation. You can talk with a toxic tort lawyer from our firm about your legal options and find out how to demand accountability for the harm you have suffered. You can also complete the intake form on our website, and one of our legal staff will contact you.
Frequently Asked Questions
Common questions we are asked about toxic tort cases include:
You may be entitled to recover compensation from any party whose conduct played a part in your exposure to a toxic substance that ultimately caused your injury or harm. This may include a property owner/landlord, contractors or construction companies, or trucking companies. In addition, you may be able to hold the manufacturer of a toxic or hazardous product liable if the manufacturer failed to provide warnings of the risks of the product or instructions regarding the safe use, handling, or storage of the product. 
The deadline to file a toxic tort lawsuit is set by New York's statute of limitations. Typically, you have three years from the date that you discovered or should have discovered the injury to file a lawsuit against the party or parties liable for the harm you have suffered.  A further extension, under certain circumstances, exists where discovery of the cause of the injury occurs after discovery of the injury.  The limitations period is shorter in actions against a municipality or the State of New York. If you file suit after the statute of limitations deadline has expired on your claim, your case can be permanently dismissed. If that happens, you'll lose your right to recover compensation for your expenses and losses through the court system.
At Burns & Harris, we represent clients in toxic tort cases on a contingency-fee basis. This means you won't have to pay us legal fees upfront to hire our firm for your case. We are paid only if we can secure financial compensation for you in a settlement or by winning your case in court. 
Book an Appointment
"*" indicates required fields