Workplace Injury / Workers' Compensation
New York Workplace Injury Lawyers
After your home, you are most likely to be injured at work. Unless you work in certain public service jobs in New York, such as the police or fire department, you are covered by workers' compensation insurance if you're hurt. Workers' compensation should cover all work-related injuries and illnesses and provide you with a portion of your regular income until you can return to work.
Workers' compensation may not cover everything. If you're injured due to a third party's negligence at the workplace, you may not know whether to accept workers' compensation or sue the outside party.
And what can you do if your workers' compensation claim is denied?
If you've been injured on the job or have a chronic illness that results from something that happened during your employment, you need to consult a legal professional. At Harris Keenan & Goldfarb, we can help you make sense of any competing claims and help you get whatever compensation you need to get back on your feet.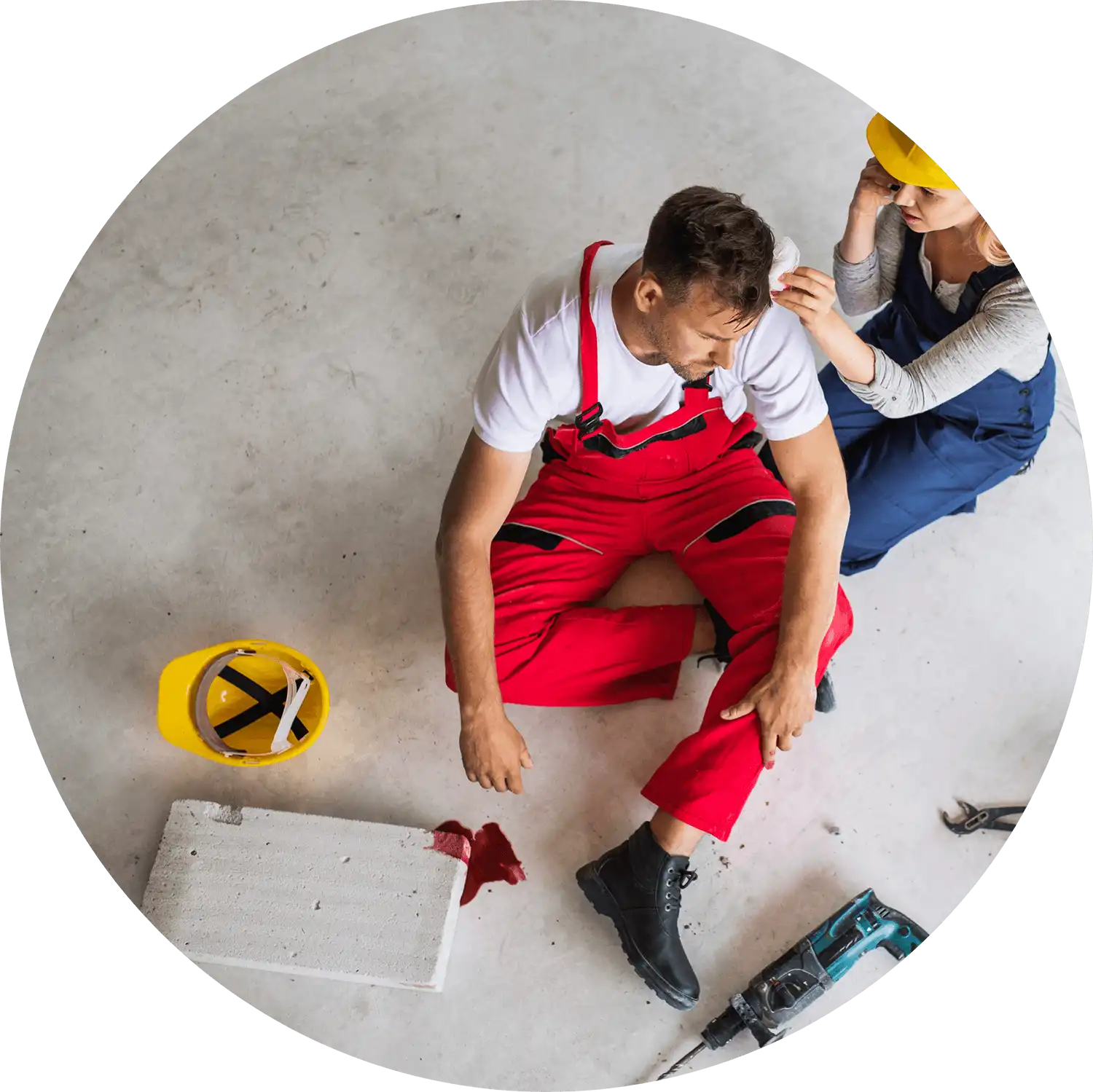 What Is a Workplace Accident?
A workplace accident is an injury that happens at your place of employment while you are on the clock. The New York State Workers' Compensation Board explains that a covered injury must arise from your employment. That means the injury must result from the job's hazards. To be covered, the injury must also occur during employment, meaning it happened at a time and location related to the job while you were performing your job.
For instance, if you are a construction worker, a fall at the construction site during working hours would be covered. A fall on the sidewalk outside the site during the weekend would not.
Any injury can be a workplace injury if it happens under these circumstances. Office jobs and high-rise construction jobs can both cause injuries and illnesses. On-the-job injuries are a major cause of lost time and lost income in the workplace.
Depending on the nature of your work, any or all these types of accidents are potential causes of workplace injury:
There are nearly as many types of workplace injuries as there are workplaces. What is important is whether the incident occurred while the worker was doing their job and whether the injury stemmed from their job.
Who Is Covered and Who Is Not
Workers' compensation insurance results from a compromise between labor boards and employers. The employer agrees to pay the cost of any workplace injury and partially replace any lost wages. The employee agrees not to sue the employer for an on-the-job injury. All things being equal, this should resolve most problems.
Not every employee is covered by workers' compensation. New York law requires all employers to carry workers' compensation insurance. Some business types are excluded from this law: sole proprietorships with no other employees, some types of non-profit agencies, and independent contractors.
Who is covered by worker's compensation?
However, those who must have insurance must provide it for all employees. An employee is a "person (including family members) who performs under the supervision, direction, and control of an employer either on or off their premises." This applies whether the employee is full-time, part-time, or unpaid.
The important considerations are "supervision, direction, and control." If the employer instructs the worker what to do, how to do it, and when, that person is probably an employee. If the employer has just hired the person to complete a specific project and then has no input until the job is complete, that person is probably not an employee.
Now that remote work and hybrid worksites have become more common (thanks to the COVID pandemic), the line between being an independent contractor and an employee is becoming blurred. Remote workers should review their employment contracts carefully to ensure that being "at work at home" is still covered by workers' compensation. When there is any doubt, you should contact an attorney.
 
Types of Workplace Injuries
Hundreds of serious injuries and illnesses can result from a person performing their job duties in their usual way. The exact type of injury depends on the nature of your job, but the most frequent causes of injury-related time away from work include:
Any of these injuries can lead to extended periods away from work, loss of income, and potential disability.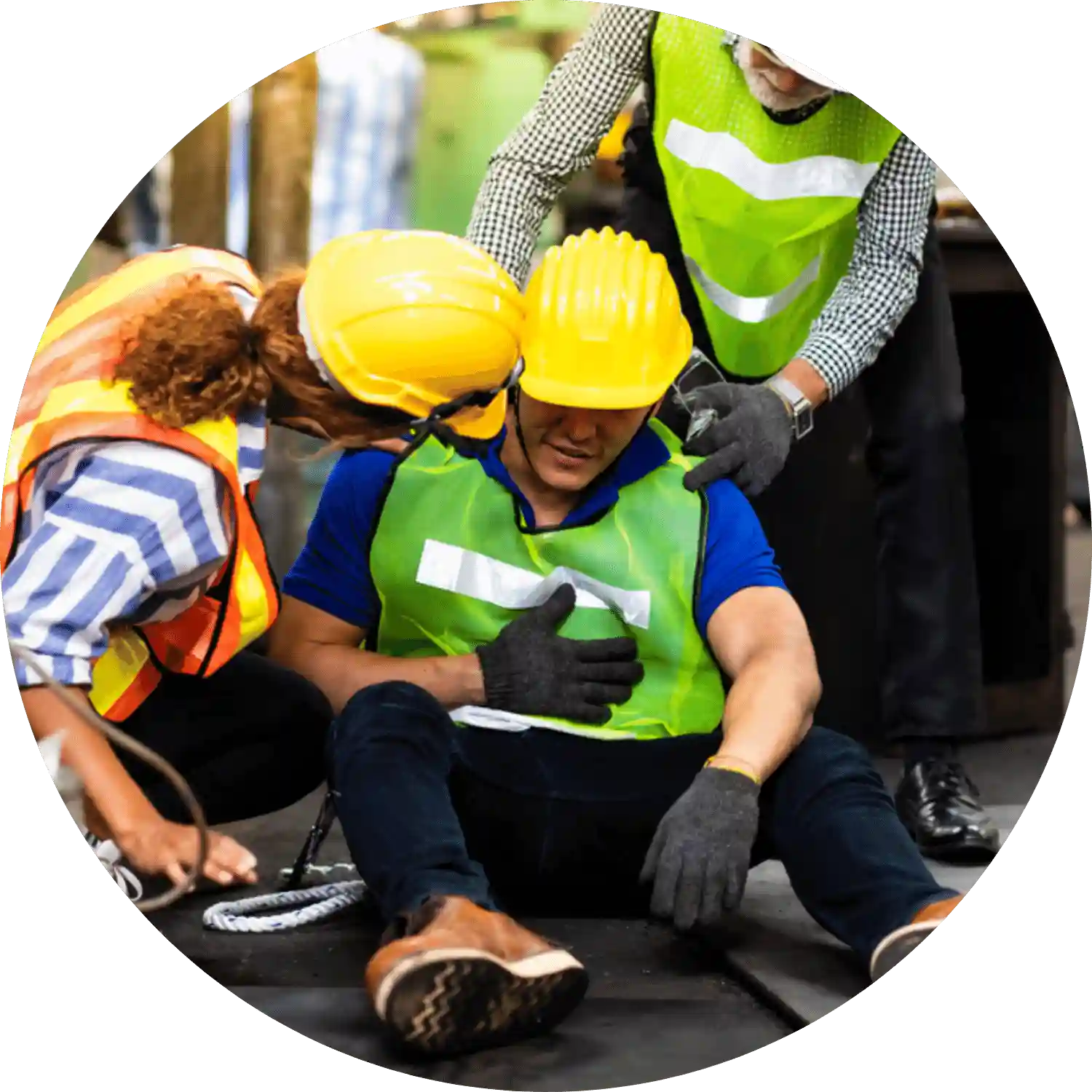 Proving a Workplace Injury
In New York, proving that an injury happened on the job is not as simple as just going to the doctor and getting a note. There are specific steps that must be taken for a workers' compensation claim to succeed. Failing to carry out these steps can lead to the denial of your claim or, at a minimum, a series of hearings and appeals to get the denial reversed.
Harris Keenan & Goldfarb strongly recommends that anyone who has suffered a workplace accident seek legal advice before attempting to file any insurance claim.
You should begin receiving benefit payments within 18 days of the date your employer notified the insurance carrier of the injury if your time away from work will exceed seven days. An employer or insurer can still dispute the claim when benefits are not yet paid.
What Is Covered and What Is Not
Workers' compensation only covers medical costs and lost income related to the job. Workers' compensation does not cover pain and suffering, loss of future wages, loss of consortium, or any other type of loss. You have a right to transitional or alternative work assignments to ease your way back into work.
If you are disabled due to your injury or unable to return to the same job, you may be eligible to receive vocational training.
Workers' compensation insurance aims to help you heal and return to work. If you cannot work at your previous job, you will be helped to find another job. You will only be given long-term benefits if you are declared permanently disabled.
Third-Party Liability Claims
An outside agency can sometimes be responsible for conditions leading to an accident. This is especially true on construction sites, where subcontractors and vendors bring their own people in to work on a location.
The benefit of filing a third-party liability claim is that, unlike workers' compensation, you are not barred from suing for pain and suffering or other non-economic losses. The downside is that a personal injury claim will not be paid out immediately. As with any personal injury suit, you could face years in court before receiving compensation.
Some types of third-party liability claims can include:
If you believe you have a cause of action against an outside party for your workplace injuries, you should contact the legal team at Harris Keenan & Goldfarb.
Whether you file a workers' compensation claim or believe you need to file a personal injury lawsuit, you should consult an attorney before making any decision. You should always have a lawyer review any documents before you sign them, especially if they involve your legal rights after a settlement.
Other situations may call for specialized legal assistance. You should call an attorney whenever you believe you have been injured and should receive workers' compensation or other insurance coverage.
. 
Independent Contractors and Employers
Whether a worker is a "contractor" or an "employee" is always open to debate. You are probably an independent contractor if you are a 1099 worker and handle your taxes. On the other hand, if your contract with the employer spells out exactly what you must and must not do, you could be an employee.
You can appeal the decision if your workers' compensation claim is denied. Before attempting this type of action, you should consult an attorney about the matter. Appealing a claim in New York has multiple steps.
If you decide to file an appeal, you must use the Workers' Compensation Board's forms and format. Many claims are denied simply because of missing paperwork or incomplete forms. The completed documents must be filed and served on the opposing parties.
You need the legal team of Harris Keenan & Goldfarb for this part. The requirements of an appeal are more extensive than the initial claims. The Board may request a legal brief outlining your case, transcripts of the hearing (including objections made at the time and the judge's ruling), requests for attorneys' fees, and other documentation.
Deadlines for filing, service, and responses
Deadlines for filing, service, and responses are strict. By having an attorney and legal team handle your administrative appeal, you can be sure that nothing was overlooked or forgotten. If you are recovering from your injury or adjusting to a new lifestyle imposed by an illness, you should not have to handle the legal complexities of an appeal.
The administrative appeal may be judicially appealed within 30 days of the Board's decision. The New York Supreme Court Appellate Division will handle this appeal. If you want your case reviewed at the judicial level, consult an attorney and let them assist you. Court requirements are entirely different from an administrative review, and your attorney will be able to guide you through the process.
Our legal team will collect the documentary evidence needed to make your case, ensure that all filing deadlines are met, and ensure that all paperwork is filed properly and sent to the correct people. You should not have to handle these matters alone.
If you have been injured on the job and need to know your rights, contact the attorneys of Harris Keenan & Goldfarb at 800-724-6529. You can also fill out our intake form and a member of our team will call you. If you've already filed your workers' compensation claim and need help with a denial or appeal, our legal team is ready to explain the requirements and assist you in presenting your case.
Being injured on the job can be life-altering. Let Harris Keenan & Goldfarb help you obtain the compensation you need to recover and get on with your life.
Book an Appointment
"*" indicates required fields