New York Airplane Accident Lawyers
Airplane accidents are some of the most devastating kinds of accidents. Not only do these accidents have a high risk of causing fatalities for airplane occupants. A crashing aircraft can also injure innocent people on the ground and cause significant property damage. Due to the complexity of aircraft, investigating airplane accidents often requires extensive effort and experience. If you have suffered injury or property damage from an aircraft accident, turn to the New York personal injury lawyers of Harris Keenan & Goldfarb. We can provide the legal assistance you need to pursue financial recovery for your injuries and losses.
Since 1996, our firm has worked hard to earn the respect of our clients and our peers in the legal community. We represent clients in state and federal courts in Brooklyn, the Bronx, and New York.
 We strive to live up to our excellence, ethics, and compassion values. Our goal is to resolve our client's claims as quickly as possible. We also strive to obtain fair and full compensation for them. Our aim is for you to quickly move on following a devastating airplane accident and resume your normal life.
Our attorneys have the knowledge and experience to take on the complex details of airplane accidents and recover outsized compensation, even if you have incurred or will incur millions or tens of millions of dollars in expenses and losses. 
When you have been injured or lost a family member because of an airplane accident, you deserve justice and financial recovery. Contact Harris Keenan & Goldfarb today for a free initial case review. We can discuss your legal options for securing compensation following an airplane or aviation accident.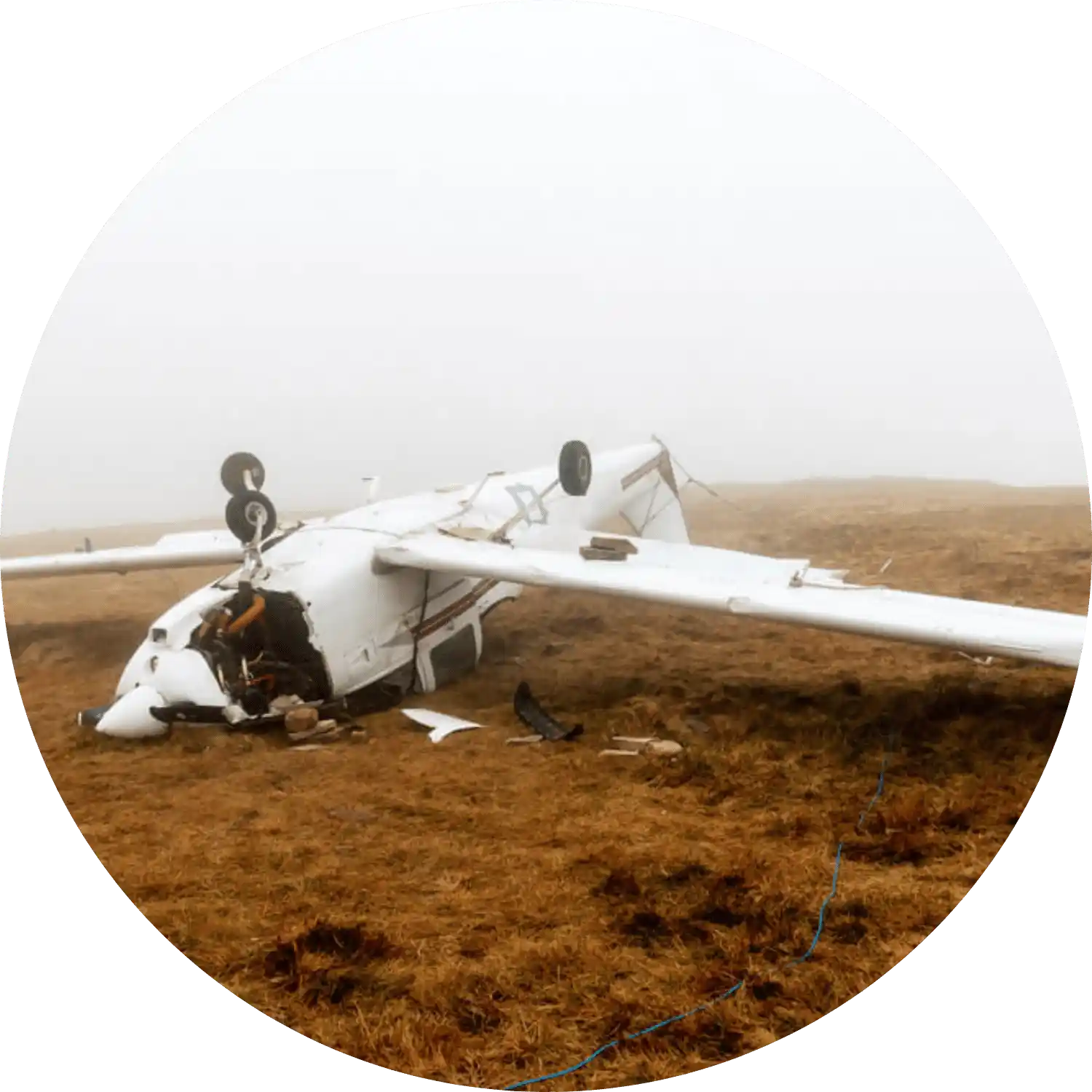 Why Choose Harris Keenan & Goldfarb After an Airplane Accident?
You may incur significant financial and personal loss if you have been injured or lost a loved one in an airplane accident. You need a law firm with the resources and experience to pursue full financial recovery. Choose Harris Keenan & Goldfarb for help with your airplane accident case because of our:
Airplane Accident Statistics
According to the Bureau of Transportation Statistics, in one recent year, there was a total of 1,085 general aviation accidents nationwide. Those resulted in 187 serious injuries and 332 fatalities. It resulted in a rate of 5.57 accidents per 100,000 flight hours. In that same year, major airlines had 11 accidents during scheduled service. Commuter airlines had five accidents, one of which was fatal. Air taxi services had 40 accidents, six of which were fatal. 
Types of Airplane Accident Cases We Handle
At Harris Keenan & Goldfarb, we represent airplane accident victims or the families of those killed by airplane accidents in claims involving:
Commercial airline crashes
If you have been injured while riding as a passenger in a commercial airliner, or if you have been hurt or suffered property damage on the ground by an aircraft crash, we can help. You might be entitled to compensation from the airline, aircraft operator, or aircraft owner for your injuries or property damage. We also represent families who have lost loved ones in aviation disasters. Our attorneys demand accountability and justice when the negligence of airlines or aircraft operators causes the wrongful death of innocent victims.
We can also help you pursue financial compensation if you have been injured while riding in a charter plane. Let us thoroughly investigate the causes of the crash. We will advocate on your behalf to hold the charter operator, maintenance company, fixed-base operator, or aircraft pilot accountable. Our lawyers will pursue justice on your behalf even if charter operators try to avoid liability by shutting down operations or declaring bankruptcy. 
Our firm also represents injured victims of helicopter crashes. Whether you were injured while riding as a passenger in a charter or tour helicopter, or you were hurt on the ground by a helicopter crash, we will fight to help you pursue maximum compensation for your injuries and losses.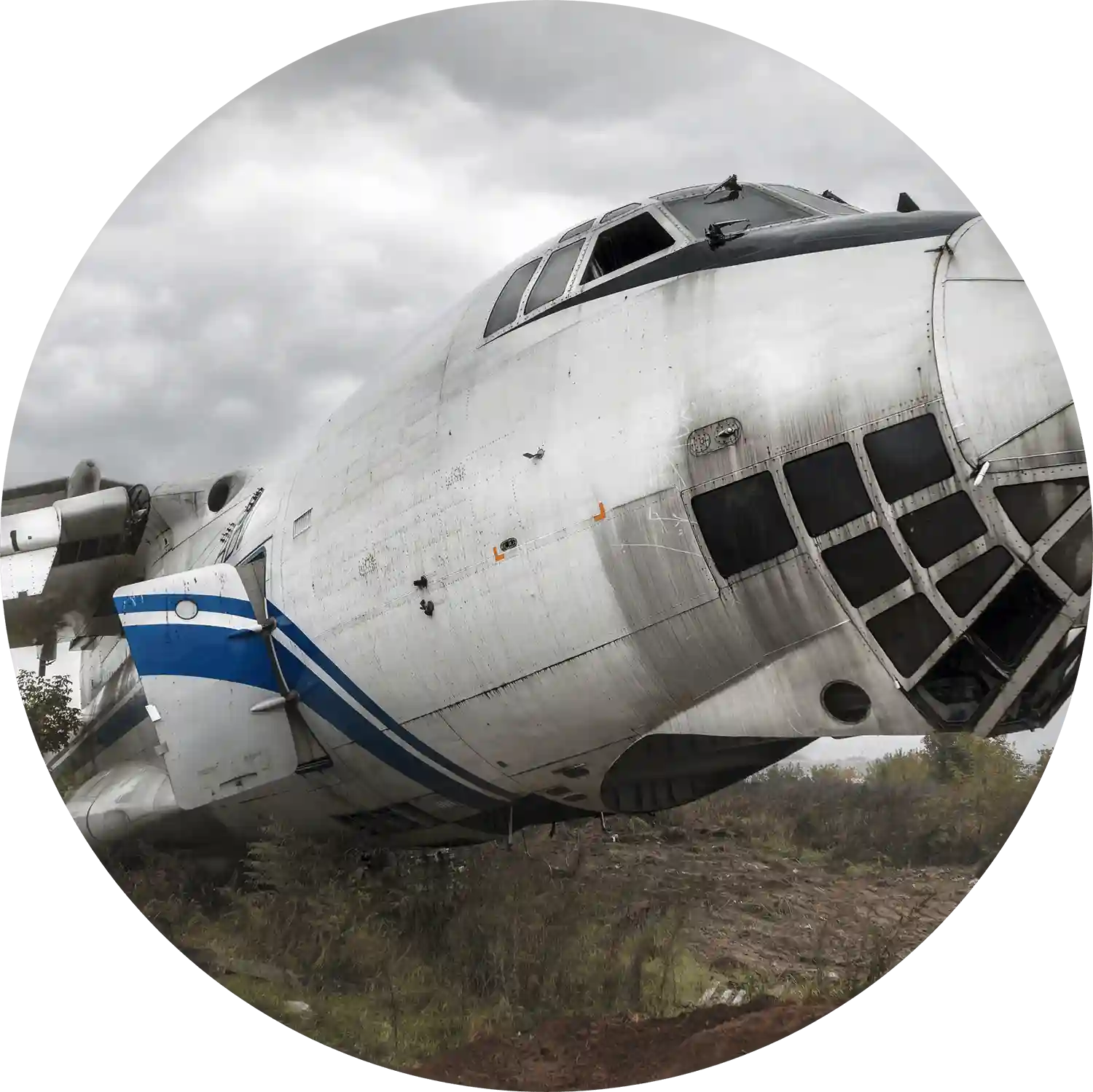 Who Can Be Held Liable for an Airplane Accident?
Aircraft such as airplanes and helicopters are complex machinery made of tens or hundreds of thousands to millions of parts. Often they are produced by numerous component manufacturers from all over the world. If a component fails or a mistake is made during an aircraft's assembly, maintenance, or operation, an accident can easily result. Liability for an airplane accident may rest upon one or more parties, including:
Common Causes of Airplane Accidents
Today, most aircraft have robust designs that prevent mechanical failure.  They also have computers and autopilot systems to help reduce workloads for pilots. As a result, most airplane accidents are attributed to pilot error rather than a mechanical cause or external factors such as weather. Some of the most frequently occurring examples of pilot error that lead to accidents include:
In addition to pilot error, air traffic controller error is another frequent cause of airplane accidents. Like pilots, air traffic controllers may also become fatigued. They can make mistakes, such as giving the wrong instructions to an aircraft. Misidentifying aircraft so that instructions are not received. Or failing to maintain clearances and separations that could prevent aircraft collisions.
The Statute of Limitations
When you have a claim for compensation following an airplane accident, you must act quickly in pursuing your legal rights. Under New York State's statute of limitations, you must file a lawsuit in your airplane accident case before a certain deadline. If you are pursuing compensation for injuries you have suffered in an airplane accident, the statute of limitations gives you three years from the accident date to file suit. If you have lost a loved one in an aviation accident, you have only two years from the accident to file a lawsuit against liable parties.
If you wait until after the statute of limitations has passed on your airplane accident claim to file a lawsuit, the trial court will likely permanently dismiss your case. That means you'll lose the right to demand compensation from those at fault for the accident through the court system. This makes it important to speak to an airplane accident attorney from Harris Keenan & Goldfarb as soon as possible so they can start investigating your claims and preparing a case for compensation on your behalf.
How an Attorney Can Help You After an Airplane Accident
When you have suffered injury or loss from an airplane accident, you should not pursue financial compensation from at-fault parties alone. Airplane accidents typically involve complex investigations. These are usually performed by a federal government agency known as the National Transportation Safety Board in conjunction with other federal agencies such as the Federal Aviation Administration. You need legal representation to look out for your interests while investigating the aircraft accident that led to your claim. 
An attorney can help you seek accountability and justice following an airplane accident by:
Compensation You May Be Entitled to After an Airplane Accident
After an aircraft accident, you may be able to recover compensation for expenses and losses that you have incurred due to the accident, such as:
In addition, if your family lost someone in an airplane or aircraft accident, you may be entitled to pursue a financial recovery for:
Book an Appointment
"*" indicates required fields
Contact Us to Learn More about Your Rights Following an Airplane Accident
If you were injured by an airplane crash or if your family has lost a loved one due to an aviation accident, don't wait to get started pursuing compensation and justice. Call Harris Keenan & Goldfarb at 800-724-6529 for a free, no-obligation consultation. You'll get to talk with a New York airplane accident attorney about how our firm can help guide you through the complex process of an airplane accident case. Let us help you get the money you deserve. You can also fill out our intake form and a member of our team will call you.