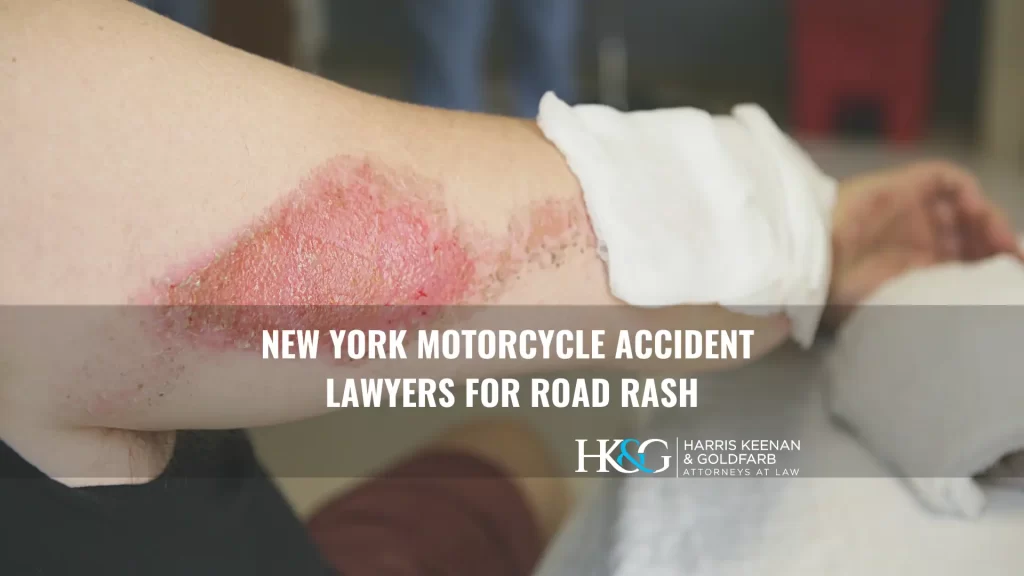 Road rash is an incredibly common injury among crash victims, particularly motorcycle accident victims. Since motorcycle riders have nothing keeping them in their seats, ejection is likely in the event of a crash, and subsequent contact with rough road surfaces can leave motorcyclists with painful road rash injuries.
Many road rash injuries appear minor on the surface, but these injuries can lead to serious complications like infections, substantial blood loss, and extensive scarring. If you or someone close to you suffered a road rash injury in a New York motorcycle accident due to another driver's bad behavior, you could be entitled to compensation for your associated medical costs, wage losses, and more.
The attorneys of Harris Keenan & Goldfarb are here to help you seek justice and fair compensation for your motorcycle accident injuries. We will fight hard to maximize your recovery and hold negligent parties accountable. Call us now at 800-724-6529 for a confidential consultation to get started.
What Is Road Rash?
The medical term for a road rash injury is an abrasion. An abrasion occurs when the outer skin layer scrapes against rough surfaces like asphalt, concrete, or scratchy carpeting, causing the skin and small capillaries to break open and bleed.
Dirt, gravel, and other debris can get embedded in the skin when a motorcyclist slides across the road and develops road rash injuries. This can lead to infections and other risky health complications. In severe cases, a road rash injury victim might require emergency medical care to clean their wounds and repair internal damage or bleeding.
Types of Road Rash Motorcyclists Can Suffer
Motorcyclists can sustain different types of road rash, such as:
Compression road rash – Compression road rash occurs when a part of the body gets stuck between two objects, and the resulting friction contributes to muscle damage, broken bones, and severe abrasions. A motorcyclist might suffer compression road rash if they get pinned between the road and another vehicle during a collision.
Avulsion – An avulsion injury occurs when exposed skin slides across a rough surface, causing it to scrape off and come away from the underlying bones or soft tissues. Avulsion road rash wounds can penetrate deep below the skin, exposing the nerves and muscles.
Open wound – If a road rash injury causes an open wound, the victim might require plastic surgery, stitches, or skin grafts to keep the wound closed as it heals.
There are also different degrees of road rash, which vary depending on the severity of the injury:
First-degree road rash – The least severe degree of road rash is first-degree. It involves relatively minor bruising, bleeding, and surface damage to the skin.
Second-degree road rash – Second-degree road rash occurs when the top skin layer scrapes off and exposes the tissues beneath. Glass, gravel, dirt, and other debris can enter these wounds.
Third-degree road rash – A third-degree road rash injury involves severe abrasions that expose tendons, muscles, and nerves. Disfigurement and scarring are common with these injuries.
How to Treat Road Rash After a Motorcycle Crash
You should seek prompt medical care even if your road rash injury seems relatively minor. Even the smallest road rash injury can worsen and lead to painful complications if left untreated. A doctor can examine you to determine the extent of your injury and recommend an appropriate treatment plan.
For minor to moderate road rash injuries, your doctor might recommend:
Applying antibiotic ointments and other surface treatments
Covering the injury with gauze to keep out foreign objects
Monitoring the injury for signs of infection
Changing the bandage frequently, especially after sweating or showering
Taking over-the-counter (OTC) pain relievers if you experience discomfort
More serious cases of road rash often require more intensive treatments, such as surgeries or skin grafts. You should see a doctor as soon as possible after a motorcycle accident to get the proper care.
What to Do After Getting Hurt in a Motorcycle Accident
Immediate action is necessary if you sustain a road rash injury in a motorcycle accident. Your first step should be to seek medical attention and have a professional evaluate your condition.
When the doctor finishes their evaluation, they might recommend follow-up treatment or appointments with specialists. Be sure to follow their recommended care plan closely, treat your injury as directed, and attend follow-up visits with all necessary medical providers until you heal as fully as possible.
Next, you should focus on gathering evidence for your motorcycle accident claim. You can start a pain journal to document your symptoms and describe how they affect your life. You should also keep evidence of your medical care, such as billing statements and imaging test results.
Finally, you should reach out to an experienced attorney. The dedicated team at Harris Keenan & Goldfarb can help you understand your options and determine the best way forward. Contact us right away so we can develop a strong claim on your behalf and demand the compensation you deserve.
Possible Compensation After a Road Rash Injury
Depending on the circumstances, you could recover compensation for the following types of personal and financial losses after a motorcycle accident road rash injury:
Past and future medical costs
Pain and suffering
Loss of enjoyment of life
Emotional distress
Permanent scarring
Lost income
Lost earning capacity
Is There a Deadline for Motorcycle Accident Lawsuits?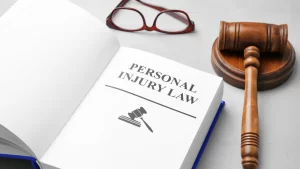 Yes. State laws impose strict deadlines for filing personal injury lawsuits, including motorcycle accident lawsuits. In New York, you have three years from the date of an injury accident to sue any liable party or parties. If you wait too long, you could lose your right to sue, so it's important to bring your case to a knowledgeable attorney as soon as possible after a road rash injury.
Contact a Skilled New York Motorcycle Accident Lawyer Today
If you suffered a road rash injury in a New York motorcycle wreck that wasn't your fault, Harris Keenan & Goldfarb is ready to help you fight for justice. Call us today at 800-724-6529 for a confidential consultation to learn more about your legal options.
Book an Appointment
"*" indicates required fields