New York Car Accident Lawyers
A significant car accident can turn your world upside down and impact you not just today but tomorrow as well. Physical injuries can strain your ability to earn an income and enjoy your life. The financial fallout of an accident can cause instability and jeopardize your future. After a car accident that wasn't your fault, you deserve meaningful compensation to help you get back on track. Yet, gaining this compensation can be complicated and time-consuming. 
After being involved in a car accident caused by someone else's negligence, you need the help that only an experienced New York car accident attorney can provide.
You deserve compensation
At Harris Keenan & Goldfarb, our premier team of personal injury attorneys can protect your rights and fight to obtain the money you deserve. No New York attorney will work harder than we will to recover you meaningful compensation. Our personal injury lawyers are dedicated to helping clients find the best course of legal action for their situation.
An accident may have put you on the sidelines, but don't let it derail your life. Contact the legal team of Harris Keenan & Goldfarb today for your best shot at getting the compensation you deserve. Call 800-724-6529 to book a confidential legal consultation with one of our skilled New York attorneys.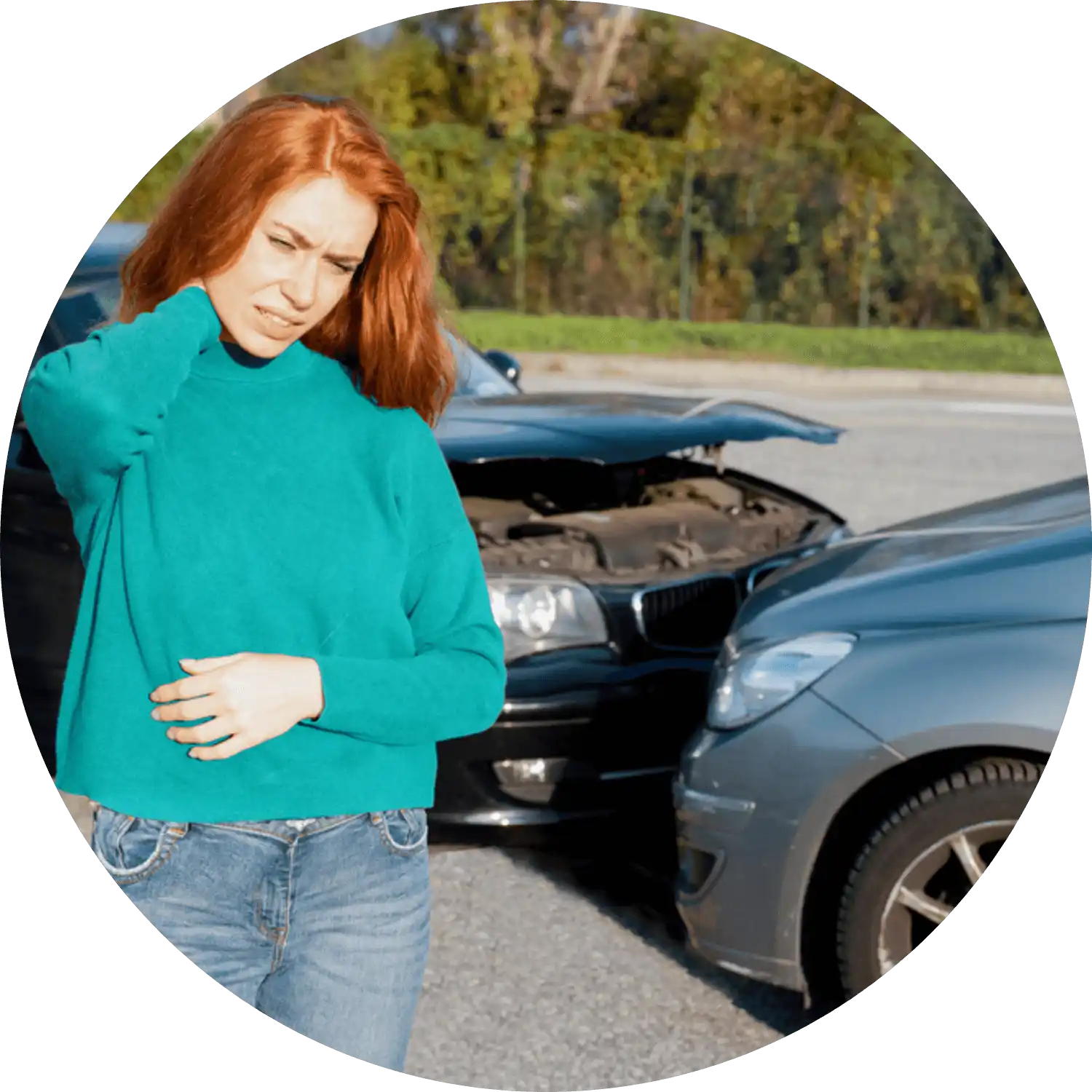 Why Do You Need a New York Car Accident Attorney to Represent You?
Being involved in a serious car accident can leave you feeling vulnerable, both physically and emotionally. In a matter of seconds, your entire life has changed. Coping with these changes can be extremely taxing. In the middle of learning how to navigate the healing process for your injuries, you are also in the uncomfortable position of filing an insurance claim and seeking compensation for the expenses related to the accident.
How do you know what you deserve? Should you trust the estimate of your insurance provider? Most of the time, the answer is no. For that reason alone, you must get an experienced New York car accident attorney involved. You aren't the only car accident victim an insurance company is dealing with. At any given time, an insurer could manage dozens of claims like yours. They look to secure a speedy and cheap resolution. You deserve more than a cheap cookie-cutter ending to your accident claim. You deserve what is fair.
Maximum compensation for your injuries
At Harris Keenan & Goldfarb, we help you seek what is right. We take the time to review your situation and calculate all costs associated with the accident. These include property damage, medical expenses, and lost wages. Our attorneys will also conduct a complete investigation into the cause of the accident and gather evidence that can help substantiate your claim. We will manage all communication between you and the insurer and aggressively negotiate on your behalf for what is right.
When you hire a seasoned New York attorney to manage your car accident claim, you can maximize your compensation while minimizing your stress levels. Let us work on getting you the money you need while you work on recovering from your injuries.
Common Causes of Car Accidents 
Car accidents don't happen in a vacuum. In most cases, they are caused by just one factor: human negligence. When drivers ignore their surroundings, they endanger everyone they share the road with, including you. Too often, negligent drivers don't think about how their behavior can impact someone else until it is too late.
Some of the most common causes of car accidents in New York include:
Types of New York Car Accidents 
New York isn't the easiest place to get around. Traffic jams and inattentive drivers can cause enormous headaches and result in serious accidents. At Harris Keenan & Goldfarb, we have extensive experience helping victims recover compensation, no matter what type of accident they have been involved in.
Some of the more common types of car accidents in the area include:
Each of these accident types can potentially cause irreparable harm to you or someone you love. Our legal team can help you navigate the claim process and seek the compensation you deserve.
New York Car Accident Statistics
The National Highway Traffic Safety Administration estimates that in 2020, New York State lost 1,046 lives in traffic-related accidents. That is a 12 percent increase from the number of lives lost in 2019.
New York City releases its traffic crash data monthly. In March of 2022 alone, the city recorded 8,660 motor vehicle crashes. These crashes resulted in three motorist fatalities, four-passenger fatalities, and eight pedestrian deaths. 
The most cited contributing factors for the over 8,000 recorded crashes include:
In March of 2022, Manhattan saw 1,432 motor vehicle crashes and a total of four lives lost. The Bronx recorded 1,555 crashes and three lives lost in the same time frame.
Data from the New York Department of Health estimates that car accidents kill 1.6 out of every 100,000 New Yorkers. There are also an estimated 6,207 hospitalizations each year due to traffic accidents. That means close to 31.6 out of every 100,000 New Yorkers end up in the hospital from a traffic crash-related injury. The agency also calculated that each year there are close to 106,612 emergency department visits tied to traffic crashes.
While a car accident can happen anywhere, there are some notoriously dangerous intersections located in Manhattan. These hazardous areas include:
Intersections in the 

Bronx

 that have a high number of traffic accidents associated with them include:
Common Injuries from Car Accidents
Car accidents can be life-altering events. When two cars collide, thousands of pounds of metal, glass, and fiberglass crunch together. These materials will crush anything in their path, including the human body. Significant injuries are not uncommon, even in low-speed collisions. While every car accident is different and can result in different patterns of injuries. All car accidents can be devastating in their own unique way. Common injuries that impact car accident victims can include:
These injuries can alter the course of a person's life, cause serious physical and mental trauma, and lead to lifelong financial setbacks.
How New York's No-Fault Insurance Laws Can Impact Your Claim
New York is only one of about a dozen states in the United States that subscribes to a no-fault car insurance model. In a no-fault system, a car accident victim seeks compensation from their own insurer versus seeking compensation from the at-fault person's insurance provider. Whether or not you are responsible for the accident, you must submit a claim with your insurer for compensation for your accident-related costs.
While details will vary from policy to policy, personal injury protection (PIP) coverage generally covers accident expenses related to medical costs, lost wages, and reasonable out-of-pocket expenses. New York's basic no-fault insurance coverage typically pays for:
Motorists may be able to purchase more insurance protection through their provider, depending on their needs and policy options.
Minimum Car Insurance Coverage Requirements in New York 
While it is up to individuals to retain car insurance coverage, New York does impose minimum insurance requirements for all drivers. Minimum coverage requirements are:
These minimum coverage requirements are sometimes known as 25/50/10. New York also stipulates that all drivers carry uninsured motorist coverage. This coverage applies to bodily injuries sustained in a crash with an uninsured motorist or hit-and-run driver.
Do You Have Other Options After a Car Accident?
Because New York is a no-fault state, accident victims must generally rely on their insurer for compensation after a car accident. Yet, do car accident victims have any other options for recovering money? In certain cases, the answer is yes. Some accident victims may be able to file a third-party personal injury lawsuit seeking financial compensation. 
New York allows victims who suffer "serious" injuries to file a personal injury lawsuit against the at-fault driver. Why is serious in quotation marks? Because injuries must meet a legal threshold to be considered severe enough to seek a legal remedy. To file a lawsuit against an at-fault driver, the victim must experience at least one of the following medical complications following the crash:
While you may be able to hold the at-fault driver financially responsible for their actions, your portion of responsibility may also affect how much compensation you can recover in a court case. New York follows a pure comparative fault model for doling out damages. Under this model, a victim's compensation can be reduced by the percentage of responsibility they bear for contributing to the cause of the crash. If a victim is found to be ten percent responsible for causing an accident, their total compensation can be reduced by ten percent.
Pure comparative fault
In pure comparative fault states, you can still recover compensation even if you are more responsible for causing the accident than the other driver. If a person is 60 percent at fault, they can seek money for their injuries. However, that person could also pay the other driver's damages.
Getting an attorney is crucial for understanding your legal options and helping you recover compensation. Although New York is a no-fault state, fault can still come into play and impact the compensation you may be due. While the pure comparative negligence rule binds court decisions, it also guides how an insurance adjuster will ultimately value your claim. An attorney can be your best option for tracking down the evidence necessary to establish liability and help you build a strong claim or court case for maximum compensation.
Compensation Available in Car Accident Cases
The total amount of compensation you may be due is divided into two distinct categories. These categories include economic damages and non-economic damages. Economic damages are meant to compensate a victim for their measurable crash-related expenses. These damages are relatively straightforward to calculate. Non-economic damages are more subjective. They are meant to cover significant changes in a person's life quality and emotional distress caused by the collision.
In total, a victim may be able to pursue compensation for the following:
New York does not cap the amount of non-economic damages like some other states do. 
In some cases, it may also be possible to recover punitive damages. Punitive damages do not cover a victim's losses. Instead, punitive damages can be awarded to a victim to punish a grossly negligent party. In New York, you must generally demonstrate that the negligent party acted with a high degree of moral turpitude or with willful negligence.
The value of a car accident
Determining the value of a car accident case can be challenging. Before accepting an insurer's offer, talk to an experienced New York car accident attorney about the circumstances of your case. An attorney can lay out your legal options and direct you on the best path forward. They can also give you a fair assessment of the value of your claim.
New York Statute of Limitations for Filing a Personal Injury Lawsuit 
Whether to file a lawsuit against someone is a difficult decision to make. You may be reluctant to hold a negligent driver accountable for their actions because you are intimidated by the legal process. You could potentially be waiting on a settlement from your insurer and feel like there is no reason to forge ahead with filing a lawsuit. Unfortunately, the longer you wait, the more difficult it becomes to file. New York's statute of limitations gives car accident victims three years from the date of the crash to file a lawsuit seeking compensation.
This time limit can expire if your insurer is not negotiating in good faith, the negotiating process stalls, or you are reluctant to file a lawsuit. When the statute of limitations expires, you may have no other options for recovering the money you need.
Seek Help from an Experienced New York Car Accident Attorney
Harris Keenan & Goldfarb was founded in 1966. Since then, we have built our practice on the principle that all accident victims deserve transparent and aggressive legal representation. We respect your time and will work with you to resolve your case in the most favorable way possible. We have a long track record of helping New York accident victims just like you recover the money they deserve. That money can significantly relieve your financial situation after a serious car accident.
If you are ready to learn more about your legal options, call our office now at 800-724-6529. You can also reach out to us online. We will set you up with a confidential legal consultation to discuss the specifics of your case and how we may be able to help.
Book an Appointment
"*" indicates required fields