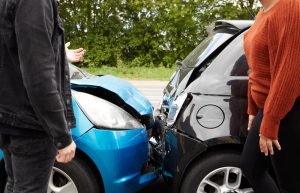 Getting into a car accident can be devastating regardless of the circumstances, but getting hit by someone who is not insured or who takes off without providing enough information for the police to locate them can be financially devastating. It is a case when you should contact a lawyer specializing in uninsured motorist accidents.
Like all other states, New York requires drivers licensed in New York to carry a minimum amount of insurance to cover losses in a collision they cause. However, many drivers choose to drive illegally without insurance. Uninsured motorist coverage can offset the financial stress of being hit by an uninsured driver.
If you were in a collision with an uninsured driver, contacting an attorney to learn more about your legal options is essential. At Harris Keenan & Goldfarb, our attorneys specialize in motor vehicle accidents. We will evaluate your case and determine the compensation you could pursue through your uninsured motorist coverage. In addition, our attorneys have a track record of obtaining maximum compensation for our clients who are the victims of collisions.
Contact us today at 800-724-6529 for a case evaluation to learn more about your legal options.
What Is Uninsured Motorist Coverage?
Uninsured motorist coverage provides an extra layer of protection for policyholders to protect against drivers who illegally drive without insurance. Under New York law, uninsured motorist coverage also applies whenever someone is injured through a collision with an unidentified driver. This means you must come into contact with an unidentified driver. If you swerve to avoid an unidentified driver and damage your car, your uninsured motorist coverage will not cover the collision because there was no physical contact with the unidentified driver's vehicle.
Is Uninsured Motorist Coverage Required in New York?
In New York, all New York licensed drivers are required to carry the following:
Bodily injury liability insurance: $25,000 per person and $50,000 per accident
Bodily injury liability insurance for injuries resulting in death: $50,000 per person and $100,000 per accident
Property liability insurance: $10,000 per accident
Personal injury protection insurance: $50,000 per accident
Uninsured motorist coverage: $25,000 per accident
What Does Uninsured Motorist Coverage Cover?
Uninsured motorist coverage compensates you and anyone else injured in your vehicle for bodily injuries when an uninsured driver hits you.
The uninsured motorist coverage will only compensate you up to your limits, so if your losses exceed your insurance coverage, the uninsured driver, if identified, will be personally liable for the remaining losses.
What Is Personal Injury Protection Insurance
Personal injury protection (PIP) insurance, also known as no-fault insurance, covers medical expenses and lost wages for you and any passengers in your vehicle injured in an accident. PIP insurance can be useful when dealing with an uninsured motorist because a portion of your medical expenses will be covered under your insurance policy even if you have the minimum liability coverage.
Common Uninsured Motorist Accident Injuries
A car accident can cause severe injuries and permanent injuries, including:
Back and neck injuries
Cuts and lacerations
Soft tissue injuries
Broken bones
Facial and dental injuries
Regardless of the injury sustained, we understand the toll it can take on your life. You deserve compensation to cover your losses when the wrongdoing of another person injured you.
Do I Need a Lawyer for an Uninsured Motorist Claim?
You don't need a lawyer for an uninsured motorist claim, but you should hire one. An experienced New York car accident lawyer could investigate the accident to see if there are any other potential at-fault parties. The Harris Keenan & Goldfarb attorneys are experienced in dealing with insurance companies. They can handle all communications with the insurance company on your behalf.
Whether you are dealing with your insurance company or another driver's insurance company, they all have one goal – to make money. As a result, insurance adjusters are likely to be difficult. They will often make inappropriately low offers and attempt to reduce the compensation that their company will have to pay.
An uninsured motorist attorney will go to work for you to pursue maximum compensation for your case.
Your attorney could:
Investigate the collision
Gather evidence
Help determine how much compensation should be sought
Send detailed demand letters to your insurance company and the uninsured driver if they were identified
Negotiate a settlement agreement with the insurance company and the uninsured driver
Prepare for trial, if necessary
Represent you in a trial, if necessary
Having an experienced personal injury attorney on your side while dealing with an uninsured motorist can substantially affect how much compensation you will receive.
How To Protect Yourself from an Uninsured Motorist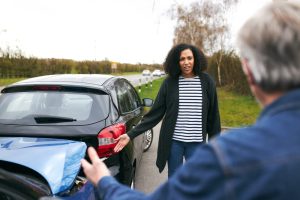 When you are injured in an accident caused by an uninsured driver, it is essential to preserve your rights to seek compensation by:
Notifying your insurance company about the collision within your policy's required timeframe
If you did not call the police when the collision occurred, filing a police report within ten days of the collision, which is required by New York law when a person is injured, or one person's property damage exceeds $1,000
Saving receipts for all expenses related to the collision
Not discussing any details of the collision and your compensation claim with anyone other than your attorney
Contact Us
The attorneys of Harris Keenan & Goldfarb are ready to help with your case, no matter how big or small the compensation claim may be. We understand how difficult it can be to deal with an insurance adjuster, so let us handle that on your behalf to help you get the compensation you deserve.
When you hire us to handle your case, you'll be treated like family. You'll always know the status of your case, and you can contact us with questions when you need to. We'll be there for you until the end.
Contact us today by calling 800-724-6529 or contact us online for a free case evaluation to learn more about your legal options.
Book an Appointment
"*" indicates required fields