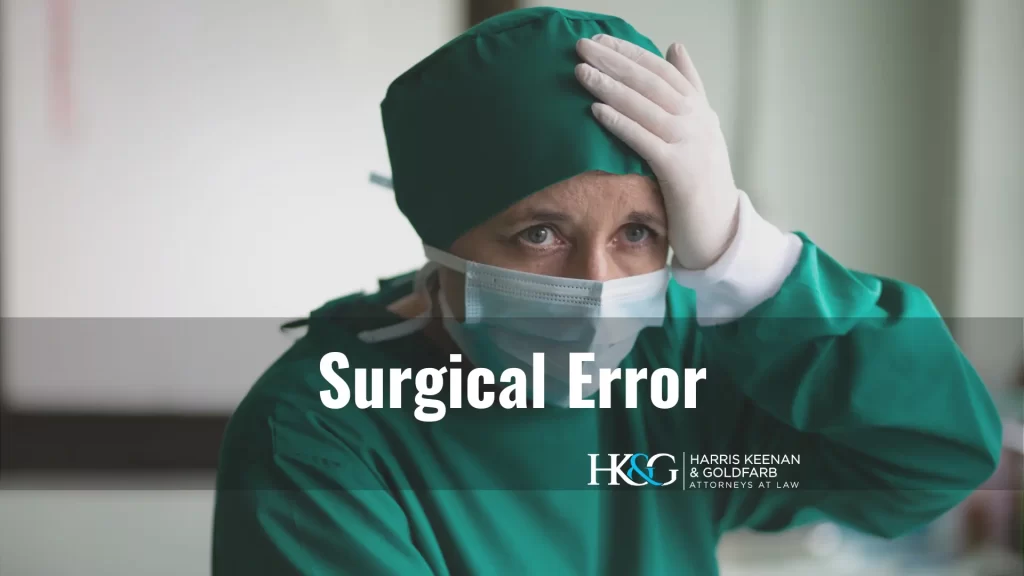 New York Surgical Error Attorneys
When you place your trust in the hands of a surgeon, you expect they will perform their job with the utmost care, skill, and precision. But what happens when the unexpected occurs and you suffer a surgical error?
At Harris Keenan & Goldfarb, we understand the physical, emotional, and financial hardships that surgical errors can impose on you and your loved ones. You have a right to seek justice, and we are committed to providing effective representation to secure it. For over 25 years, our medical malpractice attorneys have advocated for the rights of injury victims throughout the New York area. We have the skill and resources to negotiate a fair settlement, and should the insurance companies refuse to pay, we are prepared to take your case to trial to seek maximum compensation.
Contact our office today to speak to a personal injury attorney.
What is a Surgical Error?
Surgical errors are preventable mistakes made during surgery. They can be as minor as a small incision in the wrong place or as severe as operating on the wrong body part or patient. These errors are sometimes called "never events" — so named because they should never occur. Unfortunately, they are alarmingly common.
While all surgeries carry some risk, there is a distinct difference between a known risk and a surgical error. Risks are inherent to the procedure and might be unavoidable despite the best care. On the other hand, surgical errors result from negligence or lack of skill on the surgeon's part.
Common Types of Surgical Errors
These errors can take many forms, including but not limited to:
Wrong-site surgery

Wrong-patient surgery

Incorrect procedure performed

Unintentional damage to organs or tissues

Leaving surgical instruments or sponges inside the body

Anesthesia errors
How Do I Prove Fault?
If you or a loved one has suffered from a surgical error, you must understand that you have legal rights. You may be entitled to compensation for medical bills, lost wages, pain and suffering, and other "damages" related to the surgical error.
However, seeking compensation can be challenging in a surgical error case. To secure financial relief, a plaintiff must prove that the surgeon's wrongdoing caused their injury. An attorney will use various types of evidence to prove fault in a surgical error case, including the following: 
Medical records – The patient's complete medical records can provide critical information about the nature of the surgery, the surgeon's plan, the patient's health status, and what complications arose.

Operative report – This is a detailed report written by the surgeon post-operation that provides a narrative of the procedure. It could reveal discrepancies or details suggesting errors.

Witness testimony – Testimony from nurses, anesthesiologists, surgical assistants, or other medical professionals present during the surgery can provide crucial insights.

Expert testimony – Medical experts can testify to the standard of care the surgeon should have provided and whether their actions deviated from this standard.

Imaging data – Pre-operative and post-operative X-rays, CT scans, or MRIs can demonstrate physical evidence of the surgical error.

Photographic evidence – Photographs of the surgical site or physical injuries are tangible evidence of the error.

Surgical equipment – In some cases, the equipment used during surgery, such as a malfunctioning device or a surgical sponge left inside the patient, could serve as evidence.
What Compensation Can I Get in a Surgical Error Case?
If you suffer a surgical error, the resulting physical pain, emotional trauma, and financial burden can be staggering. Our legal system allows for various types of compensation, collectively referred to as "damages," that a plaintiff in a successful surgical error lawsuit can win. You might be eligible to seek compensation for the following: 
Medical expenses include the cost of additional surgeries, hospital stays, medications, rehabilitation, physiotherapy, and any future medical care you may need due to the surgical error.
Lost wages and loss of earning capacity – If the surgical error has caused you to miss work or reduced your ability to earn a living in the future, you could seek compensation for these losses.
Home modification and caregiving costs – If the error has resulted in a disability that requires home modifications (like wheelchair ramps or unique bathroom fixtures) or professional caregiving, you could recover these costs.
Pain and suffering include physical pain, mental anguish, emotional distress, and reduced enjoyment of life due to your injuries.
Loss of consortium – Spouses of victims might pursue compensation for the loss of companionship or the inability to maintain a sexual relationship due to the surgical error.
How Can an Attorney Help?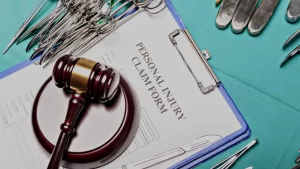 Our law firm is skilled in handling medical malpractice cases involving surgical errors. We can build a strong case on your behalf with a thorough understanding of medical practices and laws. We can help you seek the justice and compensation you deserve by:
Evaluating your case and gathering evidence – We will listen to your story and collect medical records and other critical evidence to prove liability for your injury. 

Securing expert testimony – We can consult top medical experts to understand exactly what happened during your surgery and how the surgeon deviated from the standard practice. 

Negotiating with insurers and other parties on your behalf – We will negotiate with the insurance companies to help you pursue the compensation you need. 

Operating on a contingency fee basis – You won't pay anything until and unless we secure compensation.
Contact Our Experienced Surgical Error Attorneys Today
When a surgical error impacts your life, seeking legal advice as soon as possible is essential. You have a limited time to file a surgical error lawsuit, so contacting an attorney from Harris Keenan & Goldfarb is crucial. For over 25 years, we have advocated for individuals and families suffering from surgical errors. Our experienced team will guide you through the complex legal process, providing compassionate support at every step. If you or a loved one has suffered a surgical error, contact us today for a free consultation. We can fight for the justice and compensation you deserve.