New York Catastrophic Injury Lawyers
You may be entitled to compensation if you or a loved one has suffered a catastrophic injury because of someone else's negligence. The New York personal injury attorneys of Harris Keenan & Goldfarb have over 80 years of combined experience fighting for compensation for people who were injured by the actions of others. We aggressively negotiate and tenaciously litigate for the rights of clients who have suffered catastrophic injuries.
We place your needs first and foremost. Our experience and skill are responsible for our record of success in personal injury cases. The award-winning attorneys of Harris Keenan & Goldfarb are recognized as being among the leading attorneys in New York. Several of our lawyers have been designated as Super Lawyers.
This designation is given to attorneys who have met high standards within their field. The attorney goes through a rigorous selection and evaluation process. The selection committee may then designate them as Super Lawyers.
Million dollar advocates
Attorneys at Harris Keenan & Goldfarb have also become members of the Million Dollar Advocates Forum. Attorneys in the Forum are chosen after they have demonstrated skill, experience, and excellence in advocacy. This is demonstrated by consistently winning million and multimillion-dollar verdicts and settlements.
Call our office today at 800-724-6529 to schedule your confidential consultation with an attorney who will aggressively fight for your rights and seek fair compensation to cover the cost of your catastrophic injury.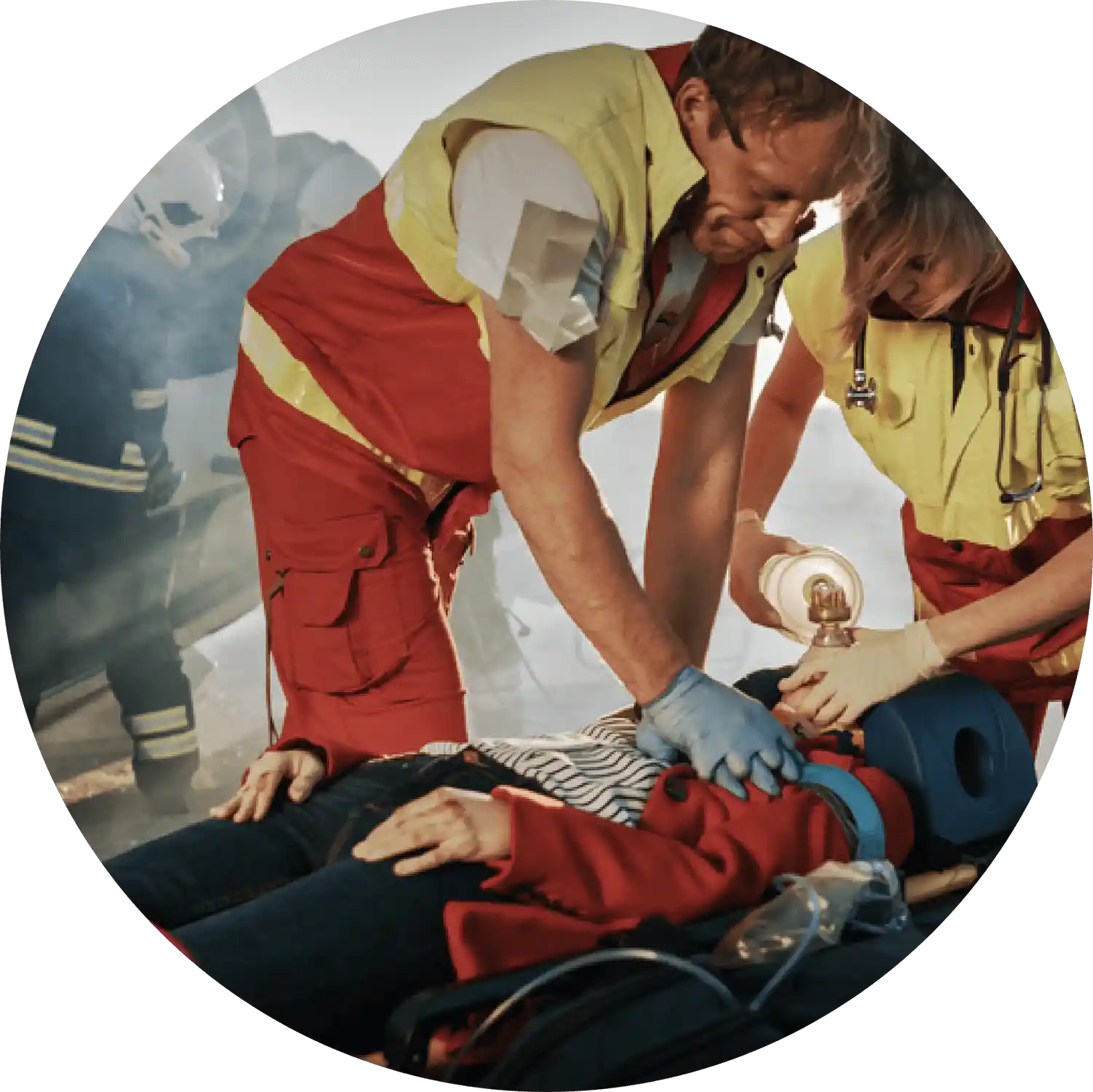 What are Catastrophic Injuries?
Outside the legal and medical community, the definition of" catastrophic" can vary. However, for legal purposes, a catastrophic injury is a life-changing injury that affects both the individual and their family members and loved ones. 
These injuries can shorten life expectancy, diminish the quality of life, and cause chronic pain. Individuals may also experience a permanent disability that prevents them from performing some of the simplest daily tasks. 
Several common types of injuries fall under this umbrella term, including:
Why Do You Need a New York Catastrophic Injury Attorney?
Nearly every individual with a catastrophic injury will require hospitalization immediately after the accident. You might be entitled to compensation if you suffered a catastrophic injury due to someone else's negligent behavior. 
However, the at-fault party's insurance company wants to protect its financial assets and is unwilling to hand out fair compensation without negotiation. Insurance companies are well-represented by experienced attorneys and skilled insurance adjusters. 
Adjusters are adept at determining your level of expertise in the law and taking advantage of your inexperience. An insurance adjuster may approach you within days after the accident when you are vulnerable and in the hospital. They may want you to make a statement, give them a recorded statement, or they might immediately offer you a lump sum settlement. 
Do not speak to the insurance adjuster
You mustn't speak with an insurance adjuster without your attorney present. Insurance adjusters are looking for information about the accident that can prove you were at fault. When you talk to an insurance adjuster without legal representation, you may inadvertently say something that can negatively affect your case. 
The legal team at Harris Keenan & Goldfarb understands the financial, emotional, mental, and psychological burden after a significant accident. Our mission is to ensure that you have appropriate legal representation, that your rights are protected, and that you receive fair compensation for your injuries. 
We negotiate with the at-fault party's insurance company or gather evidence to support your claim in court so that you can spend your time and energy recovering from your injuries.
How Long Do You Have to File a Personal Injury Lawsuit?
Every state has a law that limits the amount of time during which you can file a personal injury lawsuit. This is called the statute of limitations. In New York, the statute of limitations for a personal injury lawsuit dictates a three-year time period. If you do not file your lawsuit within three years of your accident, you relinquish the right to hold the at-fault party accountable.
Three years can sound like a long time. However, negotiating with an insurance company or filing a personal injury lawsuit can take months. In addition, it can take months or years to recover from a catastrophic injury fully. Many people do not regain total function but must undergo rehabilitation to learn how to perform daily tasks with limited physical mobility, hearing, or sight.
Each of these factors can create a situation where you may not file a personal injury lawsuit in enough time to recover compensation for the damages you incurred at someone else's hands. While we understand that no amount of money can compensate for your loss of physical function, it can help ease the financial burden of catastrophic injuries.
Types of Accidents That Can Cause Catastrophic Injury
A catastrophic injury can happen in many types of accidents. Car accidents may be one of the largest causes, especially when your vehicle collides with a large commercial truck. Other causes of severe and catastrophic injuries include:
What Are the Long-Term Consequences of Catastrophic Injury?
A catastrophic injury has life-changing consequences. But what exactly does that mean? The long-term effects of a catastrophic injury can be experienced in many different facets of life. Nearly everyone with a catastrophic injury will have mounting medical bills and lost wages. 
Extensive treatment and therapies are required to save your life and offer you the best chance at rehabilitation to become independent. These treatments include surgery, medications, physical therapy, speech therapy, and occupational therapy. You may require bracing or a wheelchair for mobility; some require lifelong help at home.
 These monumental financial expenses are just one way a catastrophic injury can affect your life.
Following a traumatic event that causes a catastrophic injury, a person may also suffer from post-traumatic stress disorder (PTSD). It happens to people who have witnessed or experienced a traumatic event. 
People who have PTSD suffer from intense and disturbing thoughts and feelings that are related to the traumatic event. They might relive the event through flashbacks or nightmares and feel detached or estranged from their friends and family. 
Commonly, people with PTSD avoid situations that remind them of their experiences. Thus, an individual who suffered a catastrophic injury during a car accident with a commercial truck may avoid driving on the highway or avoid cars altogether.
The compensation you may be paid depends on a wide range of factors. When the insurance company does not negotiate fair compensation for your injuries, we are prepared to litigate your case in court aggressively. 
The availability of insurance coverage also plays a role in your compensation. Since treating a catastrophic injury is expensive, we work hard to identify all responsible parties and available coverage to ensure that you receive compensation for your injuries and that your accident-related medical expenses and other costs will be covered. 
New York state law allows multiple parties to share responsibility for your injury. Our legal team fights hard to hold every at-fault party fully accountable to maximize your financial recovery. 
Some of the factors that can influence the value of your case include:
What Type of Compensation Is Available?
After a catastrophic injury, you should speak with a personal injury attorney from Harris Keenan & Goldfarb. We can help determine the type of compensation you may be owed. While it is difficult to value your case, with our vast experience in this type of accident, we can assess what the insurance company or companies may be liable to pay. 
Compensation is broken up into two categories: economic and non-economic compensation. Economic costs are concrete and tangible expenses for which you have receipts. Non-economic costs are subjective losses that you suffered from the accident. In many cases, you may be compensated for economic and non-economic damages after a catastrophic injury.
Your award of economic damages might include: 
These damages can include payment for the following:
Call Harris Keenan & Goldfarb Today for Help After a Catastrophic Injury
If you were injured in a New York accident and suffered catastrophic injuries, you need an experienced and skilled attorney to represent your rights and fight for fair compensation. The award-winning attorneys of Harris Keenan & Goldfarb understand the financial, emotional, mental, and psychological burden that happens with catastrophic injuries. 
Our team comprises skilled negotiators and aggressive litigators with a successful track record in representing clients just like you. Call our office today at 800-724-6529 to schedule your confidential consultation. You can also fill out our intake form, and a member of our team will call you.
Book an Appointment
"*" indicates required fields