New York Construction Accident Lawyers
Unfortunately, accidents happen. If you were injured in a construction accident, you need an experienced New York construction accident attorney to help protect your rights and fight for the fair compensation you deserve.
The New York construction accident personal injury lawyers of Harris Keenan & Goldfarb are among the leading attorneys in New York. We are frequently honored for our accomplishments, including being designated Super Lawyers. This designation is an exceptional achievement given to lawyers who have attained high standards within their field.
The title is not given out lightly. Recipients must go through a rigorous selection and evaluation process. Our attorneys have also become members of the million-dollar advocate's forum and have been awarded high ethical standing status.
Our attorneys have over 80 years of combined experience in personal injury law. When you need help getting the compensation you need for medical bills and other accident-related expenses, you need Harris Keenan & Goldfarb. Call our office today at 800-724-6529 to schedule your confidential consultation.
How Long Do I Have to File a Claim?
After a significant accident in which you were injured, you need time to recover, physically and mentally. You must also contact a personal injury lawyer with experience in construction accidents as soon as possible to help protect your rights. 
In New York, you have three years in which you can file a personal injury lawsuit. The statute of limitations dictates this time period. Once three years from the date of the accident have passed, if you haven't filed a lawsuit, you relinquish your right to hold the at-fault party responsible for their actions in court. 
Time can pass quickly
It may seem as if three years is a long time. Yet, in that time, you must negotiate with the at-fault party's insurance company, gather evidence to support your case and file the necessary paperwork. When you are also struggling with physical injury, time can pass quickly.
Do You Need a Personal Injury Attorney After a Construction Accident?
After any construction accident where you were injured on the job, you should fill out an incident report that your employer uses to document your injury. You should also have a copy of it signed by your employer. This helps provide evidence to support your workers' compensation claim. 
In New York, the Workers' Compensation Board has guidelines for workers who are injured on the job. This includes how to file a claim and the deadlines that must be met for the paperwork.
If you weren't on the job but were injured on a construction site, you would normally fill out an insurance claim with the at-fault party's insurance company. It can seem as if there's an endless maze of overwhelming paperwork, and yet it is vitally important for you to be compensated for your injuries.
Don't talk to the insurance adjuster
Even before the claim is filed, an insurance company may send an insurance adjuster to speak with you. These people are skilled negotiators whose goal is to protect the financial assets of their clients. They may ask questions about the accident, ask you to give a recorded statement or offer a quick settlement. 
You mustn't give information to an insurance adjuster without your attorney present. Your New York construction accident attorneys at Harris Keenan & Goldfarb can help prevent you from inadvertently saying something that might affect your case. They can also offer advice on an early settlement from the insurance company. Too often, the first offer will not be fair. 
Insurance companies have experienced adjusters and attorneys representing their rights and protecting their financial interests. When your financial future is on the line, you should also have an experienced and compassionate attorney working for you. The New York construction accident lawyers at Harris Keenan & Goldfarb are tenacious negotiators and aggressive litigators who work hard to get you the maximum settlement for your interest.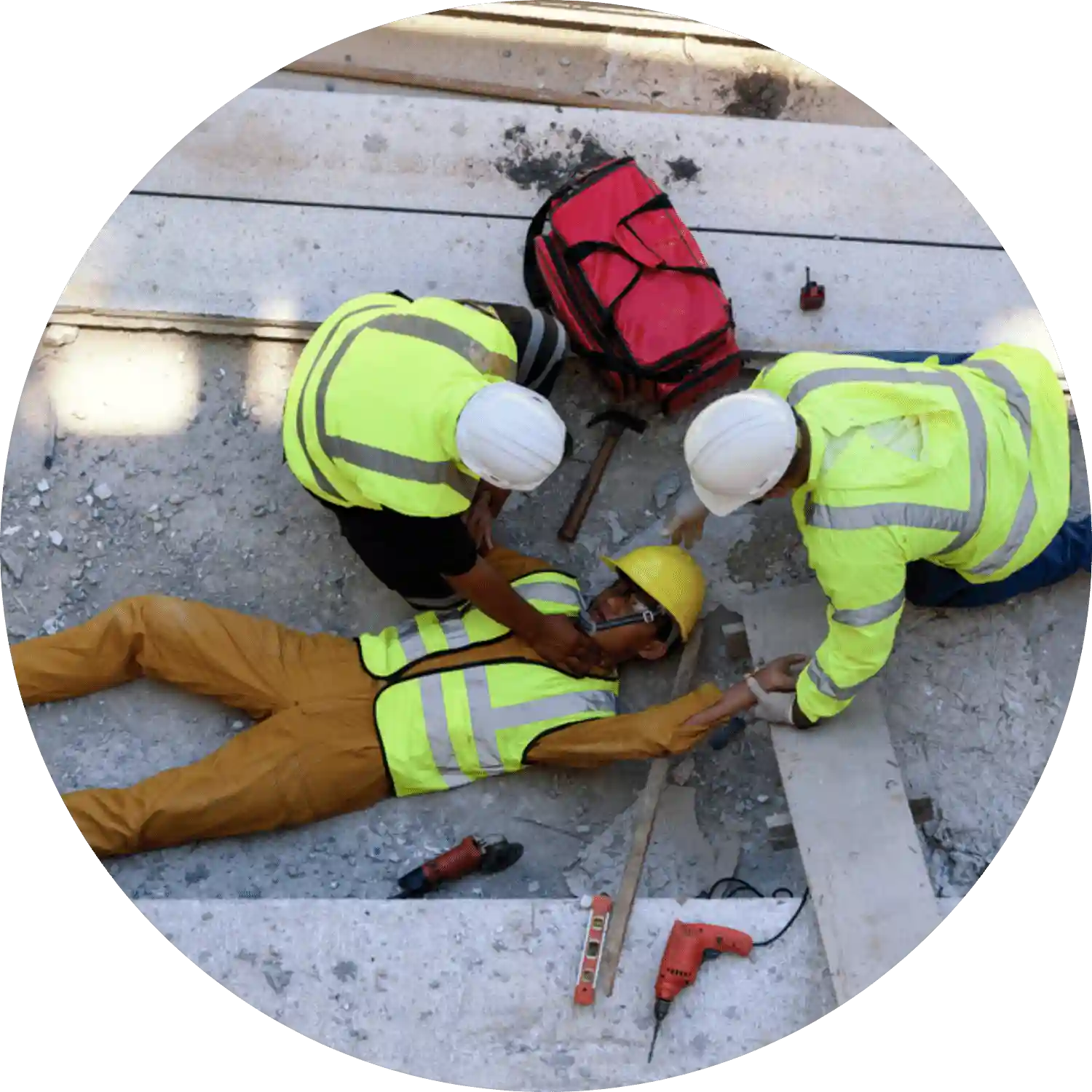 About Workers' Compensation in New York
Nearly every employer in New York must provide workers' compensation for their employees. Employers pay for workers' compensation insurance for medical care and partially lost wages when an employee is injured or gets sick due to their work. The New York Workers' Compensation Board directs the program, processes the claims, and determines whether a worker will be paid.
In a New York workers' compensation claim, no fault is assigned to the employee or employer for the illness or injury. If your claim is accepted, your medical bills will be paid directly to the provider in accordance with the workers' compensation laws of New York.
If the employer or the insurance carrier disagrees with the claim, the case is brought before a workers' compensation law judge who makes a decision about your claim. 
There are certain exceptions under which you can file a lawsuit against your employer arising from a workplace accident. In addition, you can file a lawsuit arising from a workplace accident if a third party is responsible for the accident. Talk with an experienced New York construction accident lawyer to understand your rights and protections under the law.
Types of Construction Accidents
Construction accidents often result in injuries and damage. These accidents can involve construction workers injured while performing on-site duties with machinery or unsafe work operations. Construction accidents can also harm visitors to the site and independent contractors.
Accidents in construction zones can also involve private citizens who are passers-by and aren't affiliated with the project but are injured from negligent construction operations. 
Our experienced lawyers handle all types of construction accidents, including those that involve:
Sometimes, accidents do not happen by chance. Instead, a chain of events occurs that more often than not includes one or more negligent parties. It is the employer's, contractors, property owners, or site manager's responsibility to put adequate safety measures in place to lower the risk of accidents. These parties must also have enough resources and time available to perform maintenance on the equipment.
Heavy Machinery Accidents
Heavy machinery accidents are one type of construction accident that can cause significant physical injury. Heavy machinery is required in construction, and studies show they account for a significant percentage of serious injuries and fatalities. There is a wide range of heavy machinery and equipment used in construction that presents occupational hazards to employees. 
These include:
Operating or working near heavy equipment can result in injuries that include multiple bone fractures, amputations, traumatic brain injuries, and spinal cord damage.
Although these injuries can happen at any time, they are more likely to happen when the equipment is in motion or is poorly maintained. Employees can also be injured getting on or off the machinery or when it is required to work around power lines.
The Department of Occupational Safety and Health Administration (OSHA) reported 80 electrocution fatalities in 2021. This does not include the number of people and employees injured from electric shock. Anytime employees or others work around electricity, which is common on construction sites, there is the potential to be injured with serious burns, permanent disability, and death. 
People who have suffered from an electric shock can have various symptoms. There may be very little external evidence of injury, while most physical damage is internal. The injured party may also have severe and obvious burns. 
The human body works on an electrical system, including the heart. When the body experiences an electric shock, it can disrupt the electrical system in the heart and cause cardiac arrest (heart attack). Electrocutions also trigger forceful muscular contractions, leading to broken bones and spinal cord injuries. 
Burns occur at the point of contact and where the electricity exits the body. Both entry and exit burns should be analyzed to determine the extent of the potential internal injury. Electrocution and electric shock injuries can occur on a construction site around power lines or when working with defective products, including power tools.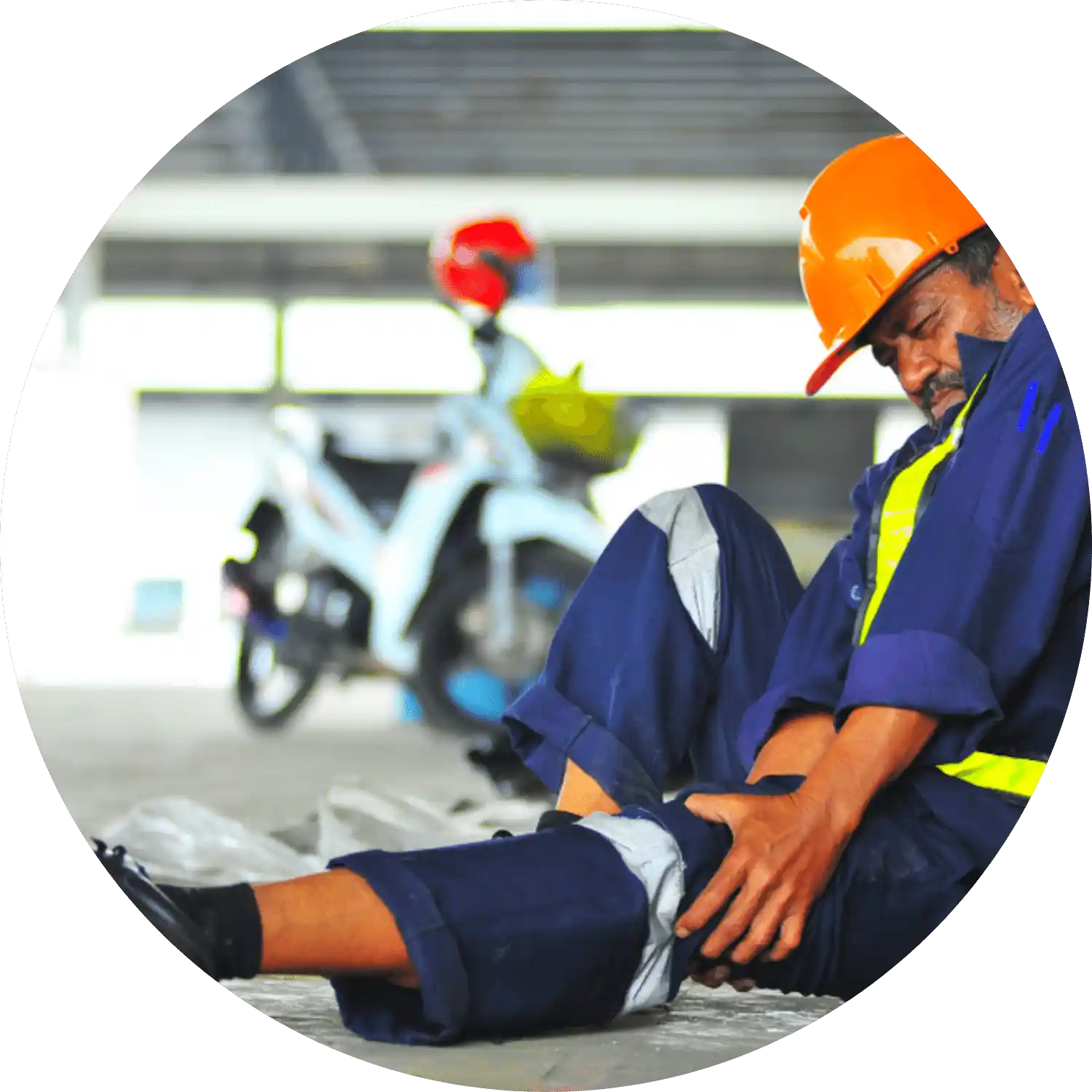 Gas explosions at construction sites are not unusual and can be caused by split-second mistakes. Flames and smoke can go on for hours, forcing evacuations, causing injury, and tying up traffic. Oftentimes, the explosion is so significant that multiple people can be injured or killed.
One common cause is an external gas pipeline that explodes when the pipeline is damaged, and the gas mixes with outside gasses, including hydrogen. The heat and the blast of an explosion can cause several different kinds of injuries. 
Blastwave injuries happen when a high-pressure wave from the explosion contacts your skin. This can cause lung and abdominal injury, concussion, and inner ear trauma. The extent of the injuries will be determined by the type and strength of the blast, the person's distance from the blast site, and whether the blast happened in an open or closed environment.
Secondary blast injuries can come from flying debris. These injuries happen when debris released from the explosion strikes the body, sometimes penetrating the skin. After a gas explosion, individuals can also suffer from impact injuries when they are thrown and strike a solid surface. 
These result in bone fractures, concussions, and traumatic brain injuries. In some cases, individuals may also suffer a traumatic amputation during a gas explosion.
Dangers on Construction Sites
Construction is widely acknowledged as a dangerous industry. Accidents can happen during any construction phase, from the initial site preparation to the finishing stages. Construction is inherently dangerous since it involves several factors that increase an employee's risk.
Unfinished structures can be extremely dangerous when areas are unfastened, or floors are unsafe. Walking through unfinished structures may expose people to falling objects, loose railings, and incomplete stairways.
Heavy machinery and specialized vehicles also increase the risk of severe injury. During construction, people may be exposed to chemicals from the construction or the demolition of buildings. For example, asbestos can be released during demolition, which is known to increase the risk for certain types of lung cancer. 
Repetitive motion injuries
Construction workers are also at risk for stress and repetitive injuries as their work involves heavy lifting and repetitive motion. These tasks can result in lower or upper back injuries, neck injuries, or repetitive stress conditions such as carpal tunnel or jumper's knee (patellar tendonitis) caused by repetitive squatting.
The top risks and hazards of working on a construction site include:
What Is New York's "Scaffolding Law"?
New York Labor Law Section 240 covers construction workers in New York, which has special provisions for workers injured on different types of scaffolding. This can include devices such as ladders, slings, pulleys, blocks, and scaffolds. 
The law allows a worker injured on a job involving these devices to bring a lawsuit against the property owner or contractor who violates the section of the law. Under this law, the owner or contractor is strictly liable for injury from inadequate or missing safety equipment. 
The same law also protects injured workers from falling objects due to violating safety provisions. Under this law, you do not have to prove the contractor was careless to be compensated for your injuries. 
Section 200 of the New York City Labor Law also provides for employees, mandating that contractors and owners provide reasonable and proper protection. This includes ensuring that the machinery is generally safe and warning employees of dangerous conditions that have not yet been rectified.
Experience Counts When You Choose a New York Construction Accident Lawyer
Don't wait to speak with an attorney if you've been injured on a job site. However, it is also crucial that the attorney you choose has experience in construction accidents. There are nuances to the law that can make the difference between fair compensation and no compensation for the injuries you incur in a construction accident.
New York labor laws require employers to provide safe working conditions. Yet, dozens of construction workers may be killed each year. Unfortunately, employers sometimes choose to cut corners to save money. 
You deserve compensation
Fighting for fair compensation may be one of the more important things you do after injury. You may be entitled to money for your injuries, but achieving that goal is not always easy. You will find that insurance companies, construction site owners, and any other negligent party involved in your accident will fight you every step of the way. 
The attorneys at Harris Keenan & Goldfarb aggressively negotiate with insurance companies and tenaciously litigate for a fair verdict and settlement in court. We also know how to work within the workers' compensation system to ensure you get the necessary medical and wage replacement benefits. When you work with our legal team after a construction site accident, you benefit from over 80 years of combined experience and the compassion and skill we bring to each case.
Construction Accidents Can Result in Serious Injury
Each type of construction accident can result in serious injury. Each type of accident will have injuries that are more probable than others. In most construction accidents, workers are at risk for injury to multiple areas of the body. For example, a worker may suffer a traumatic brain injury and broken bones. Workers may also suffer from psychological injury following an accident on a construction site. 
Some injuries that commonly occur include:
Types of Compensation Potentially Available After a Construction Accident
If workers' compensation covers your injuries, your benefits will be dictated by New York's workers' compensation laws. You could be entitled to health care, lost wages, or survivor benefits. 
If you're filing a claim against another party, the value of your claim is determined by several factors. Even if your expenses are high, your claim may be limited by the at-fault party's insurance policy. When you work with an experienced construction accident attorney, they can help determine whether more than one party is responsible. 
If you were the victim of a construction accident, you might be entitled to economic and non-economic compensation. Economic compensation is for tangible and concrete losses, including expenses for which you will have receipts. Non-economic compensation is for subjective losses, such as pain and suffering or emotional distress.
Compensation may include, but is not limited to:
Call Harris Keenan & Goldfarb Today for Help with Your New York Construction Accident Claim
After a construction accident, you may be entitled to compensation for the emotional, physical, and financial losses you incur. The experienced and skilled attorneys at Harris Keenan & Goldfarb have decades of combined experience as accomplished negotiators and litigators. 
During your confidential consultation, we help answer your questions and advise you on your next best steps. When you choose to hire us, we will begin working on your case immediately. We recognize the importance of being skillfully represented by experienced attorneys who place your best interest at the heart of your claim. 
Our legal team also understands the financial and emotional burden after a significant physical injury. Combining these factors drives our team to provide you with the best legal care possible. Contact our office today at 800-724-6529 to schedule your initial confidential consultation. You can also fill out our intake form and a member of our team will call you.
Book an Appointment
"*" indicates required fields