New York Motorcycle Accident Lawyers
Motorcycles can be a quick and effective way to navigate through the streets of New York, especially when parking space is at a premium. Unfortunately, New York motorcycle accidents can leave riders with debilitating physical injuries and deep emotional scars.
At Harris Keenan & Goldfarb, we have seen the enormous toll a motorcycle accident can take on a person's physical and mental health. We also know how financially damaging the aftermath of an accident can be for riders. 
After an accident, you may be struggling to cope with the influx of medical bills and out-of-pocket expenses related to the crash. Are you sure that your insurer will provide you with the financial means to recover?
If you've been recently injured in a significant New York motorcycle accident that wasn't your fault, call the legal team at Harris Keenan & Goldfarb. We are passionate about helping New York riders pursue the financial compensation they are entitled to after a significant collision. Set up an appointment with one of our seasoned attorneys today to discuss your case by calling 800-724-6529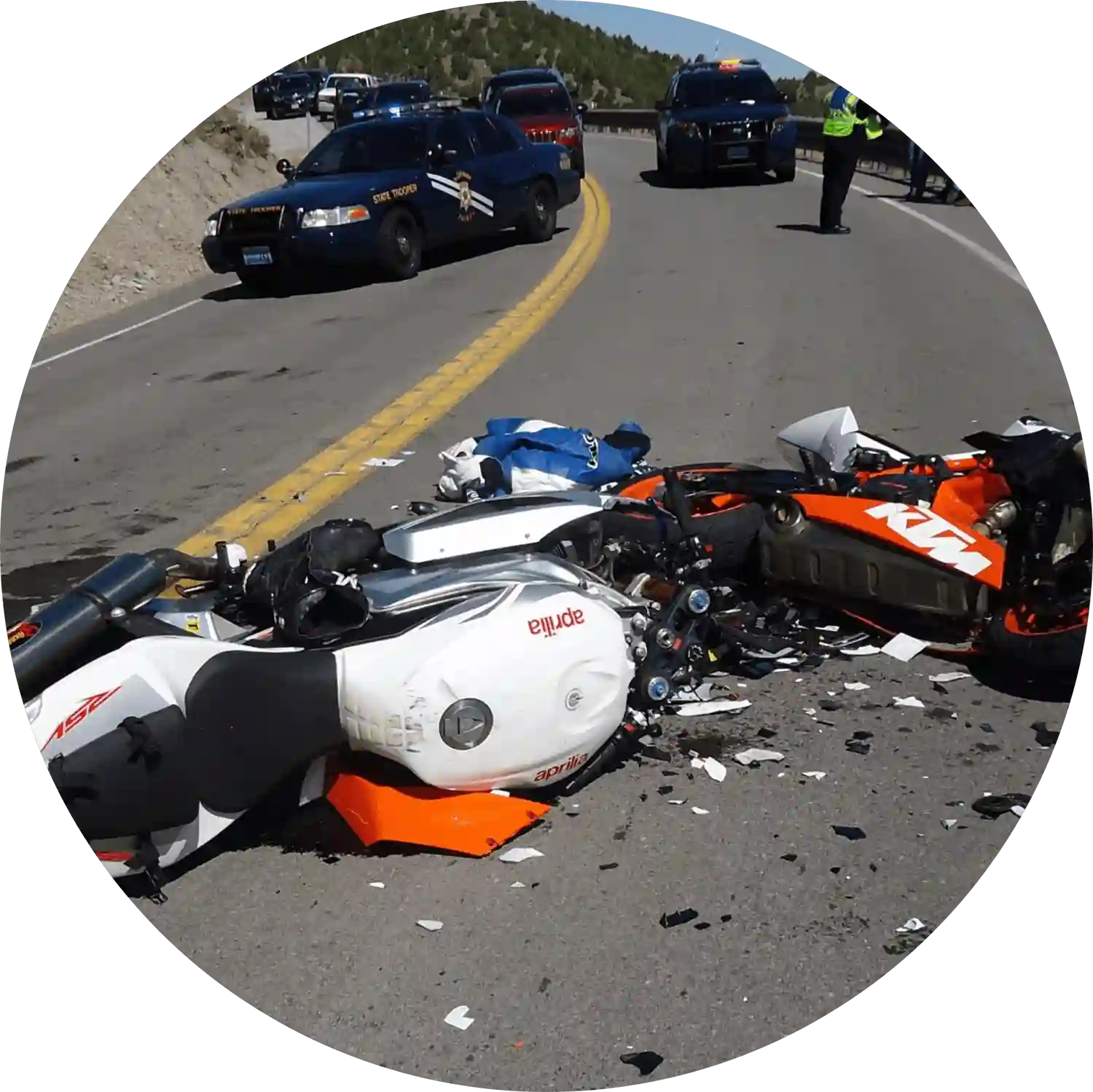 Do You Need a Motorcycle Accident Attorney?
Yes. There are no two ways about it. You need immediate and aggressive legal representation if you are involved in a significant motorcycle accident. Why do you need an attorney? Unfortunately, one of the reasons you need to consider legal representation after a motorcycle accident is your reputation. Consider how motorcycle riders are portrayed in popular media. This bias can sometimes impact how an insurance adjuster will view your claim. You may be viewed as a reckless, irresponsible rider looking for trouble, even when that is the furthest thing from the truth. You could also be blamed for causing the accident and see that fault reflected in your compensation settlement.
Compensation for your injuries
If you are serious about getting fair compensation for your injuries, you need to turn to an experienced New York motorcycle accident attorney after an accident. An attorney is your advocate and can fight to protect your rights and understand how the crash was caused. With evidence in hand, an attorney will build a compelling case outlining why you deserve full and fair compensation for your injuries.
Do not burden yourself further by attempting to square off with a large insurance provider. You should be able to focus on your recovery while your attorney works on your behalf negotiating for the money you deserve.
Why Choose Harris Keenan & Goldfarb to Represent You?
In New York, you have many attorneys to represent your interests. However, it takes something special to set a New York accident attorney apart from the crowded field of lawyers in the area. At Harris Keenan & Goldfarb, what sets us apart is our commitment to our clients. Since 1996, our firm has set its sights on relentlessly fighting for the rights of New Yorkers. We have a solid reputation among our clients and even with competing law firms for providing compassionate service and excellent results. We are also known for our stringent adherence to legal ethics.
We vow to help you through the legal process with patience and understanding. Our team wants to help you recover the money you deserve while ensuring your medical and emotional needs are met. Our ultimate goal is to reach a favorable outcome for your situation.
Not sure we can help you? Look at some of our most recent success stories. We think you'll be impressed by our track record of success in the courtroom and at the negotiating table. When you are ready, pick up the phone and call our office at 800-724-6529 to book your confidential legal consultation with one of our skilled New York motorcycle accident attorneys.
Causes of New York Motorcycle Accidents 
While it is true that motorcyclists can be more difficult to see, that is no excuse for causing a significant accident with one. All motorists are responsible for being aware of their surroundings while driving. Unfortunately, many drivers fail to notice nearby motorcyclists. When that happens, the motorcycle rider generally ends up paying the price in the form of significant injuries and mental anguish.
Some of the leading causes of motorcycle accidents in New York include:
No matter the cause of the accident, you can turn to an experienced New York motorcycle accident attorney for help. At Harris Keenan & Goldfarb, we will review your case and discuss your legal options for seeking financial compensation for your injuries.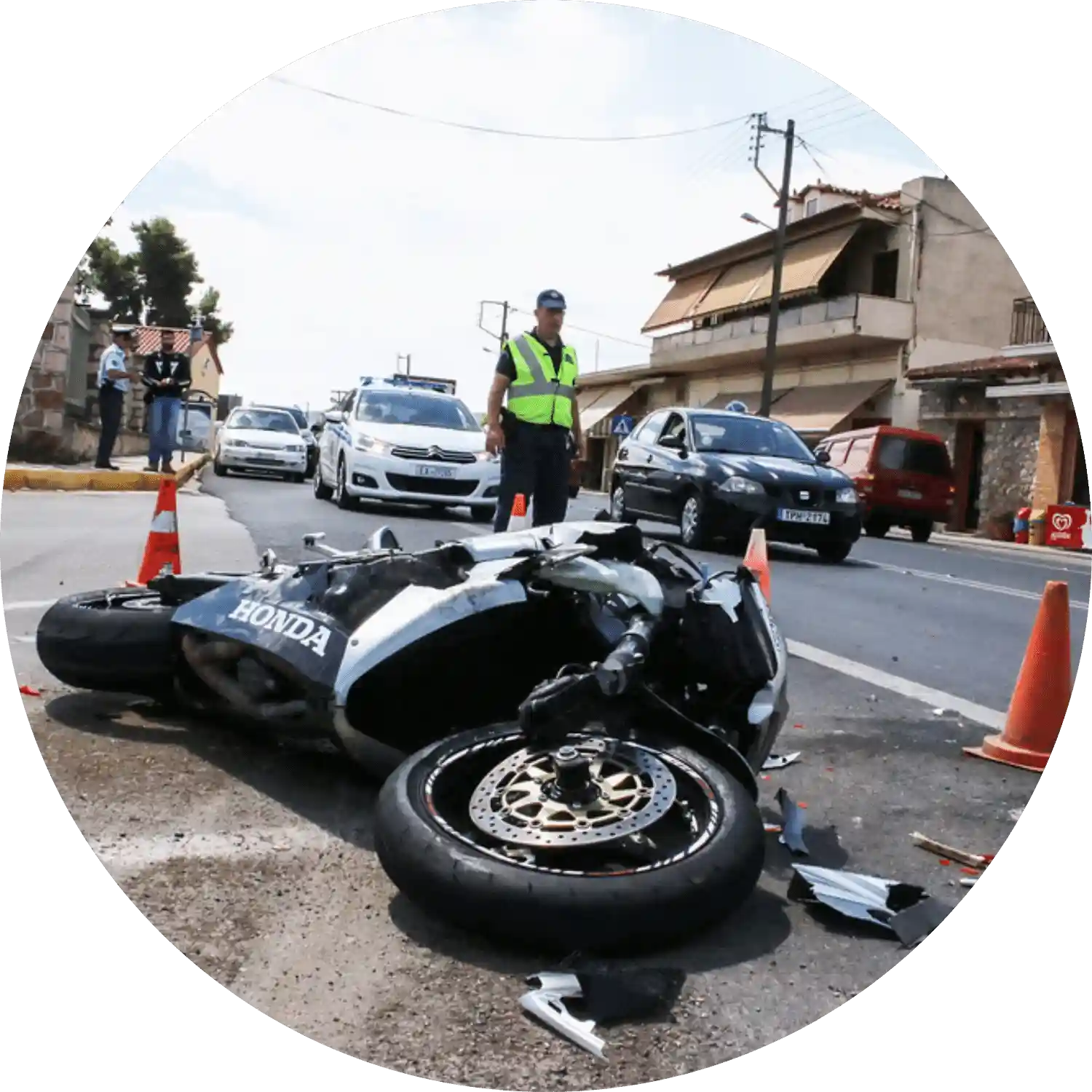 New York has several laws to protect motorcycle riders as they traverse the state's busy roadways. First, all motorcycle operators must obtain a Class M or MJ operator's license or permit through the New York Department of Motor Vehicles. You will need to pass a written exam and road test to get this class of license. If you already have a valid driver's license, you can bypass the road test by taking an accredited educational motorcycle training course. Many of these courses are offered by the Motorcycle Safety Foundation.
Passing the test
Passing the written test should give you a good idea of what the state requires of motorcycle riders. For example, New York mandates that all riders wear a U.S. DOT-approved helmet and eye protection when operating a motorcycle. Passengers must also wear head and eye protection.
The state also requires riders to always use their headlights, even during daylight hours. Having your headlights on can help you be more visible to other motorists. 
On the open road, motorcycle riders can use one full lane or travel two abreast in a single lane. However, lane splitting or traveling between lanes of traffic or next to other vehicles is prohibited.
Motorcycle Accident Statistics in New York 
You need to be aware of one New York City Motorcycle Safety Study sentence: "Motorcyclists are at a disproportionate risk of death or serious injury on New York City streets." The study highlights how only two percent of registered vehicles in the city are motorcycles. However, riders account for 14 percent of traffic crash-related fatalities. The study also indicates that New York City's fatal crash rate for motorcycle riders is at least twice that of New York state.
In March 2022, statistics released by the New York City police department show that 169 motorcycle riders were involved in crashes citywide. The same statistics show that 27 riders were involved in accidents in Manhattan, while 39 were involved in collisions in the Bronx.
New York No-Fault Insurance
New York is unique in that it is one of only a dozen states in the U.S. that follows a no-fault car insurance model. Under a no-fault system, when an accident occurs, the victim turns to their own insurer for compensation, not the insurer of the at-fault party. While fault can still play a role in an accident claim, it doesn't impact how you file your insurance claim.
The details of an insurance policy will vary between carriers and plans, but at a minimum, basic personal injury protection (PIP) coverage will typically cover your medical expenses, lost wages, and out-of-pocket costs up to a certain point. Most New York basic no-fault insurance coverage will include the following:
Motorcycle riders may opt for more coverage depending on their needs. You will want to review the details of your specific policy if you have questions about your coverage. An attorney can also help you understand the limitations of your policy. 
Minimum Insurance Requirements in New York 
If you want to legally ride a motorcycle in New York, you must carry motorcycle insurance. The minimum amount of coverage you are required to carry is known as 25/50/10. This means you need to have:
Riders must also have uninsured motorist coverage on their policy. Uninsured motorist coverage protects you if you are involved in an accident with an uninsured driver or if you are hit by a hit-and-run driver.
Can You File a Lawsuit to Recover Compensation After a Motorcycle Accident? 
The answer is maybe. Victims of significant motorcycle accidents may have the option of filing a third-party lawsuit against an at-fault driver if they sustain serious injuries because of the crash. What are serious injuries? A legal threshold defines what New York considers a "serious" injury. Generally, to be eligible to file a lawsuit against an at-fault driver, you will need to be able to prove that you suffered an injury that resulted in at least one of the following:
Our experienced team has the resources to help you file an insurance claim and negotiate on your behalf or prepare a case for court against a negligent driver. Allow a skilled New York motorcycle accident attorney to review your situation and help determine which legal avenue is right for you when it comes to recovering compensation after a collision.
Why Fault Matters Even in a No-Fault State
You may assume that because New York is a no-fault state, that fault for the accident doesn't matter. It does. New York follows a pure comparative fault rule when awarding financial compensation in court cases. If you file a lawsuit and take your accident case to court, the amount you can be awarded for your injuries will depend upon how much fault you bear for causing the crash. If the court examines the evidence and determines your actions played a ten percent role in causing the crash, your compensation can be reduced by ten percent.
How pure comparative fault works
In a pure comparative fault system, even those most at fault for causing a crash can seek compensation for their injuries. If a driver is 80 percent at fault, they can recover compensation. It will just be reduced by 80 percent. However, they may also be on the hook for the other driver's damages because they are mostly responsible.
The pure comparative fault rule binds all court judgments. It also guides how most insurance companies will value a motorcycle accident claim. If an adjuster believes that the rider is in any way at fault, they may use that as leverage to reduce the amount of compensation offered in a settlement.
Fault matters, even in a no-fault state, so you need an aggressive attorney to fight for you. At Harris Keenan & Goldfarb, we conduct a complete investigation into the cause of the accident and will gather evidence to help support your claim. We want you to have the best chance possible at recovering fair compensation.
Compensation Available in Motorcycle Accident Cases 
If you file a lawsuit seeking compensation (called "damages") from a negligent driver, you may be entitled to economic damages and non-economic damages. Economic damages will compensate you for your measurable losses. Measurable losses include medical expenses, lost wages, and property damage. These are expenses that can be easily calculated through an examination of your bills and receipts.
Non-economic damages are subjective and more difficult to calculate. Non-economic damages should compensate a victim for significant quality of life alterations and mental distress caused by the accident. In many states, non-economic damages are capped at a certain amount. That is not the case in New York. 
In total, you may be able to recover compensation for the following: 
In rare cases, you may also be awarded punitive damages after an accident. Punitive damages do not cover your losses or emotional suffering. They are awarded to a victim as punishment against the grossly negligent responsible party. Punitive damages can also serve as a warning to others not to attempt the same type of behavior. For a court to consider awarding punitive damages, an attorney needs to demonstrate that the negligent driver acted with willful negligence or they showed a high degree of moral turpitude. 
New York Statute of Limitations on Accident Cases 
Motorcycle riders must know the strict time limit for filing a personal injury lawsuit against a negligent driver. In New York, you only have three years from the accident date to file a lawsuit. If you attempt to file a case after the statute of limitations deadline expires, the New York court system will generally dismiss your case. After a case is dismissed, you will have very little recourse to recover the compensation you need. 
Consult with a knowledgeable motorcycle accident attorney as soon as possible after an accident. An attorney can help determine which legal options are right for you and help you manage important deadlines. 
Get In Touch with a Skilled New York Motorcycle Accident Attorney 
You can attempt to fight with your insurer for the money you need or trust your claim to an experienced New York motorcycle accident attorney. At Harris Keenan & Goldfarb, we want to help you maximize your compensation. That means we do the heavy lifting, including investigating the cause of the accident and gathering crucial evidence to build a strong case. You can focus on your recovery instead of doing the grueling work of negotiating with an insurer.
We are up to $500 million awarded in verdicts and settlements. Our premier team of New York attorneys is dedicated to helping you navigate our state's complicated legal framework and earning you the compensation you deserve. Get started today by calling our office at 800-724-6529 and booking a confidential consultation. You can also fill out our intake form, and a member of our team will call you.
Book an Appointment
"*" indicates required fields