Were you injured in an accident caused by a drunk driver? You might be entitled to compensation from the at-fault party.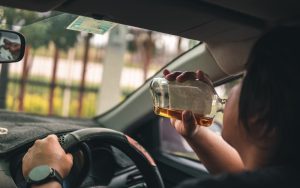 Tragic accidents involving driving under the influence (DUI) occur far too often on the streets and roads of New York. DUI accidents can be wildly unpredictable collisions that can cause acute medical emergencies. When someone suffers injuries in a DUI accident, they may face overwhelming medical expenses, a temporary inability to earn money at work, and possibly even permanent disability. Some victims may even lose their lives in these events.
New York City's high traffic density increases the possibility of injuries in drunk-driving accidents. The experienced New York car accident attorneys of Harris Keenan & Goldfarb understand the pain, suffering, and financial stress an accident with a drunk driver can cause. If you suffered injuries in a collision with a drunk driver, or have lost a loved one because another driver was under the influence, our team will fight for the justice you deserve. Our knowledgeable lawyers will aggressively pursue full and fair compensation for your losses.
Call us today at 800-724-6529 or contact us online for a free consultation to learn more about your legal options.
Defining DUI in New York
According to New York's driving under the influence (DUI) laws, operating a vehicle with any of the following blood alcohol concentration (BAC) percentages constitutes an offense of driving while intoxicated (DWI).
.08% or higher if the driver is 21 or older and they are operating a passenger vehicle
.04% or higher if the driver is operating a commercial vehicle
.02% or higher if the driver is under 21
The offense of driving while ability impaired (DWAI) applies when the driver is under .08% BAC but was still deemed to be impaired by alcohol or drugs to any extent. This charge tends to be less severe unless the driver is under the influence of both alcohol and drugs together. The charge can also become more severe if anyone suffered injuries or died because of the driver's impairment.
Both DWI and DWAI are types of DUI charges in New York.
Are Intoxicated Drivers Always at Fault for DUI Injuries?
Driving under the influence is illegal in New York. As a result, drunk or intoxicated drivers will always face some form of penalty if caught. However, this does not mean that the person driving under the influence is automatically to blame for any accident in which they are involved. 
For example, if a driver has a BAC level of .08%, they may still follow all other traffic laws as they drive. If another driver rear-ends them, or if the drunk driver is hit by a vehicle traveling 80 miles per hour in the wrong direction, an insurance company or a court may find that the intoxicated individual bore less responsibility for the crash than the other driver. 
If you have been involved in an accident with a DUI driver and are unsure who is at fault, speak with your attorney. They can provide you with their professional assessment of whether the drunk driver was liable for your injuries.
Compensation for DUI Accidents
People who have been involved in DUI accidents may suffer from injuries such as:
Neck injury
Whiplash
Broken bones
Internal bleeding
Internal organ damage
Lacerations
All these injuries require immediate medical attention. They may also involve a long and expensive recovery process. The skilled attorneys at Harris Keenan & Goldfarb will fight to recover compensation for the medical expenses you have incurred because of your accident with a drunk driver.
Your injuries might also cause a temporary or permanent disability that may prevent you from working. The lost wages from missed work can cause immense stress, even if you are only off work for a short time. Some disabilities prevent people from ever working again. The financial repercussions of such an outcome can be devastating. The compensation you receive from your DUI accident claim should cover these losses as well.
After the accident, you may be unable to take part in activities you used to enjoy. The legal team at Harris Keenan & Goldfarb can help you seek compensation for loss of enjoyment of life as well as other types of physical and psychological pain and suffering you have endured as a result of your injuries. 
What Should I Do After an Accident with a Drunk Driver?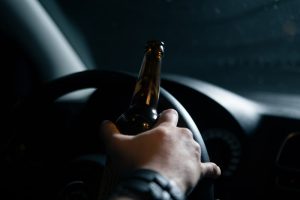 After a DUI accident, taking the following steps will help your recovery and your claim:
Seek immediate medical treatment – The adrenaline rush you experience after an accident may mask any pain you might otherwise feel. Even if you do not notice any injuries, a medical professional can check for signs of a traumatic brain injury or internal bleeding. Early intervention can help you recover more fully and more quickly.
Request a copy of the crash report – When a police officer responds to the accident, they will fill out a crash report with all the important details about the collision. This will include results of sobriety tests, as well as the officer's determination of who or what caused the crash.
Gather other documentation – Save all medical records, medical bills, and vehicle repair invoices associated with the crash. Gather pay stubs and employment information to demonstrate lost wages.
Contact an experienced New York personal injury lawyer – Consulting with an attorney early in the process is key. Avoid giving any statements to insurance adjusters before speaking with a lawyer. Insurance agents may try to get you to assume blame for the crash. Your lawyer will know how to handle them in a way that protects your claim.
Speak to an Experienced New York Drunk Driver Accident Attorney Today 
The seasoned attorneys at Harris Keenan & Goldfarb have developed a reputation for excellence in New York City and beyond. Our legal team understands the pain you are feeling after a DUI accident, and our NYC car accident lawyers will serve you with integrity and compassion. We will do everything we can to recover the full and fair compensation you deserve.
Call us today at 800-PAIN-LAW or contact us online for a free consultation.