Did you get hurt in a multi-vehicle car accident or 'pile up'? If so,
contact us online
 or call
800-PAIN-LAW
for a free consultation about your case. Our expert New York attorneys can help you determine who is liable and how to seek compensation for your injuries.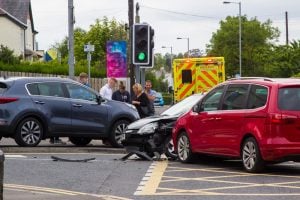 The aftermath of a multi-car crash is often confusing and scary. Knowing what to do next is challenging because you don't know who is at fault. More than one driver might be liable, requiring multiple claims. Handling that alone can be overwhelming. We understand the burden car accident victims face. We can take care of your case while you recover from your injuries. Our team approach allows us to prioritize every case we handle to fight for a favorable result and
maximum compensation
. Call us today at
800-PAIN-LAW
for a consultation to learn more.
Common Causes of Multi-Vehicle Accidents
Multi-car accidents can occur for numerous reasons. Sometimes, they result from a chain reaction. For example, a driver at the front of a line of vehicles might brake without warning, causing the drivers behind them to crash into each other. Multi-vehicle collisions can also involve several motorists behaving carelessly. Two might be on their phones while a third runs a red light, causing a devastating crash in the middle of an intersection.
The most common causes of multi-vehicle accidents include:
Distracted driving – According to the Centers for Disease Control and Prevention, nine people die daily in collisions involving a distracted driver. Distractions come in various forms. Anything that takes someone's attention away from driving is a distraction, such as texting, eating, or singing along to the radio.
Rubbernecking – Rubbernecking occurs when motorists take their eyes off the road ahead to look at something else, such as a cop pulling someone over or a car crash. It prevents drivers from noticing what's happening around them. If traffic suddenly stops, the inattentive drivers likely won't have enough time to brake and avoid an accident.
Poor weather conditions – Adverse weather, such as snow, sleet, and heavy rain, require more careful driving. Motorists should slow down and focus on nearby vehicles. Someone who speeds or gets distracted could skid on the slippery roadway and cause a pile-up.
Driver fatigue – Falling asleep at the wheel endangers lives. However, many people drive despite feeling tired. Fatigue affects decision-making, judgment, and reaction time. A tired driver might lose control of their car, leading to multiple vehicle accidents. This is often a factor in truck accident cases.
Driving under the influence – Everyone knows the dangers of driving with drugs or alcohol in their system. However, impaired driving happens anyway. People still drink and drive. The intoxicating substance can be an over-the-counter medication a driver doesn't realize causes adverse symptoms.
Speeding – Exceeding the speed limit increases the risk of an accident, especially during heavy traffic. Speeding past vehicles on a congested road can lead to a collision with several other drivers. A motorist might run people off the road or crash into the back of another car, causing a chain reaction and subsequent collisions.
Common Injuries Caused by Multi-Vehicle Accidents
There is more than one point of impact in a multi-car accident. That means vehicle occupants can sustain additional injuries after the initial collision. They can get hurt from a second or third car crashing into them, causing their body to change directions, strain a muscle, or hit their head on the dashboard. Sometimes two vehicles trap a driver between crushed metal, preventing them from escaping safely.
The most common injuries in multi-car accidents include:
Whiplash
Broken bones
Emotional trauma
Paralysis
Internal bleeding
Crush injuries
Loss of limb
Permanent scarring or disfigurement
Disability
Our
personal injury lawyers
specialize in building strong cases to compensate you for any injuries you may have sustained.
Compensation Available After a Multi-Vehicle Accident in New York
You must carry
personal injury protection
(PIP) insurance if you have a registered motor vehicle in New York. The mandatory minimum limit is $50,000 and covers expenses such as:
Necessary and reasonable medical and rehab costs related to the accident
80% of lost income with a maximum monthly payment of $2,000 for no more than three years after the crash
$25 daily in reimbursement for necessary and reasonable expenses, such as household assistance or transportation to doctor's appointments up to one year from the accident date
State law requires you to file a claim with your PIP insurer before contacting the at-fault driver's insurance company. You must exhaust your policy limits and meet the
serious injury threshold.
That means you have a personal injury that results in:
A fracture
Permanent loss of use of a body system, function, organ, or member
Significant disfigurement
A significant limitation of the use of a body system or function
A non-permanent medically determined injury or impairment that prevents performing substantially all material acts constituting customary and usual daily activities for no less than ninety days during the 180 days immediately after the impairment or injury occurs
Loss of a fetus
Permanent consequential limitation of use of a body organ or member
Dismemberment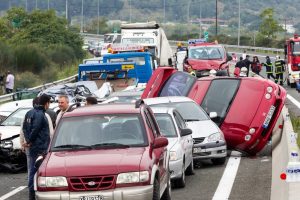 Every New York driver must also carry liability insurance for the harm they cause someone else in a crash. You can file a third-party claim or lawsuit if you meet the requirements under the law.
Types of compensation you can seek include:
Loss of earnings
Lost future earning
Scarring or permanent loss of limb
Ambulance services, rehabilitation, hospital stays, and other medical costs
Pain and suffering
Loss of enjoyment of life
Emotional distress
Property damage
Our expert attorneys know that, unfortunately, not everyone follows the law. We see many cases where the other car's driver is an
uninsured motorist
, which is sometimes the reason a driver flees the scene in a
hit-and-run
– and we know exactly what to do in those kinds of cases too.
Statute of Limitations in New York
Every state imposes a statute of limitations for personal injury. It is the available timeframe to file a lawsuit against another party. In New York, the
statute of limitations
allows a three-year timeframe to initiate a lawsuit. That means you have three years from the date of the multi-vehicle crash to file a lawsuit against the responsible driver.
Injured in a Multi-Car Accident? Call Harris Keenan & Goldfarb Now
At Harris Keenan & Goldfarb,
our attorneys
believe in resolving claims and lawsuits efficiently and successfully for our clients. However, we have a
reputation
for aggressively pursuing the compensation our clients deserve. Call
800-PAIN-LAW
for a free consultation with an experienced multi-vehicle accident lawyer.