If you suffered injuries in a hit-and-run crash, the experienced attorneys at Harris Keenan & Goldfarb understand how overwhelmed and lost you may feel.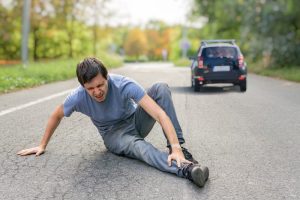 Suffering an injury in a car accident someone else caused can be one of the most shocking and stressful experiences a person can endure. But when you see the other driver speeding off into the distance, the situation can suddenly go from bad to worse. What if you never locate the at-fault driver? Have you lost all hope of recovering the compensation you need to pay for your accident-related expenses?
Our personal injury attorneys will help you weigh your options for recovering the compensation you deserve. We take this mission very seriously. We have recovered over $500 million in injury and damages compensation for our clients.
Call us at 800-724-6529 or contact us online for a free, no-risk consultation and learn more about how we can help.
What Qualifies as a Hit and Run in New York?
According to New York state law, any driver who causes an accident that results in property damage, injury, or death must stop and exchange information with other drivers or property owners involved. Failure to do so can result in criminal charges, fines, and even jail time.
Hit-and-Run Laws in New York
According to NY VAT § 600, the consequences a person may face for fleeing the scene of an accident depend on whether the crash caused:
Property damage only – Up to $250 fine and up to 15 days of jail time
Injuries – $500 to $1,000 fine and up to a year of jail time
Serious injuries – $1,000 to $5,000 fine and up to four years of jail time
Death – $2000 to $5,000 fine and up to seven years of jail time
The level of penalties a driver faces depends on the accident's severity. Greater property damage or more serious injuries will lead to more severe penalties. New York law defines serious injuries as those that cause death, disfigurement, dismemberment, fractures, loss of a fetus, and damage to various systems, organs, or body members.
Types of Hit-and-Run Accidents
A driver can panic and hurry away from the scene in any accident. The types of hit-and-run accidents we handle at Harris Keenan & Goldfarb include:
head-on collisions
rear-end collisions
sideswipe accidents
T-bone accidents
distracted driving accidents
accidents involving drunk driving
reckless driving accidents
Whatever the precise kind of accident, the feeling is horrible when someone leaves you to deal with the consequences on your own. The experienced and compassionate personal injury lawyers at Harris Keenan & Goldfarb will help you seek the justice you deserve.
Types of Injuries from Hit-and-Run Accidents
The type of collision you experience will play a role in the injuries you suffer. Your medical situation might worsen if the other driver sped away without contacting emergency medical professionals, and you cannot call 911 yourself.
Injuries you might suffer in a hit-and-run collision include:
Spinal cord injury, which may cause paralysis
Broken or fractured bones
Internal bleeding or organ damage
Strains, sprains, or other soft tissue injuries
Lacerations
Even if you do not notice any injuries, you should seek medical attention as soon as possible. While you might feel nervous about paying for your medical expenses in this situation, the attorneys at Harris Keenan & Goldfarb will fight to recover the compensation you need to cover your losses.
Common Causes of Hit-and-Run Accidents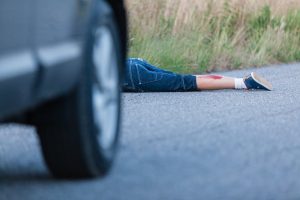 As a responsible driver, you may have difficulty imagining how a person could flee the scene of an accident. Yet many people succumb to the flight instinct when fear strikes them for various reasons. These may include:
Drunk Driving – The hit-and-run driver flees because they are afraid to face DUI charges.
Uninsured Driver – The at-fault driver leaves the scene due to worries about the consequences of driving without the required insurance.
Outstanding Warrants or Previous Tickets – If the at-fault driver has other legal issues, they may flee the scene to avoid arrest.
Other Legal Problems – A driver below the legal driving age, has had their license revoked, or has immigration issues may drive away to avoid encountering the authorities.
Panicked Driver – Even in the absence of legal trouble, a driver may panic immediately after an accident. They may be so overwhelmed that they leave before recognizing the consequences of their actions.
Advances in technology and the prevalence of traffic cameras can help the authorities catch hit-and-run drivers eventually. If so, they will face consequences in a court of law.
If the Other Driver Isn't Caught
If police cannot locate and charge the other driver, you can still file a claim with your own insurance company. You must file a no-fault claim within 30 days of the accident. If you fail, you will forfeit your right to claim the compensation you deserve.
Why You Need a Lawyer for Your Hit-and-Run Accident Claim
Whether or not the other driver is found, dealing with the fallout of a hit-and-run accident can feel challenging. Having the right attorney on your side will help you navigate the complexities of your claim so you can recover the compensation you deserve.
Even though you will file a claim with your insurance company, they may not operate with your best interests in mind. Without a lawyer to fight on your behalf, your insurance adjuster may employ tactics to undermine or undervalue your claim.
An experienced New York car accident attorney from Harris Keenan & Goldfarb will handle all negotiations with the insurance company. We will also investigate the circumstances of the accident, gather evidence to support your claim, and ensure that you meet the necessary deadlines so that your case can move forward effectively.
Contact Us
If you suffered injuries in a hit-and-run accident in New York, call the experienced and compassionate legal team at Harris Keenan & Goldfarb today. We work on a contingency fee basis, so we will only take a fee after we recover compensation on your behalf.
Call us today at 800-724-6529 or contact us online for a free consultation.