New York Truck Accident Lawyers
Big rigs and large commercial trucks are an essential part of our society. They account for about five percent of all vehicles on the road today. However, according to the Insurance Institute for Highway Safety, they have the same fatal crash rate as passenger vehicles. Big rigs are more likely to be involved in serious accidents because they are so much larger and their drivers spend more time on the road.
 Anyone trapped between two semis at rush hour knows that being close to a speeding truck is frightening. Any accident has the potential for serious injury or death. If you've been involved in an accident with a semi or commercial vehicle, you may need extensive medical care and rehabilitation. If the accident that caused your injuries wasn't your fault, Harris Keenan & Goldfarb is here to help you get compensation for your accident. Call us at 800-724-6529 for a confidential review of your case.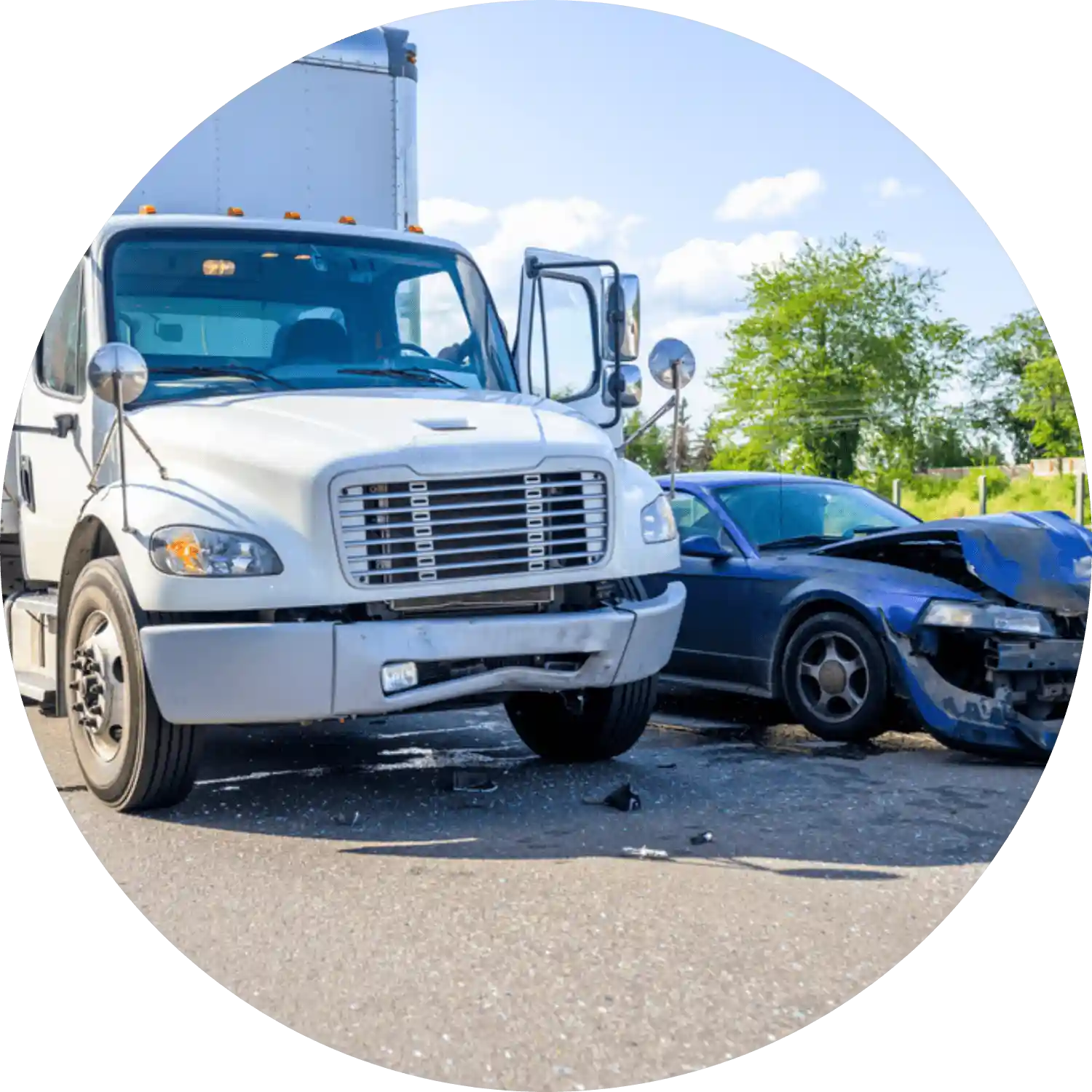 Determining Fault in a Truck Accident
Unlike in a car accident, where only two parties are usually involved, a commercial vehicle accident case may have multiple liable parties. Because commercial vehicles are owned and operated, knowing how the accident occurred is important to determine which parties were responsible.
Some possibilities include:
An example of multiple responsible parties might go like this: a driver could own their truck, but their company has been sending them on runs without enough downtime for maintenance. The driver picks up a trailer to haul upstate, but the trailer suffers a blowout and causes an accident. All three entities could have some liability in the accident.
If you have been involved in an accident with a big rig, you should first be seen by a doctor. The size and weight of the truck almost guarantee that you'll be injured. Even if you feel okay at the time of the accident, it's best to have a doctor make sure. 
When you get information after the accident, you need not only the driver's information but that of the company they work for, and even information about the trailer. A bonded and licensed trucking company should have its name and ID number visible on the driver's door. 
You should try to get the license plate number for the truck and also for the trailer. It is common for trucks to be licensed in one state and the trailer to be licensed in another. Get all the information you can. 
Gather witnesses
Witness names and information are essential. Truck drivers might be from out of state and could be returning there. Witnesses may be local. They might also be able to provide details about the driver's actions before the accident. 
As with any accident, try to get photos or videos of the scene. Getting a clear picture of the truck and trailer at the accident scene should be one of the first things you do. All trailers look alike, so a photo of this specific trailer will help your case. 
Black Boxes and Driver's Logs
In 2018, the Federal Motor Carriers Safety Administration (FMCSA) began requiring electronic logging devices (ELDs) on all large commercial vehicles. Like airplane flight data recorders, these ELDs monitor the truck's performance and maintenance. It also tracks the driver's hours and breaks according to federal requirements. 
These logs are a critical part of any accident investigation. The FMCSA requires all data stored or recorded in the ELD to be backed up and stored for six months in a separate recording device. Any other logs the driver keeps must also be kept for the same period.
Act quickly
Because the company can erase, overwrite, or destroy its logs after six months, it is critical to get copies of the log data soon after the crash. You need to request them from the company in a manner that lets the company know they cannot delete the data. This is known as a "spoliation" notice. Your attorney will be able to send this notice to the company.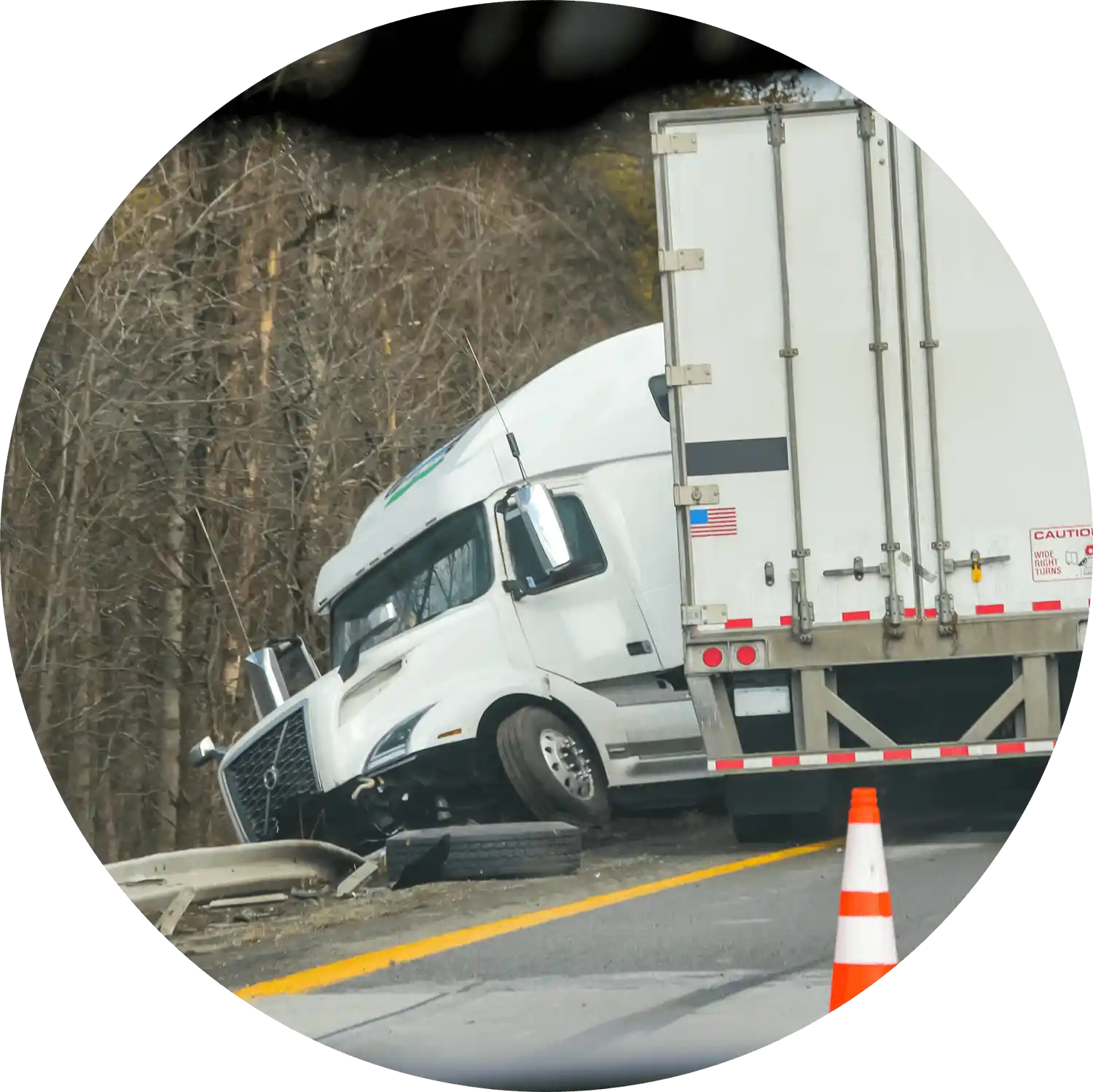 Accident Causes and Concerns
Because of the length and weight of a big rig (a truck pulling a fully loaded trailer can be 50 feet long and weigh up to 80,000 pounds), accidents are more of a concern than with smaller vehicles. 
Some accidents are not the driver's fault, but many are related to poor driving or maintenance.
In any of these cases, driver error and mechanical failure can cause an accident. Drivers should be paying attention to the road and their surroundings. However, even the best driver may be unaware of poor maintenance back at the shop. Companies are supposed to allow drivers sufficient time for rest and vehicle maintenance, but that may not always happen.
Truck Driver Fatigue and Distraction
A Governors Highway Safety Association (GHSA) study found that people who stay awake too long act just like drunk people. Someone who has gone 18 hours without sleep has the same reactions as someone with a blood alcohol content of .05 percent. This is higher than the federal legal BAC for a commercial trucker. After 20 hours, the sleepless driver might as well be legally drunk. 
Fatigue results from inadequate rest, poor nutrition, and repetitive work. A truck driver who pushes through for 16 hours, eating nothing but truck-stop hot dogs and energy drinks, is a ticking time bomb. Although federal regulations require drivers to take breaks at least every eight hours, the punishing grind of trucking often forces them to keep going. 
Everyone gets tired on a long drive, but not everyone is at the wheel of 80,000 pounds of steel traveling at 60 miles per hour.
Fatigue causes some dangerous symptoms that don't mix well with big rigs.
Truck logs and the ELD can help establish whether the driver was too tired to be on the road. The ELD keeps track of the driver's driving, sleeping, and resting hours. However, witness statements can be important. The driver may add extra hours to the rest log, and "ghost drivers"—imaginary drivers who "drive" while the driver is supposed to be sleeping—are common.
If you've been hit by a big rig or commercial vehicle and you were injured as a result, you should contact an attorney right away. Getting the information you need from the trucking company or driver may not be as simple as asking. Some unscrupulous companies encourage drivers to take shortcuts, while others may push their drivers too hard.
Once the ELD and other information from the trucking company have been obtained, your lawyer can work on getting you the compensation you need to recover from the accident. A truck accident is a personal injury claim, but your losses will likely be larger.
Depending on the nature of the accident, you could recover:
 When contacting a truck accident attorney in New York, you need the legal team at Harris Keenan & Goldfarb. Our truck accident lawyers can help you get the compensation you deserve so you can get back on your feet after the accident.
Call Harris Keenan & Goldfarb today at 800-724-6529 for a free and confidential consultation about your truck accident case. We will work hard to get you the compensation you need.
Book an Appointment
"*" indicates required fields