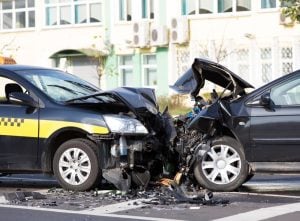 Taxis can be seen all over New York streets, and taxi drivers have earned a reputation for unruliness and reckless driving. As a result, taxi accidents are relatively common. Unfortunately, recovering compensation for injuries caused by a taxi accident can be challenging. That's where the New York taxi accident lawyers of
Harris Keenan & Goldfarb
come in. Our team of car accident lawyers is experienced and knowledgeable about various kinds of motor vehicle accident cases. These include taxi and rideshare accidents (
Uber
and
Lyft
). We handle lawsuits and insurance claims and aim to recover the
maximum compensation
for your injuries and damages. Contact us at
800-724-6529
or
online for a free case evaluation
and to learn more about your legal options.
What Rights Do Taxi Passengers Have?
Every time you get into a cab in New York, you have a right to expect that you will get to your destination safely. As a result, you have a right to:
A safe driver who obeys traffic laws
A safe vehicle that has working seat belts
A driver who is focused on the road and does not use their cell phone while they are driving
Be treated fairly and without discrimination
You might be entitled to compensation if injured due to a driver's unsafe behavior. For example, you may deserve compensation if one of the following occurs:
The driver violated New York traffic laws or behaved recklessly
The driver hit you while you were legally crossing the street
The
personal injury attorneys
of Harris Keenan & Goldfarb can review your case and determine whether you have a viable compensation claim.
Common Causes of Taxi Accidents in New York
Taxi drivers are generally driving for long periods, which may cause accidents. Some of the top causes of taxi accidents in New York include:
Distracted driving: Taxi drivers, like all drivers, are vulnerable to distractions that take their focus from the road, such as talking on their cell phones or accepting new rides while driving.
Driver fatigue: Driving for long hours can result in fatigue, so taxi drivers are vulnerable to the consequences of fatigued driving when working long days. To try and limit driver fatigue, New York prohibits taxi drivers from driving more than ten hours in a 24-hour period and more than 60 hours in seven days.
Reckless driving: In New York, reckless driving is defined as anything that unreasonably interferes with the proper use of a public roadway or endangers users. Reckless driving can constitute swerving in and out of traffic, speeding, or tailgating.
When the driver's negligence causes taxi accidents, you may have a viable claim against the driver, the taxi company, and other potential at-fault third parties.
Who Is Liable for a Taxi Accident?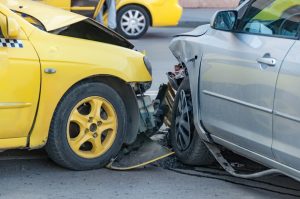 Some several entities or individuals may be responsible for taxi accidents in New York, including:
Taxi driver
Taxicab manufacturer
Taxi Company
Government agencies
Required Insurance Coverage for Taxi Drivers
In New York, every New York licensed driver must carry minimum liability insurance of $25,000 per person and $50,000 per accident in bodily injury coverage. However, taxis have much higher minimum requirements. The
New York Taxi and Limousine Commission
(Commission) requires taxis licensed by the Commission to carry the following minimum insurance coverage:
Bodily injury insurance: $100,000 per person and $300,000 per accident
Personal injury protection (PIP): $200,000 per accident
Property damage liability: $10,000 per accident
You must file an insurance claim against the liable party's insurance company if you were injured in a taxi accident. While the required minimums are relatively high compared to what an average driver is required to carry, extensive injuries can result in losses exceeding these insurance limits. If your losses exceed the insurance limits, you can recover the excess compensation from the liable party through a personal injury lawsuit.
Compensation Available for Taxi Accident Injuries
If you are injured in a taxi accident, you may be entitled to compensation from the at-fault party or their insurance company. Generally, you may seek the following compensation:
Lost wages: If you cannot work or must take time off because of your injury or can never return to work because of your injuries, you may be entitled to compensation for past and future lost wages.
Lost earning capacity: If your injury results in permanent restrictions that reduce your earning ability, you be entitled to compensation for your loss of earning capacity.
Medical expenses: Compensation for a taxi accident injury should include all the medical expenses you incur because of your injuries, including future expenses required for ongoing treatment.
Pain and suffering: When seeking compensation, you are entitled to seek money for your emotional and physical pain and suffering that resulted from the collision.
A skilled New York taxi accident attorney will review your case, help you calculate your losses, and maximize the recoverable compensation in your case. An attorney from Harris Keenan & Goldfarb could review your medical bills, pay stubs, and medical history, determine how the injury has affected your daily life, and assess the potential value of your claim.
Time Limit to File a Lawsuit After a Taxi Accident
When you are injured in a taxi accident, you may be entitled to seek compensation from the negligent party through a personal injury lawsuit. The
statute of limitations
for taxi accidents in New York allows a three-year timeframe. If you plan to file a lawsuit, you must file it within three years of the taxi accident. If you miss the statutory deadline, your case could be dismissed, and you will lose your opportunity to pursue compensation in court.
Contact an Experienced Taxi Accident Attorney Today
If you have been injured in a taxi accident that wasn't your fault, having a New York
car accident attorney
from Harris Keenan & Goldfarb on your side can make a difference in how much compensation you recover.
Our attorneys
understand how to deal with difficult insurance adjusters during settlement negotiations and will represent you at trial if your case requires it. We are
known for fighting
for the best interests of our clients and maximizing recoverable compensation. Contact us today for a free case evaluation by calling us at
800-724-6529
or filling out our
online form
.
Book an Appointment
"*" indicates required fields