New York Dental Injuries Lawyer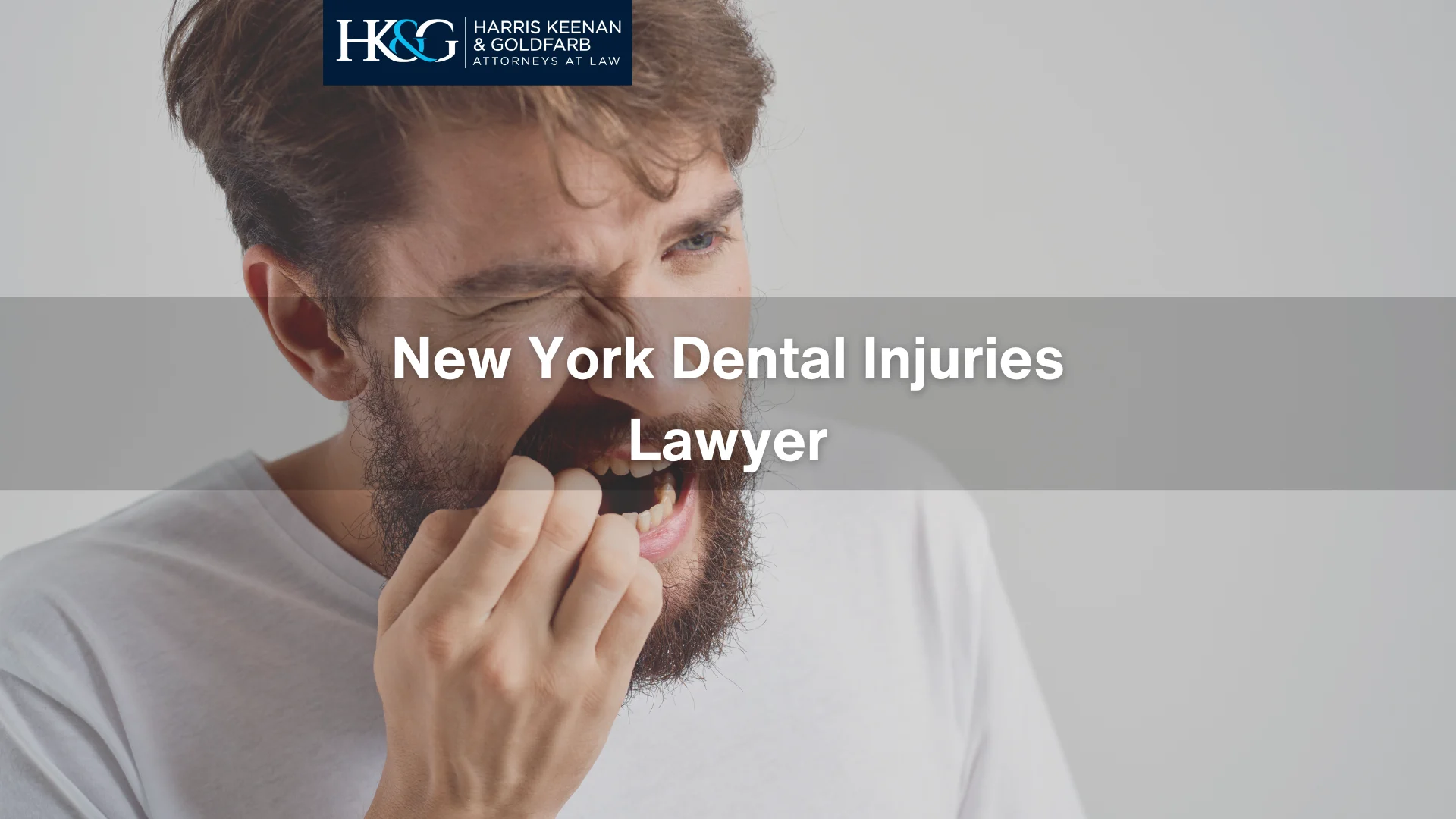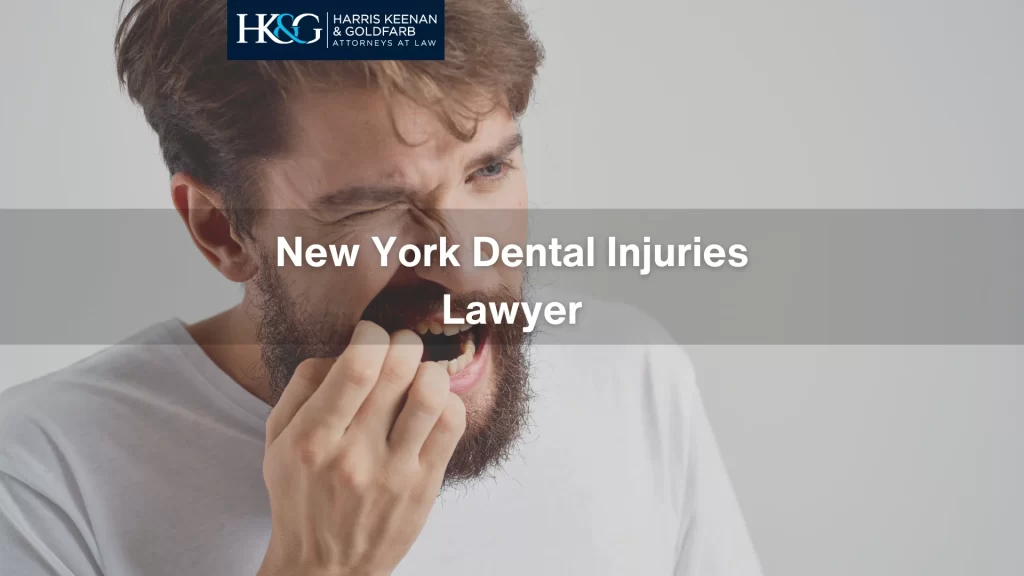 Injuries come in many forms, but dental injuries bring unique challenges and concerns. In addition to the intense pain that often accompanies such injuries, they can cause severe scarring or disfigurement. Furthermore, dental injuries may require specialized treatment to heal, and the cost of such treatment can be a significant burden.
The New York dental injury attorneys at Harris Keenan & Goldfarb recognize these cases' pain and challenges. For nearly 30 years, our team has provided aggressive and compassionate advocacy for people injured in New York. We have recovered over half a billion dollars in compensation and are not afraid to take your case to trial if necessary. Above all, we can guide you through this turbulent chapter in your life. Call 800-724-6529 or complete our contact form for a free case evaluation.
Common Dental and Mouth Injuries in NYC
Dental injuries and mouth injuries, while closely related, are different. Simply put, dental injuries involve damage or harm to the teeth, while mouth injuries refer to harm in or around the mouth, including the jaw, tongue, and inner cheeks.
Dental Injuries Explained:
Tooth Fractures: This is when a tooth gets cracked or broken.
Chipped Tooth: This is a minor break or chip on the tooth's surface.
Scratched Tooth: These are surface-level marks on the tooth, similar to a scratch on a phone screen.
Tooth Luxation: This is when a tooth gets loosened or dislodged but isn't entirely knocked out.
Avulsed Tooth: This means the tooth has been completely knocked out of its socket.
Mouth Injuries Explained:
Lacerations: These are cuts or tears inside or outside the mouth. They can range from minor nicks to deeper wounds.
Jaw Fractures: This is a broken or cracked jawbone, similar to how an arm or leg bone might break.
Burns in or Around the Mouth: These can occur from hot foods, liquids, or other sources. These burns are more severe than the burning sensation you might get from sipping a hot beverage.
Bit/Severed Tongue: This happens when someone accidentally bites down on their tongue hard enough to cause significant damage or even bites a portion off it.
Contusions: These are bruises in or around the mouth, which an impact or trauma might cause.
Puncture Wounds: These are holes or deep marks caused by sharp objects, such as a tooth, fork, auto crash shrapnel, or even falling onto something.
The difference between dental and mouth injuries is essential in understanding their treatments and potential complications. If you or someone you know experiences any of these injuries in NYC, talk to an attorney immediately.
Most Common Causes of Dental and Mouth Injuries
While dental and mouth injuries can occur in a wide range of circumstances, certain accidents tend to result in these injuries more frequently. Some of the most common causes of dental and mouth injuries in New York include.
Slip-and-Falls: Losing your balance and falling can result in direct trauma to the face, leading to dental or mouth injuries.
Vehicle Accidents: Collisions, even at low speeds, can cause passengers or drivers to collide with dashboards, seats, or the car's interior, injuring the mouth.
Sports Injuries: Contact sports, and sometimes even non-contact activities, can pose a risk when collisions, falls, or struck-by-object scenarios occur.
Workplace Accidents: Unexpected workplace incidents can result in dental trauma, especially in construction or manual labor roles.
Assaults: Physical altercations or violent attacks can lead to punches or blows to the face.
Poorly Fitted Dental Appliances: Braces, dentures, or other dental appliances can lead to cuts or sores if they don't fit correctly.
Accidental Impacts: Bumping into walls, doors, or other hard surfaces can lead to sudden and unexpected dental or mouth injuries.
Compensation for Dental or Mouth Injuries
You have the right to seek compensation when you suffer a dental or mouth injury because of someone else's actions. The money from a personal injury claim can cover many losses stemming from the injury, ensuring you don't bear the burden of those costs and effects alone. With support from an experienced legal team, you could recover compensation for:
Medical Expenses: You could receive compensation for the cost of immediate medical care, dental procedures, surgeries, and ongoing treatments.
Rehabilitation Costs: Your compensation could include money for physical therapy, specialized treatments, or other rehabilitation needs to restore function and health.
Lost Wages: If you had to miss work because of your injuries, you can pursue compensation for that lost income. You can also seek compensation for reduced future earnings.
Pain and Suffering: Dental injuries frequently cause intense physical pain and emotional distress. You can demand compensation for these losses in your personal injury claim.
Loss of Enjoyment of Life: You can seek compensation for your reduced quality of life or loss of enjoyment in daily activities because of a dental injury.
Disfigurement or Physical Impairment: Compensation for the permanent physical changes or limitations resulting from the injury.
Dental Reconstruction or Cosmetic Surgery: Dental injury claims often include money to cover procedures to restore the appearance or function of the teeth and mouth.
By understanding these compensation categories, victims can be better prepared to advocate for their rights and secure the financial support they deserve after experiencing a dental or mouth injury.
Deadline to File a Dental Injury Lawsuit in New York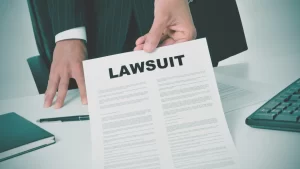 New York law gives you three years from your injury date to file a lawsuit. However, we recommend speaking to an attorney as soon as possible. Waiting too long to act could jeopardize your case, as essential evidence can disappear or deteriorate following an accident.
Contact Our New York Dental Injury Lawyers Now
The physical pain, emotional distress, and disfigurement of a dental injury can deeply and permanently impact your life. You have the right to hold the party who caused your injury accountable for their negligence. The New York dental injury attorneys at Harris Keenan & Goldfarb can protect your rights and assist you in recovering reasonable compensation for your injuries. Call 800-724-6529 or reach out online for a free case review.