Nerve Damage Lawyer in New York City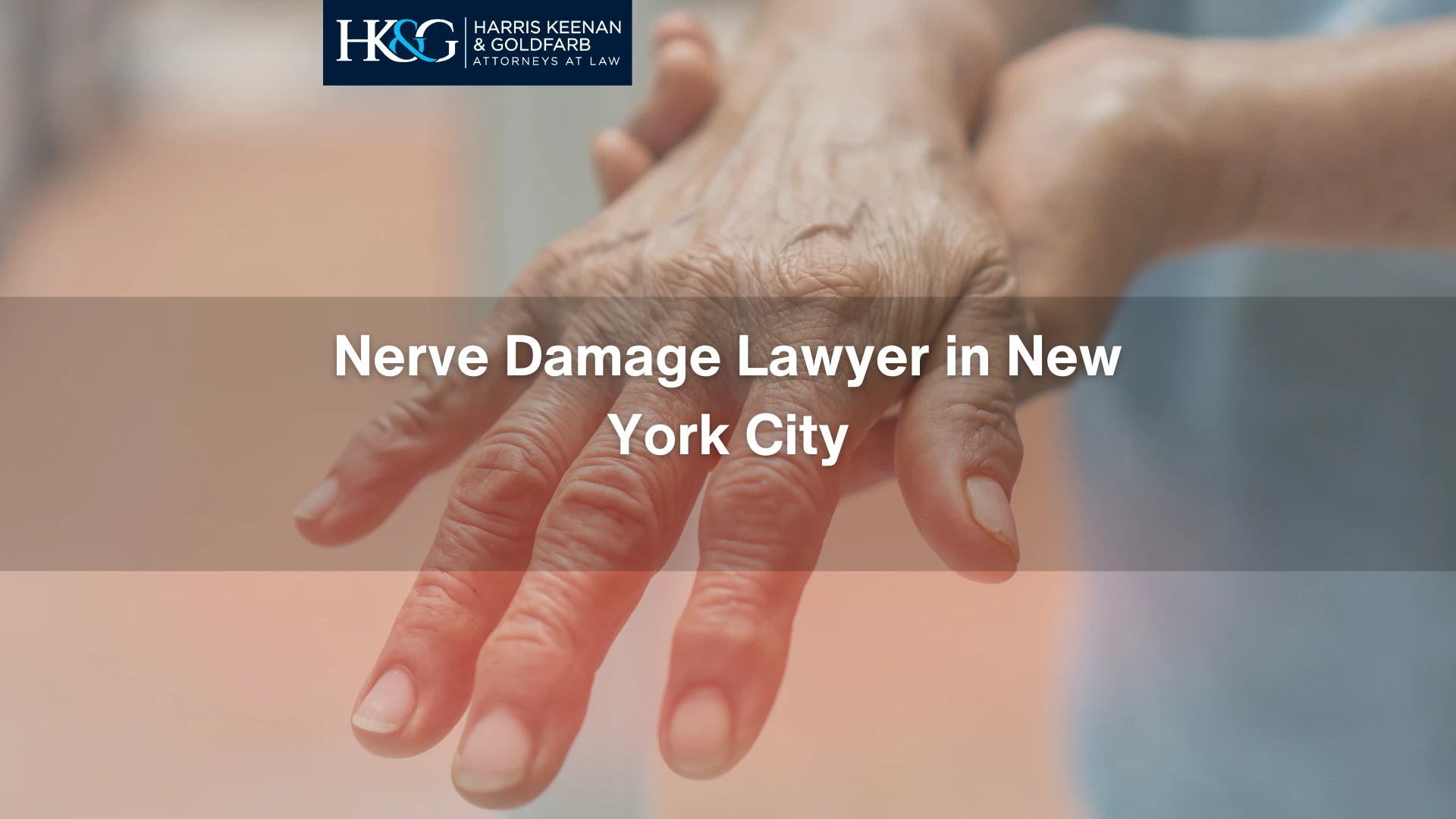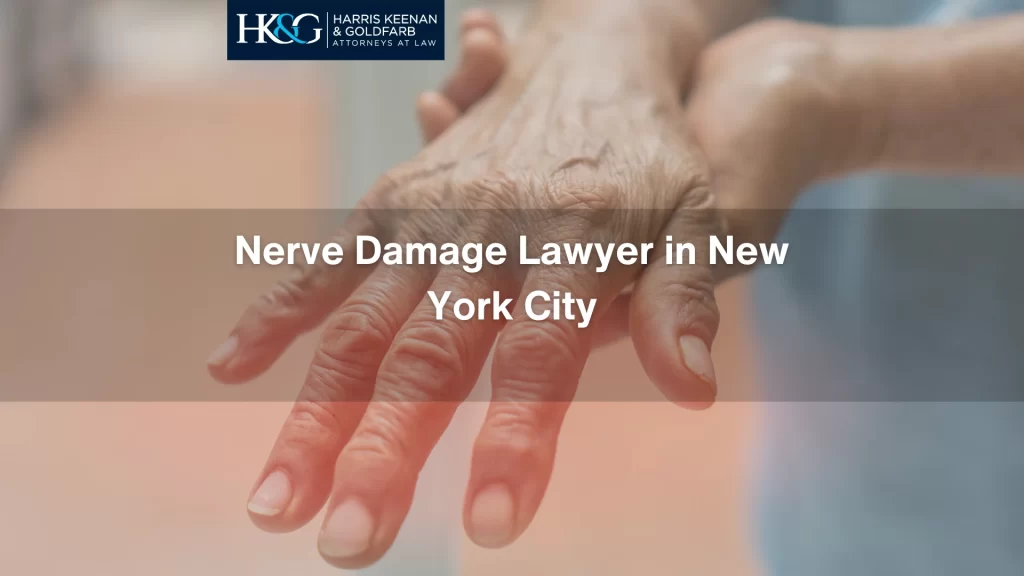 Your life is never the same after you sustain nerve damage in an accident. The pain, loss of sensation, and changes in your bodily functions can be overwhelming. Furthermore, the emotional toll from these injuries can significantly impact your quality of life.
It's tempting to give up in the face of all this uncertainty and pain, but Harris, Keenan & Goldfarb can guide you through this challenging time. Our New York City nerve damage lawyers have spent nearly 30 years representing injured people and have recovered over half a billion in compensation. Our commitment and aggressive advocacy set us apart from our peers, and we're not afraid to take your case to trial. Call 800-724-6529 or complete our contact form for a free consultation with our New York personal injury attorneys.
Most Common Causes of Nerve Damage
There's no single cause of nerve damage injuries, which can arise from many accidents. However, understanding the most likely causes can empower you to understand better and enforce your rights. Some of the most common causes of nerve damage in New York include:
Car Accidents: High-impact collisions on the road can exert significant force on the body, potentially causing nerve damage, especially in whiplash or direct trauma cases.
Slip-and-Fall Accidents: Unexpected falls, particularly on hard surfaces, can cause nerves to compress, stretch, or tear. These accidents are more likely to cause nerve damage if you land on your spine, extremities, or other vulnerable body parts.
Medical Malpractice: Improper surgical techniques or mistakes during medical procedures can inadvertently damage nerves, leading to prolonged or permanent damage.
Workplace Accidents: In jobs involving heavy machinery or manual labor, accidents can lead to crushed or severed nerves, affecting mobility and sensation.
Sports and Recreational Injuries: High-intensity activities or contact sports can sometimes result in trauma to the nerves, either from direct impact or from overexertion.
Assaults and Physical Violence: Acts of violence, such as physical assaults, shootings, and stabbings, can directly injure nerves or cause conditions that contribute to nerve damage.
Defective Products: Using products that malfunction or are poorly designed can lead to unexpected injuries, including cuts, burns, or other forms of trauma that affect the nerves.
Nerve Damage Signs & Symptoms
Nerve damage, particularly peripheral nerve injuries, can manifest in various ways. The particular symptoms often depend on the specific nerve fibers affected. Recognizing the early signs of such damage is vital for timely intervention and effective treatment. According to the Mayo Clinic, some common signs and symptoms of nerve damage include:
Motor Nerves:
Motor nerves are crucial for tasks requiring conscious control, like walking or holding objects. When these nerves are compromised:
You may experience muscle weakness, hindering everyday activities.
Painful cramps and uncontrollable muscle twitching can occur, indicating nerve distress.
Sensory Nerves:
Sensory nerves are our gateway to perceive touch, temperature, and pain. Damage to these nerves can lead to:
Numbness or tingling sensations, especially in the hands or feet.
Difficulties in perceiving pain, detecting temperature changes, maintaining balance with closed eyes, or tasks as intricate as fastening buttons.
Autonomic Nerves:
Autonomic nerves, such as heart rhythms and digestion, manage your body's involuntary functions. When affected:
Symptoms might include excessive sweating or an inability to cope with heat.
Fluctuations in blood pressure and gastrointestinal issues are also common indicators.
It's important to note that many peripheral nerve injuries don't restrict themselves to one type of nerve fiber. Should you encounter weakness, tingling, numbness, or a complete loss of sensation in any limb, see a doctor immediately. Early diagnosis and treatment for peripheral nerve injuries are paramount for optimal recovery.
Compensation for Nerve Damage in New York
In New York, victims of accidents who sustain nerve damage have the right to pursue compensation from whoever caused their injury. Although exact amounts differ across cases, a capable attorney can help you recover significant compensation. With the right legal team, you could claim compensation for:
Medical Bills: Compensation from a personal injury claim can cover your past, current, and projected medical expenses related to nerve damage.
Lost Wages: If your nerve damage hinders your ability to work, temporarily or permanently, you may have the right to compensation for earnings you've lost or may lose.
Pain and Suffering: Nerve damage can cause immense emotional and psychological distress. Compensation for pain and suffering acknowledges these intangible yet profound effects.
Rehabilitation Costs: Treating nerve injuries often requires physical therapy or specialized rehabilitation. Victims should be able to access these services without suffering financial strain.
Loss of Consortium: When nerve damage affects your relationship with your spouse or family, you can seek compensation for your loss of companionship and affection.
Future Medical Care: If you need ongoing medical attention or long-term care because of nerve damage, you can pursue compensation to cover these anticipated costs.
Does New York Cap Compensation in Nerve Damage Claims?
Some states place limits (commonly called "caps") on compensation in personal injury cases. Thankfully, New York has no such limits. With the right evidence to support your claim, you can pursue the full value of what you have lost.
Deadline to File a Nerve Damage Lawsuit in New York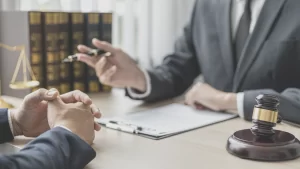 While New York does not limit the compensation you can seek in a personal injury claim, there are limits on how long you can wait to file a lawsuit. State law says you must file a personal injury lawsuit within three years of when you sustained your injury. However, we recommend you talk to an attorney immediately after your accident. Critical evidence can disappear or deteriorate if you wait too long to act, which could damage your case.
Our New York Nerve Damage Lawyers Are Ready to Help
At Harris, Keenan & Goldfarb, our dedicated team understands the profound impact nerve damage can have on your life. From gathering evidence to negotiating with insurance companies for a fair settlement, we'll support you every step of the way. With us, you gain a steadfast advocate who will prioritize your well-being and rights in pursuing justice. Call 800-724-6529 or reach out online for a complimentary case evaluation.