New York Paralysis Injury Attorneys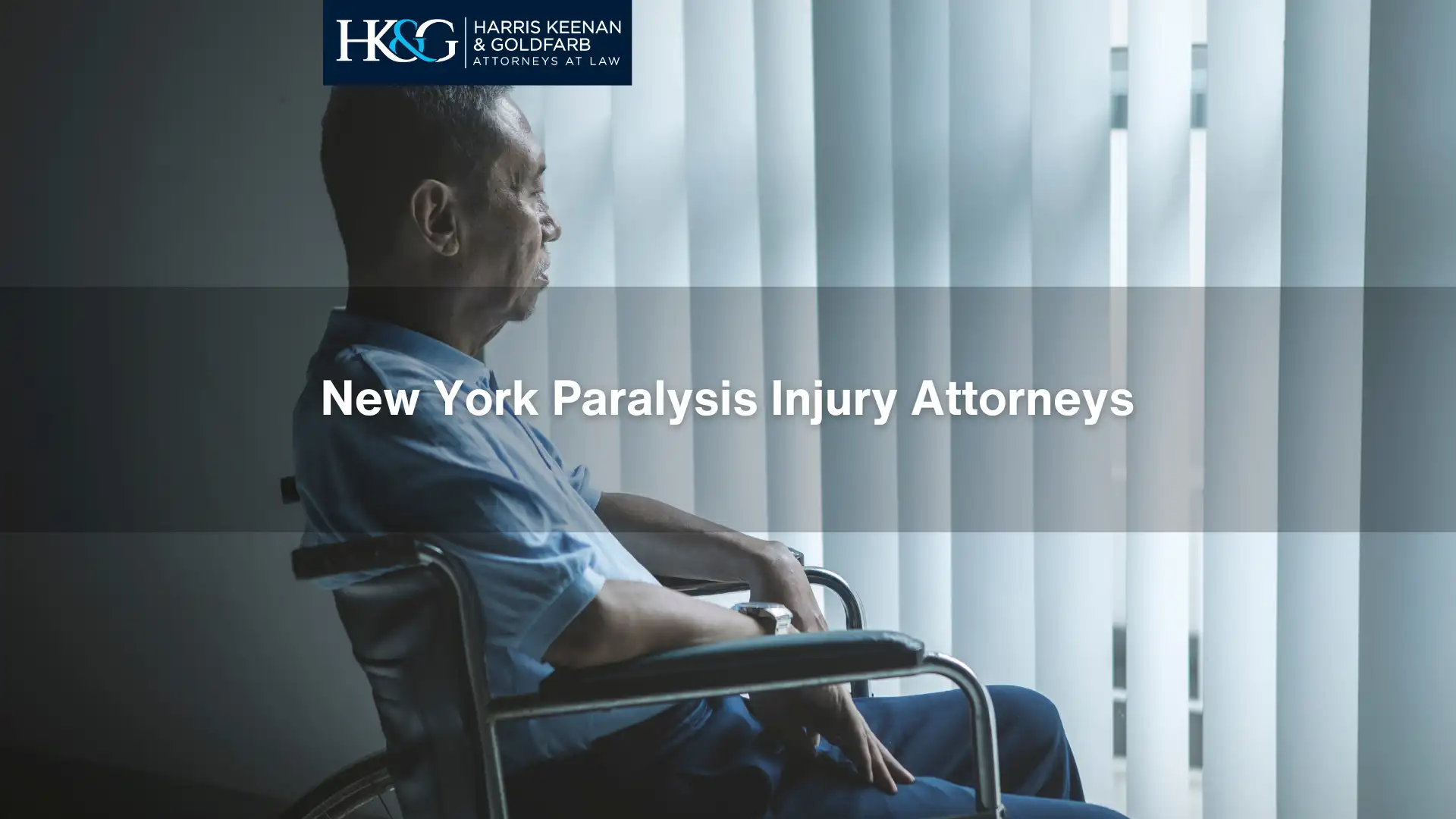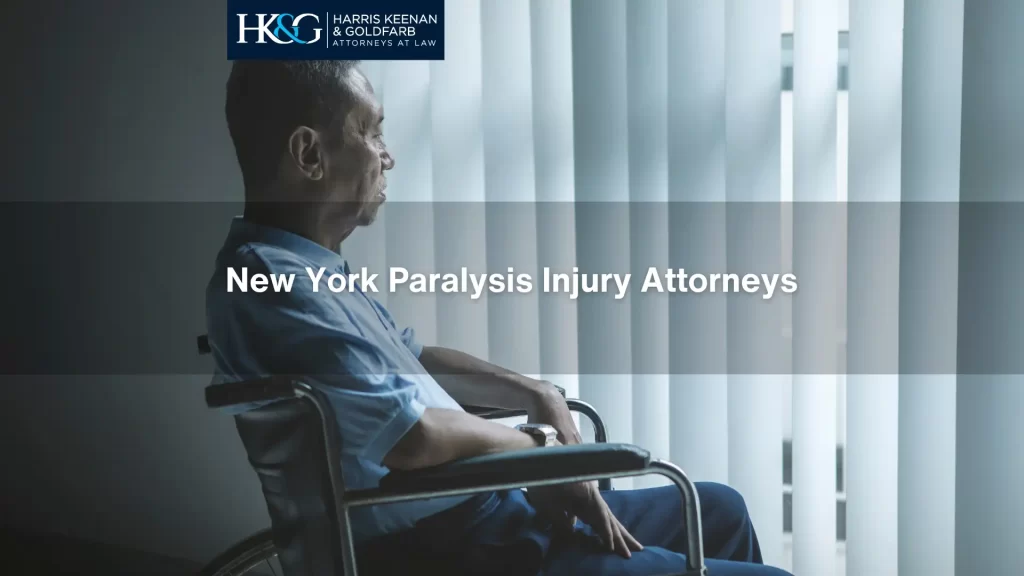 Being paralyzed is more than a medical condition—it's a life-altering change encompassing a vast spectrum of emotional, physical, and financial challenges. These unexpected burdens, from towering medical bills to profound adjustments in daily living, can seem insurmountable. But as dark as things may seem, you have options.
At Harris Keenan & Goldfarb, our New York paralysis lawyers have dedicated their lives to being more than just legal professionals. We're your staunch allies, informed guides, and relentless advocates. We can help ensure you're heard and secure the compensation you deserve. Call 800-724-6529 today or complete our contact form for a free case evaluation with one of our New York personal injury lawyers.
Common Injuries and Accidents That Cause Paralysis
In most cases, people become paralyzed due to a traumatic brain injury or spinal cord injury. Some of the most common accidents and injuries that cause paralysis include:
Motor Vehicle Accidents: Collisions involving cars, trucks, motorcycles, and other vehicles often result in traumatic spinal cord injuries. The force of the impact can fracture or displace the spine, leading to temporary or permanent paralysis.
Falls: Whether it's a slip on an icy sidewalk, a fall from a ladder, or a tumble down the stairs, falls can lead to compression of the spinal cord and subsequent paralysis. Falls are a particular safety hazard for older adults.
Medical and Surgical Complications: Some medical procedures or conditions can inadvertently harm the spinal cord. This can include complications from back surgeries, tumors pressing against the spinal cord, or medical errors during procedures.
Sports and Recreational Injuries: High-impact sports or recreational activities, such as football, diving, or mountain biking, can lead to accidents that cause spinal cord injuries.
Acts of Violence: Tragically, violent acts, including gunshot and knife wounds, can damage the spinal cord. While these instances are less common than other causes, they can have devastating impacts on the victims' health.
Potentially Liable Parties for Paralysis Injuries
The details of your specific injury and what caused it determine who is liable for the harm you've suffered. That said, some commonly liable parties for paralysis injuries include:
Negligent Drivers: If a careless or reckless driver causes a crash and paralyzes someone else, they are likely liable for the injury. This includes drivers who are under the influence, speeding, or engaging in distracted driving.
Property Owners: Owners who fail to maintain a safe environment, leading to slips, trips, or falls, can be liable for their negligence. This includes a failure to address known hazards like wet floors or broken staircases.
Manufacturers: Product liability can come into play when faulty or defective products, such as malfunctioning car parts or unsafe machinery, cause a paralyzing injury.
Municipalities or Government Entities: In cases where poorly maintained roads, malfunctioning traffic signals, or other infrastructure issues contribute to an accident, the local or state government might be liable.
Sports Organizations or Facilities: If an individual is paralyzed due to unsafe conditions or lack of proper supervision during a sporting event, the organization or facility hosting the event might be held responsible.
Medical Practitioners: In rare cases where medical negligence results in paralysis, the medical practitioners involved, or the healthcare facility may be liable.
Assailants: In cases of intentional harm, such as acts of violence that lead to paralysis, the individual who committed the act would be responsible.
Compensation for Paralysis Injuries
Because paralysis injuries impact all aspects of your life, it's crucial to recover as much compensation as possible. Otherwise, you might not have the resources to care for yourself in years to come. Paralysis-related losses you can recover compensation for include:
Medical Expenses: You can recover expenses related to immediate medical treatment, surgeries, hospitalization, and ongoing medical care. This also encompasses future medical expenses for anticipated treatments or therapies.
Rehabilitation Costs: Paralysis often requires extensive physical and occupational therapy. You can pursue compensation for these costs, which can be substantial over time.
Assistive Devices and Home Modifications: Paralyzed individuals may need wheelchairs, electronic aids, modified vehicles, or home adaptations like ramps and widened doorways to accommodate their condition. You can include these expenses in a personal injury claim.
Lost Wages and Earning Capacity: If your injury has caused you to miss work or diminished your ability to earn in the future, you can seek compensation for these lost earnings.
Pain and Suffering: You can pursue compensation for the physical pain and emotional anguish you've experienced because of your injury. This can be one of the more significant portions of your claim.
Loss of Enjoyment of Life: Paralysis can drastically alter a person's lifestyle, affecting their hobbies, recreational activities, and overall enjoyment of life. You can pursue compensation for this profound personal loss.
Punitive Damages: In cases where the responsible party acted particularly egregiously or maliciously, a judge or jury might award punitive damages. However, you can only pursue punitive damages if you take your case to trial.
Deadline to File a Paralysis Lawsuit in New York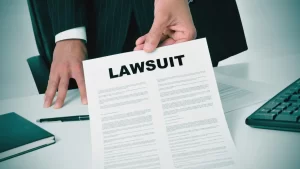 According to New York law, you have three years from the date you suffered your paralyzing injury to file a lawsuit against any liable parties. If you miss this deadline, you will most likely lose your right to compensation. That said, it's in your best interests to speak to an attorney as soon as possible so they can start gathering evidence and building your case.
How Our New York Paralysis Lawyers Can Help
Our attorneys are indispensable allies if someone else's negligence caused your paralysis injury. First and foremost, we bring an in-depth understanding of the law, ensuring you fully grasp your rights and the potential avenues for recovering compensation. With this knowledge, our lawyers can meticulously investigate the incident. We will gather crucial evidence, consult medical professionals, and establish the responsible party's liability. Our experience and knowledge help us calculate the precise amount of compensation for which you are eligible.
Beyond the technicalities, having an experienced attorney on your side means having a seasoned advocate who will negotiate with insurance companies, argue fiercely in court if necessary, and persistently push for the best possible outcome. We are here to ensure your voice is heard, your rights are upheld, and help you find justice.
You have a limited window to act after suffering a paralysis injury, so don't wait to speak to a lawyer. Call Harris Keenan & Goldfarb today at 800-724-6529 for a free consultation, or you can reach out online.