After any car accident in New York, you should stop and exchange information with the drivers of the other vehicles involved. This information will become particularly important if you suffer injuries in the accident. Filing a claim for the compensation you deserve can be challenging if you do not know how to identify the negligent driver, their vehicle, or their insurance information. Here are some key pieces of information to exchange after a collision.
Information You Should Ask For – And Give – After A Car Accident
Driver's License
All drivers in New York should exchange license information after a collision. Doing so will allow you to gather personal information, such as the other party's name and license number, that will enable you to identify them if you choose to file a claim or a lawsuit. Besides writing down the name and number (or putting it in your phone), taking a picture is also a good idea.
Insurance Company and Policy Number
New York state law also requires drivers to exchange insurance information after being in an accident. New York is a no-fault state, meaning that your own insurance will cover your injury-related medical costs up to a certain amount. However, if your medical expenses exceed that amount and your injuries surpass the serious injury threshold, you may need to file a claim against the other driver's insurance. This will also be necessary if you want to claim other losses, such as damage to your vehicle or other property. Be sure to take down the other driver's insurance company name, telephone number, website, and policy number.
Vehicle Registration
Taking down the registration number of the negligent driver's car will assist you in confirming their identity when you file a claim. A vehicle registration number will allow the authorities and insurance adjusters to ensure that the driver's identity and insurance policy correspond to their automobile. New York law requires all drivers to exchange car registration information after an accident.
Should I Exchange Information if Nobody Is Injured?
In the aftermath of a shocking occurrence such as a car accident, your body experiences a rush of adrenaline. While the adrenaline is circulating through your system, you will not be capable of feeling as much pain as you normally would. For this reason, many people feel fine in the moments right after the accident but begin to notice injury symptoms in the hours and days that follow.
Not every injury is immediately apparent. Even if you feel fine, be sure to exchange information with the other driver to protect any possible claim you might want to make.
What Other Information Should I Gather?
Treat every accident as though you intend to file an insurance claim. Gather as much information as possible, including:
Photos and videos of the accident scene from all angles
Names and contact information of any eyewitnesses
License plate numbers of other vehicles involved
The more information you can provide to the insurer, the stronger your compensation claim will be.
What if the Other Driver Refuses to Exchange Information?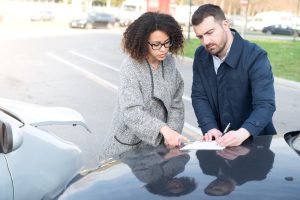 Despite the laws, drivers sometimes do not want to exchange information after an accident. This situation may occur when the other driver recognizes that they are at fault and does not want to face the financial consequences of their negligence. If this happens to you, call the police. They will collect the necessary information and include it in their accident report.
What if the Other Driver Flees the Scene?
Nothing is more frustrating than seeing the other motorist drive away after you've been injured in an accident. You might worry that you will never have a chance to hold them accountable for your injuries. However, hit-and-run drivers do not always get away. The experienced New York car accident attorneys at Harris Keenan & Goldfarb specialize in hit-and-run cases. We will investigate the accident for evidence of the other driver's identity. Interviews with eyewitnesses and a thorough review of security camera footage can help us identify the at-fault party.
If we are unable to find the other driver, we can assist you in filing a claim on your uninsured motorist policy if you have one.
Call an Experienced New York Car Accident Attorney
If you have been injured in a car accident due to the negligence of another party, you deserve compensation for your losses. Working with one of the skilled and knowledgeable lawyers on our team can optimize your chances of securing the compensation you deserve.
The car accident attorneys at Harris Keenan & Goldfarb in New York City dedicate themselves to standing up for injured New Yorkers' best interests. We will ensure that you have all the information you need to file a strong claim. We have a reputation for winning and have recovered over $500 million in compensation for our past clients.
Call us at 800-PAIN-LAW or contact us online for a free consultation to learn more about your legal options.