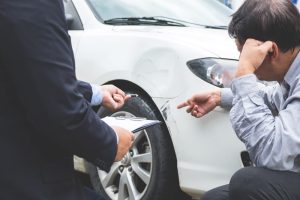 The shock of suffering injuries in an automobile accident can leave you with a lot of questions. You might wonder whether or not to hire a lawyer, how you will be able to afford medical treatment, and whether you will be able to earn money as you recover. Filing an injury claim with an insurance company allows you to seek compensation for your losses. Understanding how to report the accident to the insurance company is the first step toward recovering the compensation you deserve.
When Should I Report a Car Accident to My Insurance Company?
Generally, you should report most car accidents to your insurance company immediately. Doing so will help to protect you financially if you have received injuries or if your property has sustained damage.
You must report any accident that involves other vehicles, as well as accidents that cause injuries to anyone. The same is true for accidents that cause significant damage to your own car, other vehicles, or fixtures such as fences or light posts.
You might choose not to report an accident if your vehicle was the only one involved, especially if the damage is negligible and no injuries occurred. For example, if your car receives a scrape from your mailbox as you back out of your driveway, you might choose to pay for the repairs yourself. Doing so can help to keep your premium from rising.
How Do I Report an Accident?
After an accident with another vehicle, you should exchange insurance information with the drivers involved. In most cases, you will want to report the accident both to your own insurance company and to that of the other driver. You can do so via the company's website or by calling their phone number. You will need to provide them with:
Your name and the names of any other drivers
The policy number to which you will be filing the claim (yours or the other driver's)
License numbers of all drivers involved
Location of the accident
Time and date of the accident
A general description of what happened
Names and contact information of any witnesses
The police report from the responding officer
When you fill out the form or speak to the insurance adjuster, do not admit fault in any way. Even if you believe that you are partially to blame for the accident, do not apologize to anyone. In the heat of the moment, you may not have a clear sense of what actually occurred. Furthermore, insurance adjusters look for ways to get you to admit fault. Even your own insurance company will attempt to avoid paying a large sum of money. Do not give them a reason to devalue your claim.
Police officers, insurance companies, and attorneys will investigate the facts and circumstances of the accident in their own time. They may discover clear evidence that indicates that the other driver was behaving negligently. For now, you need only convey the simple facts of what happened without assuming any blame.
What Is a First-Party versus a Third-Party Claim?
Once you've reported the accident, you'll need to file a claim with your own personal injury protection (PIP) insurance company for any medical expenses you incur for your accident-related injuries. Because New York is a "no-fault" state, your PIP coverage will apply until the policy limits are reached. This is a "first-party" insurance claim.
If the other driver was uninsured or underinsured, you must make a first-party claim with your own insurance company. First-party claims also become necessary in a hit-and-run accident where you cannot identify and locate the at-fault driver.
A third-party claim occurs when you seek compensation from the other driver's insurance company. If you've used the entire amount of your PIP policy, you cannot file a third-party insurance claim against the at-fault driver's insurance carrier unless you meet the serious injury threshold set out in NY law. If you meet that threshold, you are entitled to pursue compensation from the other driver's policy.
Do I Need a Lawyer for an Insurance Claim?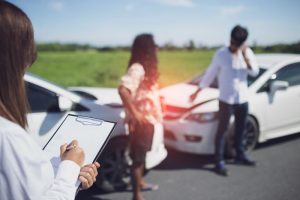 Insurance companies will do everything they can to avoid paying out the compensation you deserve. Having an experienced lawyer on your side gives you the advantage of working with someone who knows how to communicate with insurance adjusters in a way that makes them take your case seriously.
Furthermore, a good lawyer will be prepared to take your claim to court if necessary. Because insurers generally want to avoid lawsuits, claimants with strong legal representation tend to receive greater compensation than those who attempt to file on their own.
What Type of Lawyer Handles Insurance Claims?
Personal injury lawyers, like the seasoned attorneys at Harris Keenan & Goldfarb have the experience, skills, and knowledge required to handle insurance claims. Our lawyers are exclusively dedicated to helping New Yorkers who were injured by the wrongdoing of others fight for the compensation they deserve.
Contact Us Today
If you suffered injuries in a motor vehicle accident, contact Harris Keenan & Goldfarb today. We will handle all communications and negotiations with the insurance company so that you can focus on your recovery.
Contact us online or call us at 800-PAIN-LAW for a free consultation today.