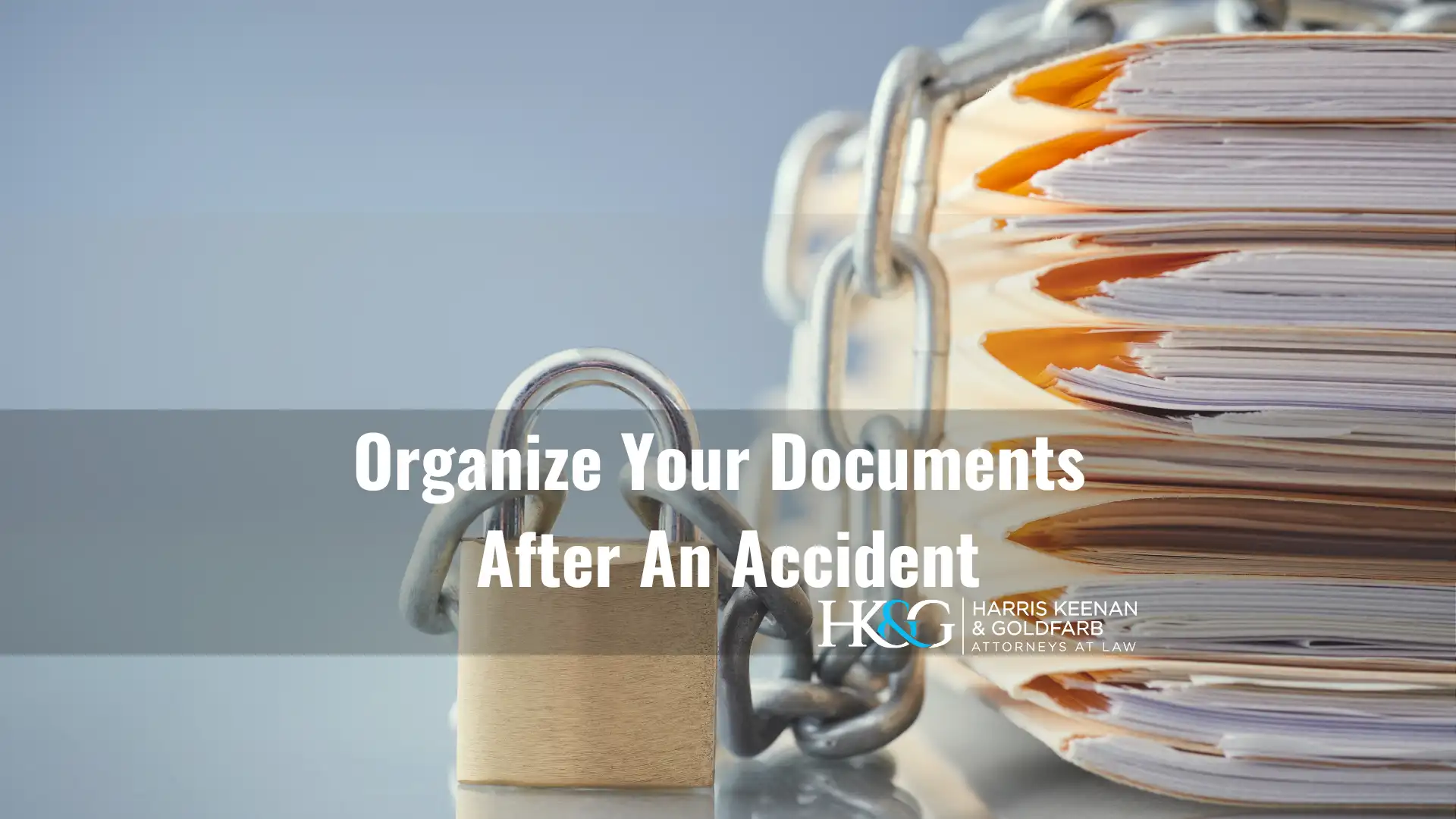 Documentation plays a crucial role in proving your injuries and financial losses in your personal injury case. When filing an injury claim, meticulous organizational skills are essential to ensure efficiency, save time, and achieve favorable outcomes.
It is imperative to obtain all your relevant documents, organize them well, and keep them readily accessible. A well-structured approach to documentation can significantly strengthen your case.
If a New York accident injured you, our attorneys want to help you build your strongest case from the very beginning. Here are some steps you can take before you call us.
What Kind of Documents Do I Need to Obtain and Organize?
Collecting and organizing the proper documentation is essential in any personal injury case to strengthen the claim and achieve a favorable outcome. Here are some types of documentation you should gather:
Accident Report – If the injury occurred in an auto accident, obtain an accident report from the local police department. Make sure to apply for it as soon as possible after the incident. If the accident occurred at work, try to obtain an incident report from your employer. And if the accident happened at a store or place of business other than your own, ask management for the incident report they took of the event.
Medical Records – Request medical records from all the providers that treated you after the accident. Additionally, gather medical records from your primary care doctor to compare your pre-accident health to the injuries the accident caused. Keep copies of medical bills, receipts, prescriptions, discharge information, and other relevant documents.
Lost Wages Documentation – Keep track of any time you missed at work and what that cost you. Try to obtain a letter from your employer stating your job description, pay rate, missed workdays, and total wage loss.
Written Communications from Any Insurer – If insurance is involved, it is best to talk with an attorney before speaking with an adjuster. If you've already communicated with insurance representatives, keep copies of all correspondence and write down your recollections of any in-person or phone conversations.
Photos of Injuries and Property Damage – Take pictures of your injuries and any property damage. Property damage documents may also include towing bills, repair estimates, and receipts for damaged personal items.
Witness Statements – Try to get the names and contact info of anyone who saw the incident occur. Their accounts of the accident could prove vital to corroborating your claim.
By meticulously organizing and preserving documents such as these, you can build a stronger case for yourself. Judges and juries love to see visual evidence.
What Are Some Useful Tips For Organizing Documents?
Effective record management will empower your attorney to seek the maximum compensation available on your behalf. Here are some tips to enhance your record-keeping skills:
Organize with File Boxes and Folders – Invest in a file box and create separate folders for each key area of your claim, such as property damage records, medical records and bills, photographs, communications, and other relevant documents. This systematic approach will make it easier to locate specific information later.
Promptly Update With New Information – File any documentation you recover or receive as soon as possible. Procrastination can lead to disorganization and the risk of losing or overlooking crucial evidence.
Maintain a Detailed Chronology – Keep a detailed timeline of events related to the accident and your injuries, including dates of medical appointments, treatments, interactions with insurance companies, and any other relevant milestones. A clear timeline will help track progress and recall essential details during discussions with your attorney.
Communication Records – Keep a log of all communication related to your claim, including emails, letters, and phone calls with insurance companies, healthcare providers, and other parties.
Digital Backup – Create digital copies and store them securely on a computer or cloud storage service.
Harris Keenan & Goldfarb Will Build A Strong Case
Obtaining and organizing your case-related documents is so important. And while the steps above can help you do some work independently, experienced personal injury attorneys like those with Harris Keenan & Goldfarb team can play a pivotal role in document collection and organization for your case.
Our attorneys help clients with the document process, minimizing the chance that anyone overlooks essential evidence. If a New York accident injured you, call Harris Keenan & Goldfarb for help. We stand ready to pick up where you leave off and zealously pursue your claim. Contact us at 1-800-PAIN-LAW or online for a free case evaluation.