After resolving a personal injury case, you hope to receive compensation for your medical expenses. You might have to pay out of pocket for prescriptions, doctor's appointments, and other medical care. Getting reimbursed by the insurance carrier is essential to balance your finances. However, you might not know the possible sources of compensation to turn to while treating your injury. There are multiple options, including health insurance and payment agreements.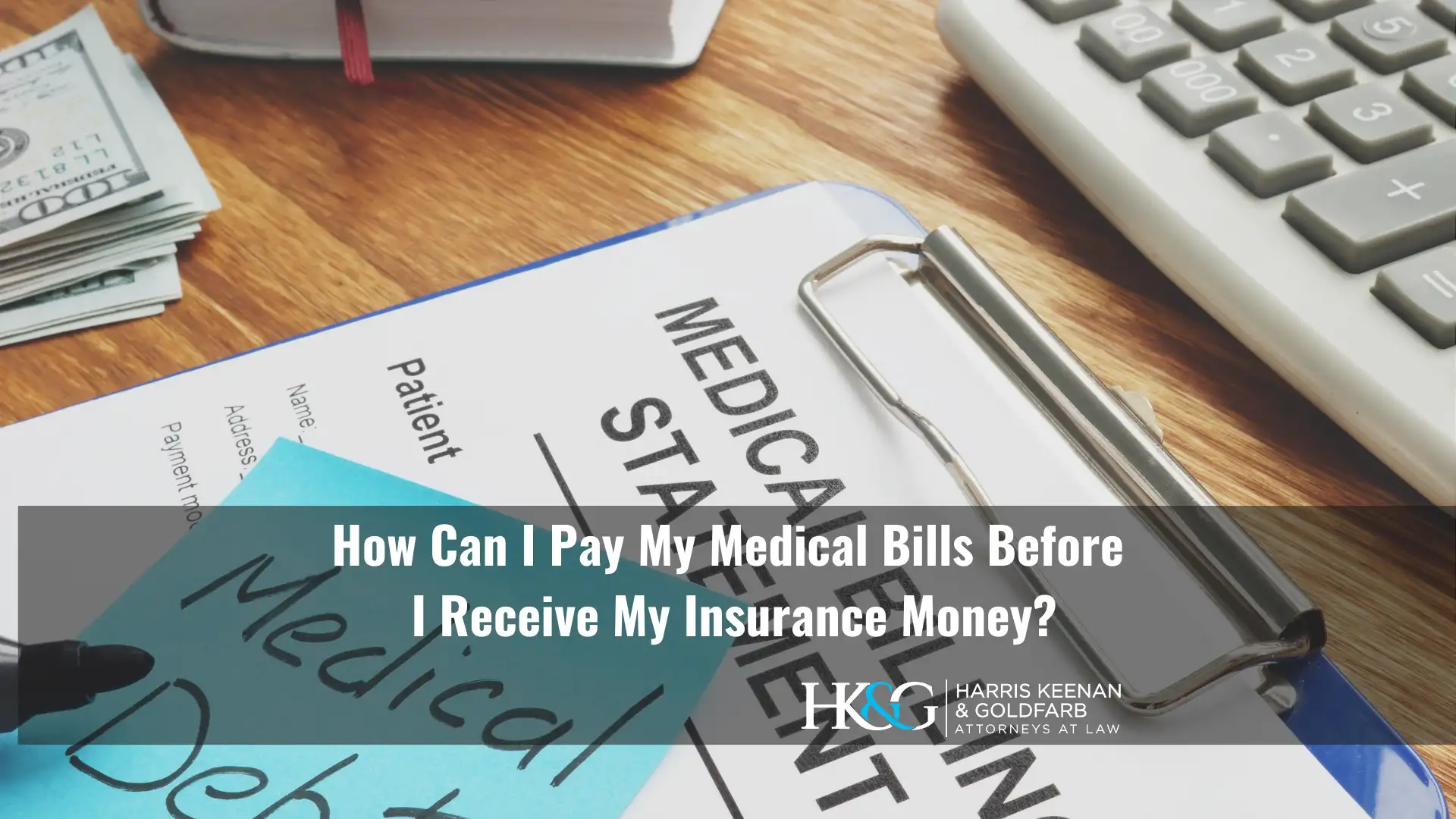 How to Pay Your Medical Bills During Your Pending Case
Multiple methods are available for paying your medical bills even if you haven't settled your injury claim or achieved a favorable jury verdict in your lawsuit. If you have the funds to afford your treatment, stay on top of your bills to avoid debt.
If you can't pay upfront for each doctor or hospital visit, consider these options:
PIP insurance – You don't have to wait for your liability claim or lawsuit against the at-fault party to seek compensation for your medical expenses. If you get hurt in a car crash, PIP should pay for necessary and reasonable medical expenses up to a $50,000 policy limit, regardless of who is at fault for the injury. However, you must seek treatment within 30 days of the accident to qualify for coverage.
Letter of Protection (LOP) – An LOP is a common arrangement between accident victims and their medical providers. The agreement allows you to defer payment for your treatment until your case ends. You promise to use any compensation you win to cover your unpaid medical bills.
Health insurance – If you have health insurance, pay your medical costs with the available coverage. The insurance carrier should pay expenses such as prescriptions, diagnostic testing, physical therapy, and other covered services. However, depending on your policy requirements, you might be responsible for copays and deductibles. You must understand the financial consequences of using your health insurance after an accident. Typically, insurance companies file a lien to receive reimbursement for the medical bills they cover. They can take a portion of your settlement or financial award from a lawsuit as payment for the costs they already paid.
Personal loan – The decision to apply for a personal loan is one you should not take lightly. It could lead to additional debt if you fall behind on payments or default on the loan. However, if you can afford the monthly payments, the funds you receive can go toward upfront medical costs.
How to Pay for Medical Treatment Without Insurance
You must consult an experienced personal injury lawyer in New York if you don't have health insurance, PIP coverage, or other ways of covering your medical bills.
Not getting treatment is not a suitable option. It can delay your recovery and negatively affect your injury claim. The insurer might look at your lack of treatment as evidence that your injury isn't severe and doesn't require a significant settlement.
Your lawyer might be able to work out a deal with your medical providers. They can ask them to place a hold on your accounts so you receive the care you need without your unpaid bills going to collections. Some doctors will wait for their patient's personal injury compensation to cover those costs.
How Long Does a Personal Injury Case Last?
The length of your personal injury case will depend on various factors, including the severity of your injury, the determination of fault, and the timeline of your treatment. Injury claims often settle within months of the initial filing. However, some can take longer.
If you need to file a lawsuit because the insurance company denies the claim or refuses to settle for an adequate amount, you could spend years working on the case. Not knowing when to expect compensation is overwhelming. It can cause significant stress and financial burdens.
Luckily, your personal injury attorney can help. They can explain the situation to your medical providers and prepare an arrangement to put off paying your bills. They might also negotiate for lower balances when your case ends to put more of your financial award in your pocket.
Pursue the Compensation You Deserve
At Harris Keenan & Goldfarb, our legal team has fought for injured clients in New York for over 25 years. We will protect your rights and try to achieve the best possible result. You're not alone in the fight for justice. Let us be your advocate and help you through this traumatic experience.
Call us at 800-724-6529 for a confidential consultation if you sustained injuries in an accident someone else caused.