Navigating a personal injury case can feel like a high-stakes maze, particularly when you're juggling medical bills and lost income. One critical step in a personal injury case is your deposition. Testifying under oath might seem intimidating, but doing so is an opportunity to tell your story. But how do you gauge if your deposition was a success if you've never done one before? This blog post will guide you through understanding depositions, their role in your case, how to recognize if yours went well, and the next steps if it didn't.
What Is a Deposition?
A deposition is a part of the discovery process in a lawsuit where you provide sworn testimony to the opposing attorney. Think of it as an interview under oath where your responses get recorded and could be referenced in court later. While giving a deposition may feel like you've stepped into the lion's den, remember that your attorney is there with you to ensure a fair process.
The Role of Depositions in a Personal Injury Claim
Depositions play a vital role in a personal injury claim. They offer an opportunity for both sides to gather information and understand the case better. For you, it's a chance to tell your side of the story. For the opposing party, it's their first look at how you present yourself and your claim. The results can affect both the settlement negotiations and the eventual outcome at trial, making it a crucial aspect of your personal injury claim.
Signs Your Deposition Went Well
Recognizing the signs of success can provide some peace of mind. Here are some indicators:
Preparation: If you went in feeling prepared and came out feeling like you understood and responded to the questions confidently and truthfully, that's a positive sign. A good attorney will help you anticipate potential questions and prepare your responses.
Attorney Feedback: Your attorney's feedback post-deposition is an essential indicator. If they express satisfaction with your performance and the course of the deposition, chances are, you did well.
No Unexpected Curveballs: If the opposing counsel didn't manage to surprise you with unexpected questions, or if they failed to rattle your composure, it likely means you held your own effectively.
Consistent Testimony: Consistency is key in a deposition. If your testimony aligned with your prior statements and evidence, you likely presented a strong and credible account.
What Happens If It Did Not Go Well?
Don't lose heart if you feel your deposition didn't go as planned. Feeling nervous or misspeaking can happen. The important thing is to regroup and strategize with your attorney. This might involve issuing a clarifying statement, intensifying preparation for the trial, or reassessing the approach to settlement discussions. Remember, the deposition is just one part of your case.
How We Can Prepare You for a Deposition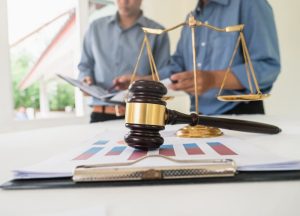 Your deposition is a huge part of a personal injury case, and proper preparation is essential to help it go well. Here's what we can do to help you prepare for a deposition:
Understanding the Process: We can explain the deposition process to you in detail so you understand what to expect. We'll discuss the types of questions that might be asked, the importance of telling the truth, and how to handle difficult or tricky questions.
Reviewing the Facts: Before you sit for your deposition, we can review all the facts of the case with you. This may include going over any documents, reports, and your recollection of events. This step helps you become familiar with all the details so you can answer questions accurately and confidently.
Mock Depositions: We can conduct a mock deposition to give you a feel for what the actual deposition will be like. You'll practice answering questions, and we can give you feedback on your responses. This can help reduce anxiety and improve your performance during the real deposition.
Guidance on Behavior and Demeanor: Your attorney can coach you on the importance of maintaining a calm and composed demeanor, even when faced with provocative or challenging questions. Remember, how you present yourself can impact the perception of your credibility.
Strategy and Goal Setting: We can discuss the strategy and goals for the deposition with you before you testify. This might include emphasizing certain aspects of your case or clarifying any potential misconceptions. By understanding the strategy, you'll be more prepared and confident.
Your deposition is a crucial aspect of your personal injury case, and our New York personal injury attorneys understand the preparation required to help it go well. Our attorneys have helped many clients with their depositions and will prepare you accordingly. Call us today or visit our contact page for your consultation.